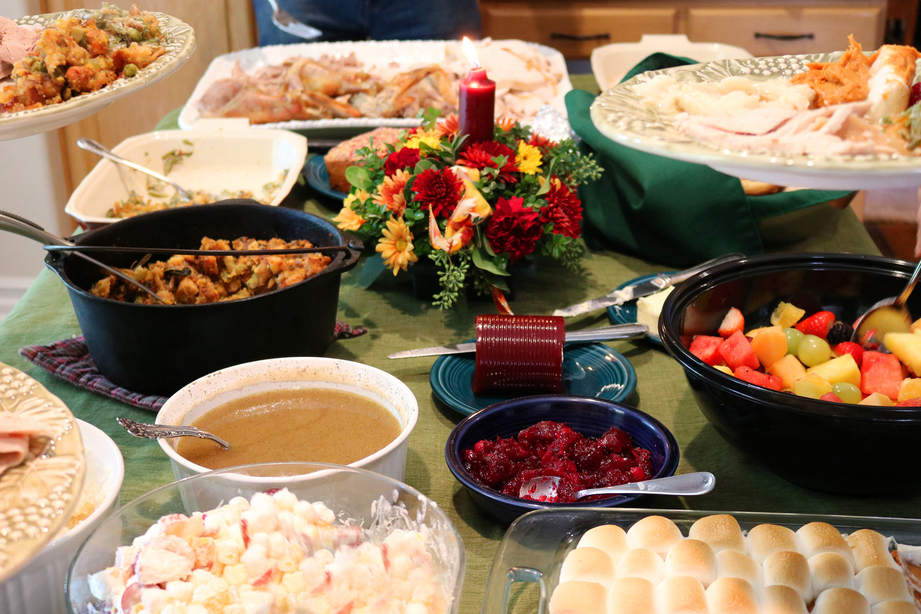 Hosting Thanksgiving is no easy task. Between keeping a close eye on the temperature of the bird, timing getting everything in and out of the oven at just the right moment, preparing a roux for the gravy, all while trying to visit with family and friends, hosting a Thanksgiving dinner seems to be more stressful than fun. For the person in charge of the meal, sitting down to eat often feels more like a relief than a celebration.
A well-planned potluck might just be the answer, making the holiday more enjoyable for all. This kind of gathering, where responsibilities are shared, can be an ideal way for friends, neighbors, and family to enjoy a large Thanksgiving dinner with only modest individual effort. Although easier than planning and executing a wonderful meal on your own, there are a few keys to keep in mind to ensure everything goes smoothly.
You're in Charge
Assuming you're hosting, you'll still have some basic duties. One of which is coordinating who's bringing what dish. Rather than simply telling someone to bring the green beans or yams, frame it along the lines of, "How would you feel about bringing a pie?" or "Do you have a cranberry recipe you like?". If you know someone is an avid baker or wine enthusiast, ask them to bring items according to their tastes and interests. Their enthusiasm will certainly show. If a guest is especially keen on a family dish, by all means have them bring it. Play to people's interests.
One of the great things about a Thanksgiving potluck among friends and neighbors is the opportunity to share in traditions that you might not have otherwise been exposed to. If your group is tech savvy, an email chain or Google Docs spreadsheet can be a great tool to keep everything in check. If not, consider inviting everyone over a few weeks in advance for cocktails or a card game and coordinate things in person. On top of the food, you'll likely need additional serving plates, bowls, and utensils (unless you happen to run a catering business out of your home). If you have a friend or neighbor who isn't able to bring food, ask them to bring serving utensils or dishes.
Be the Host With the Most
Given how impractical moving a cooked turkey would be, the responsibility of creating the centerpiece for the meal should lie with the host. Without having to worry about all of the side dishes and desserts, this gives you the chance to be as creative or flamboyant with the centerpiece as you'd like. If you ever thought about brining a bird or perhaps even deep frying one, this is a great time to do so. Be sure you're aware of guest's dietary restrictions or allergies, if any, and plan accordingly. You won't necessarily need a complex centerpiece dish for a lone vegetarian but, on the other hand, as the host you'll want to ensure everyone feels welcomed and accommodated without feeling they created a fuss.
In addition to taking on the centerpiece, make sure you've got all of the other essentials for when your guests arrive. Even if your guest are bringing beverages, still be sure to have some soft drinks, beer, or wine (as appropriate) chilled and ready for their arrival. You can also never have enough paper napkins and towels, aluminum foil, or leftover containers. Keep a pad or two of sticky notes handy for labeling dishes. Guests who may have dietary restrictions or allergies will appreciate this extra bit of consideration.
Managing Space
One thing hosting a potluck won't do is make your house and kitchen bigger. Thankfully, a lot of the space management tips and tricks you might use during a traditional Thanksgiving work just fine here. Starting a few days before your gathering, be very careful about saving leftovers or stocking up on refrigerator staples (no trips to Costco for mayo!). Guests will likely need to reheat dishes or plug in slow cookers, so be sure the countertops around the range and microwave oven are free and cleared of clutter. Keep an assortment of dish towels, oven mitts, and trivets at the ready for moving and storing hot dishes.
When it comes to seating, don't be afraid to get creative as potlucks are almost always more informal than a traditional, sit-down dinner. Depending on the size of your gathering, your dining room table might not cut it. If you're lucky enough to live in a warmer part of the country, don't be afraid to take things outside. An outdoor propane heater can easily mitigate a mild chill. If you need additional space for serving, a small bookshelf or end table can make a good ad hoc buffet. If you are split up among several rooms, have everyone gather when the meal is ready to say grace or give thanks in the kitchen or wherever else you're serving from - everyone will be headed that way anyway.