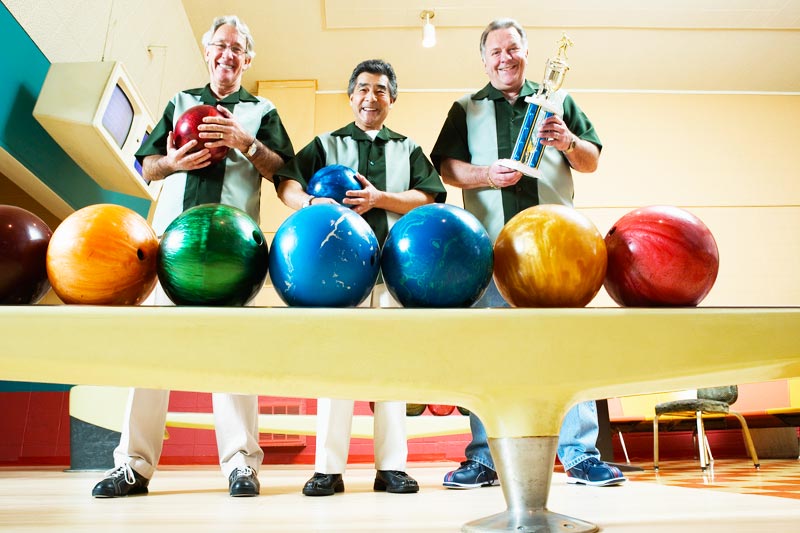 If you're looking for an activity to keep you engaged and active while also spending time with long-time friends and making new ones, bowling could be the perfect fit.
Around 46 million people go bowling each year and you could be one of them. You could even bring some of those people together and start a team. If you're living in a 55+ community it's easy to bring together a group of neighbors to create your very own bowling team. Bowling is fun on its own, but as part of a team you can make things a little more competitive and enjoyable. Who knows, you might even get a trophy or two out of it.
Even if you've never thought about putting a bowling team together, don't worry. It's pretty easy to get things rolling.
Find Your Local Alley
You can't bowl without a bowling alley, so your first step is identifying where your team will participate. You might not have to go very far as some active adult communities have bowling alleys in their clubhouses or activity centers.
Lake Ashton in Lake Wales, Florida includes a four-lane bowling alley where community bowling leagues meet for friendly games. The same goes for Savannah Lakes Village in McCormick, South Carolina. Meanwhile, Marion Landing in Ocala, Florida includes an eight-lane bowling alley. However, Sun City West in Arizona probably steals the show with its 30-lane bowling center, complete with pin-setting, automatic scoring, and a pro shop.
Even if your community doesn't have its own lanes, there might be a bowling alley nearby. Granite View Estates in American Fork, Utah is a four-minute walk from the local bowling alley while Barley Woods in Fredericksburg, Virginia is ten minutes from one. Meanwhile, Cadence in Meridian, Idaho is a 12-minute drive from Big Al's bowling alley.
If you're not sure where the closest bowling alley is to your active adult community, check with the clubhouse or ask around to see if anyone already belongs to a league.
Hold "Tryouts"
How competitive you want to make your bowling team is up to you. For some, it's all about the league trophy. For others, it's just a fun excuse to hang out and get some exercise. Figure out what kind of team you'd like to be a part of and then hold "tryouts." That can be as serious as it sounds or it can just be a casual bowling outing to see if everyone gels and to get a sense of everyone's skill level.
Bowling league teams often include five members, but some allow for four or even three team members, so make sure you know the rules of your desired club or league.
Don't be discouraged if everyone isn't throwing strikes every time. Most bowling leagues play under a handicap system. Just like in golf, the handicap allows players of different skill level to play together by giving each bowler a specific handicap percentage based on their ability and average game score. So even if one of your team members averages low scores, they can still help you win by improving just a little bit or having a better-than-usual game.
Join a League
You know where the bowling alley is and you've got your team. Now you have to find a league to join. The good news is that your active adult community may have already done this work for you. If it's a community with its own alley they already have leagues ready to join. If not, there still might be a bowling club that organizes games and league play outside of the community.
Horizons at Delaware Crossing in Lopatcong, New Jersey organizes bowling night for residents. Pickering Place in Belton, Missouri also organizes bowling outings if you'd rather keep things casual. River Pointe in Manchester, New Jersey and Meadows at Lake Ridge in Whiting, New Jersey both have their own bowling leagues you can join.
If you don't have either option, head to the local bowling alley and simply inquire about current league play. They'll provide you with the full schedule and any available spots based on skill level or handicap. Then, sign your team up for the league that makes sense. After that, you only have one more thing to do: Enjoy bowling!