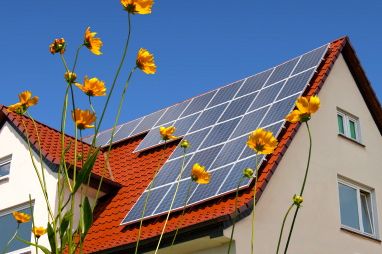 Active adults who are looking to buy a new (or resale) home, are likely to hear builders touting the benefits of green building. While green building practices bring many benefits for both homeowners and the environment, these features often come at a higher price. But are these benefits worth the high price tag?
Before you can start your cost benefit analysis, there are a few things to consider, such as how to assign value to the benefits of green building, and what it really means to build a green home. Although "green homes" and "green building" are common buzz words in today's home building industry, many homebuyers aren't quite sure what these terms mean.
According to the U.S. Environmental Protection Agency (EPA), green building has two essential goals: to increase the efficiency by which homes use energy, water and materials; and to protect and restore human health and the environment, throughout the building process. The benefits of green building practices come in two distinct phases: during construction, and after homeowners begin living in the home.
During the construction process, green building practices put less strain on the environment by reducing waste, and by using non-toxic, sustainable materials. Elements of green homes which benefit homeowners after they move in include saving on energy bills with features like high-efficiency appliances and heating/cooling systems. Homeowners also enjoy healthy alternatives in building materials, such as paint with little to no volatile organic compounds (VOC) and non-toxic insulation made from soybeans or recycled paper.
There are many homes designed for active adults which use green building practices, such as those built by Trilogy by Shea Homes. Yet potential homebuyers may worry that they won't see a return on their investment when they spend money on green home costs. And, considering the financial benefits alone, they may be right. Features like high-efficiency systems will save money on energy bills, but the length of time retirees spend living in their homes may not be enough to outweigh the upfront costs of buying a green home. Instead of thinking only of the financial savings, active adults should consider some of the other benefits of green living.
Active adults who choose to buy green homes often do so to help the environment and enjoy the benefits of healthier living. Lower energy bills may be part of the equation, but they are generally not the only reason for footing the upfront costs. In addition to being good for the environment, buying green sends the message to builders that there is a market for eco-friendly homes. This will eventually help lower the costs of green building for everyone.
Homebuyers who cannot afford the upfront costs of buying a certified green home at this point in their lives can still find ways to help the environment and lower their energy bills with home upgrades. Replacing worn-out appliances with energy efficient upgrades, or updating your home with low-E windows can be great options. Anyone can start small with simple changes like using low VOC paint during redecorating projects and replacing incandescent light bulbs with compact fluorescent bulbs.
Whether the benefits of a green home outweigh its upfront costs will depend on your own particular situation. However, it's important to remember that there are benefits that go beyond finances.