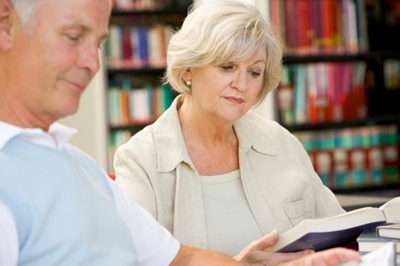 Lifelong learning encompasses more than classroom education. Life experiences, formal education, and recreational pursuits all lead to new ideas. Yet there are times when life seems to be stuck in the same old day-to-day pattern. Read on for some suggestions of ways to challenge yourself and explore new ideas. All of these suggestions are great for everyone, especially active adults.
1. Expand your reading list
Reading is a great way to experience new ideas, however reading habits can often get in a rut. Add some variety to your reading list. Both fiction and non-fiction books will present new ideas in their own way. Try reading new genres as well. If you tend to read mysteries, try venturing into literary classics, science fiction, or even poetry.
2. Try new activities
You're never too old to try something new. Play a game, take up a hobby, or try a sport. Lifelong learning isn't limited to a classroom. Trying a new activity such as bocce ball, horseback riding, gardening, or skeet shooting will stimulate both your brain and your body. Card games, board games, or even learning to cook will also challenge your brain to think in a new way.
3. Join discussion groups
Even the most independent person can benefit from sharing his ideas with others. Joining a book club or other social club will let you compare and explore your ideas about a certain topic. To get the most out of a discussion, stay open to those with contradictory ideas. Looking at a long-held belief in a new way stimulates lifelong learning.
4. Sign up for a class or lecture
Classes and lecture series are perhaps the most obvious way to continue lifelong learning, but they are often overlooked. Many colleges provide lifelong learning programs which offer classes that are geared toward learning, not homework or grades. Some active adult communities, such as Sun City Festival in Arizona, work with colleges to offer these classes in their own amenity centers.
5. Use reference tools
Today, it is easier than ever to have information right at your fingertips. Online dictionaries, encyclopedias, and learning websites make it convenient to quickly find answers to a variety of questions. Next time you come across an unfamiliar word or reference, take a moment to look it up online.
6. Shake up your routine
A regular routine may be comfortable, but throwing in a few twists will wake up your mind. You can feel the results with even small changes, such as wearing your watch on the opposite wrist. Try shopping at a different grocery store occasionally, or take a new route when driving to a familiar place. You'll be surprised at how a small change can be unsettling, yet invigorating.
7. Explore new places
Travel provides many lifelong learning opportunities. Traveling breaks you out of your current routine, introduces new places, and perhaps new cultures. However, travel doesn't have to break the bank or even take you far from home. Weekend or day trips to new places are stimulating as well as convenient.
8. Slow down and observe
When life is busy, we tend to cling to routine and go on auto-pilot. This might get us through the day, but we miss out on learning opportunities along the way. Observation leads to curiosity, which stimulates a desire to research and learn. Plan some time to simply sit and observe life. Sit on a park bench, visit a beach, or lay in the grass to watch the clouds. Give your mind time to wonder and it will lead you toward the path of lifelong learning.