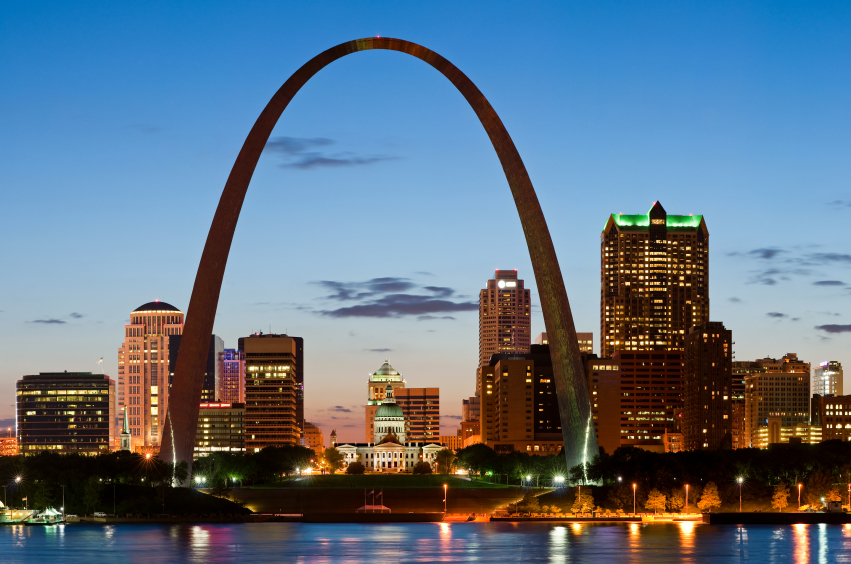 St. Louis may be known for its impressive Gateway Arch, but there's much more to explore in this beautiful Missouri city. Visitors will find an enchanting mix of museums, galleries, shopping districts, restaurants, live entertainment, and even casinos. St. Louis is a great place for a memorable vacation and a fabulous destination for an active retirement.
Climate
St. Louis is located along the Mississippi River in Eastern Missouri, adjacent to the Illinois state line. The area experiences all four seasons with hot summers, colorful autumns, cold winters, and rainy springs. Average high temperatures in the summer months are in the mid-to-high 80s, although the record high in July is 115 degrees. Winter days are cold with some snowfall and temperatures in the high 30s or low 40s.
Local Attractions
Set in an area that was once open prairies, St. Louis now boasts lush, scenic beauty with several parks and gardens. Citygarden, in the downtown area, features meticulous landscaping and impressive modern art sculptures. Nature lovers will also want to spend some time at The Missouri Botanical Garden, which is one of the country's oldest public gardens, and The Butterfly House, which is filled with up to 2,000 butterflies.
Of course, any first-time visitor won't want to miss the Gateway Arch. This 630-foot tall monument offers impressive views of the region, as well as exhibits highlighting America's period of Western Expansion and the historic journey of Lewis and Clark. History buffs will also love the Missouri History Museum, the Museum of Transportation, and Grant's Farm (the former home of President Ulysses S. Grant).
Beyond museums and historic sites, St. Louis offers numerous modern entertainment options. Check out live shows at The Fabulous Fox Theatre or the Repertory Company of St. Louis, visit the Anheuser-Busch Brewery, or explore the nightlife in Soulard—a hopping neighborhood with over 30 restaurants, clubs, and taverns. St. Louis also features casinos where visitors can try their luck or enjoy a variety of entertainment options.
Communities
Active adults who want to settle in the St. Louis area will find some beautiful communities in the city's suburbs. At Heritage of Hawk Ridge, in Lake St. Louis, residents aged 55+ enjoy an amenity-rich clubhouse, as well as a 9-hole executive golf course, tennis courts, bocce ball courts, and scenic grounds.
Those who want a more intimate neighborhood may prefer Meadows of Wildwood, in Grover. This small enclave features just 72 homes, but also offers a 6,000 square-foot clubhouse and many community activities and events.
Whether planning a visit or scouting for retirement destinations, a trip to St. Louis is sure to be a memorable experience.