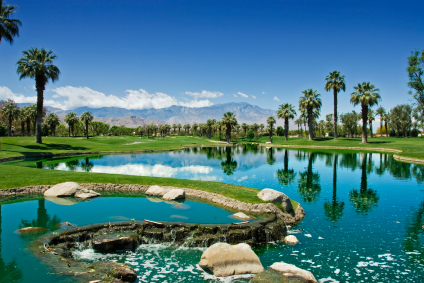 Nestled in California's Coachella Valley, Palm Springs is a world-famous resort city known for its fabulous recreations including golf, swimming, tennis and horseback riding. Whether planning a visit or a relocation, the Palm Springs area is a fabulous desert retreat for active adults.
In the early 1900s, Palm Springs' dry heat and valley location in the shadow of Mount San Jacinto made it an ideal location for health-based resorts. The area took on a more glamorous appeal as early Hollywood stars flocked to Palm Springs in the 1920s and 1930s. Impressive architecture, flashy nightclubs and luxurious celebrity estates added to Palm Springs' allure.
Today, Palm Springs continues to draw celebrities, students on spring break, older adults and family vacationers. Tourism is a key element of the local economy, yet many active adult retirees have moved to the Coachella Valley, making Palm Springs more of a year-round community.
Palm Springs' hot, dry climate with over 300 days of sunshine each year has long been considered its most appealing feature. Winters are warm with comfortable days in the 70s and 80s, making it the most popular time for visiting tourists. Summers in Palm Springs are hot and dry with daytime temperatures frequently climbing over 100 degrees.
Besides its luxurious resorts, Palm Springs offers a wide range of attractions. Art galleries, film festivals and diverse museums provide a rich culture, while the region's impressive architecture can also be appreciated with local tours. Downtown Palm Springs' Forever Marilyn sculpture, which pays tribute to Marilyn Monroe, is just one of the city's iconic tourist attractions.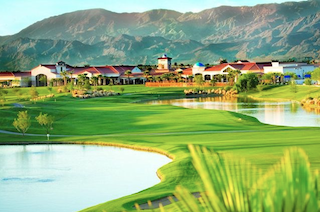 Sun City Shadow Hills is Del Webb's newest active adult community in the Coachella Valley.
With more than 125 golf courses, Palm Springs is a world-famous golf destination. Local and visiting golfers can appreciate challenging play amid spectacular scenery and fantastic weather. Courses of varying length, difficulty and affordability meet the needs of any golfer. There are also several clubs which offer professional golf lessons and clinics. A few of the more well-known courses include La Quinta Resort, Indian Wells Golf Resort and Desert Willow Golf Resort.
Outdoor recreations beyond golf are also popular in the Palm Springs area. Hiking, biking and horseback riding let residents and visitors enjoy the sunny weather and gorgeous local scenery. Local parks provide lovely picnic areas, while aerial adventures include helicopter tours and hot air balloon rides. During the heat of summer, indoor attractions like movie theaters, bowling alleys, nightclubs, casinos, spas and museums provide plenty of local fun.
Active adults who decide to settle in the Palm Springs area will find many appealing age-restricted and age-targeted communities. In the heart of Palm Springs, Four Seasons at Palm Springs offers an intimate setting with exciting amenities. Golf enthusiasts may love a luxurious golf community, like Sun City at Shadow Hills or Trilogy at La Quinta, while homebuyers on a budget may prefer a smaller neighborhood like Villa Portofino.
As a world-famous desert resort area, Palm Springs has many features which make it a fabulous destination for active adult retirees.