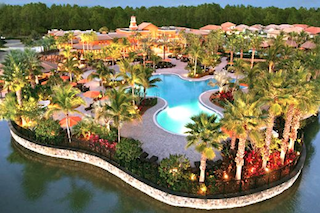 Built by Stock Development in Fort Myers, Florida, Paseo is a gated active lifestyle community popular among active adult homebuyers. Upon completion, the community will feature 1,158 single-family, attached, and condominium residences across 444 acres in the heart of Southwest Florida. With no age restriction but plenty of amenities, active adults looking for homes for sale in the Fort Myers area should see what's available at Paseo.
World-Class Amenities
Recreational activities at Paseo are largely centered around the 26,000 square-foot Village Center Clubhouse. This beautifully appointed facility offers many of the resort-style amenities homebuyers have come to expect in active adult communities.
The Village Center's state-of-the-art fitness facility features cardiovascular and strength-training equipment, as well as an aerobics and dance studio for group fitness classes. After a workout, the Spa at Village Center is the perfect place to unwind. This luxurious spa offers facials, manicures, pedicures, and other massage services in a casually elegant environment.
Entertainment at the Village Center includes plenty of options for socializing with friends or attending community events. Dining facilities range from the relaxed Paseo Pub to the elegant setting and gourmet fare served in The Bistro. Casual snacking is also available with an old-fashioned ice cream shop, an Internet cafe, and a coffee shop. There is even a 90-seat theater for enjoying on-site movies.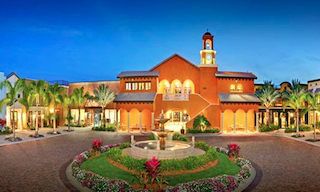 The Village Center at Paseo features a pub, a bistro, a movie theater, a full-service spa and more.
Outdoors, the amenities continue with various activities. Sports courts support activities such as tennis, basketball, bocce, and volleyball. The swimming area features a free-form pool, a spacious sundeck, and private cabanas. A Tiki bar also serves poolside drinks and snacks.
A Variety of Home Styles
Residences at Paseo are designed to meet the needs of many different homebuyers with floor plans ranging from 1,227 to over 3,700 square feet. The community offers a variety of homes for sale, including condos (known as flats), split-level and two-story townhomes, attached villas and casitas, and detached single-family homes.
The condominium flats provide affordable living with compact, low-maintenance homes. Floor plans include two or three bedrooms, two full bathrooms, and a one- or two-car garage.
Townhomes and twin villas give homebuyers many additional options for affordable homes. With multiple floor plans, these attached homes range from 1,459 to just over 2,000 square feet.
Casitas, unique to Paseo, are two-story attached homes that offer additional privacy as they are attached via trellises instead of shared walls. They range from 1,531 to 2,080 square feet and are designed with a minimum of two bedrooms, two-and-a-half bathrooms, and two-car garages.
Single-family homes in Paseo also provide variety through either the Heirloom or Traditional home series. Heirloom homes offer two or three bedrooms, two or three bathrooms, dens, and two-car garages. Traditional homes are the largest in the community with plans for up to five bedrooms, three-and-a-half bathrooms, and three-car garages.