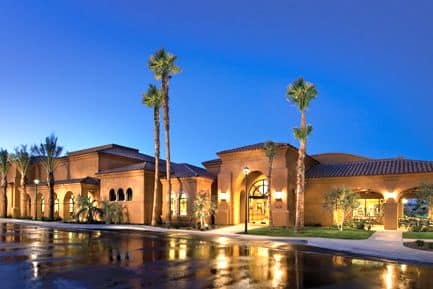 Active adult homebuyers in the Phoenix area will love the exciting amenities at PebbleCreek. This popular Robson community is set in Goodyear, Arizona, within easy access of both scenic attractions in the White Tank Mountains and urban offerings in downtown Phoenix. Within its own gates, PebbleCreek's resort-style amenities include two amenity centers, two 18-hole golf courses, on-site restaurants, and plenty of outdoor recreations.
Robson Communities opened PebbleCreek in 1994 with plans for approximately 6,200 single-family homes. Today, the community welcomes residents aged 40+ and supports an active lifestyle with a varied line-up of social and recreational amenities. Both resale and new construction homes are available in sizes and prices to meet the needs of many different active adult homebuyers.
Amenities
At the heart of PebbleCreek, the Eagle's Nest Country Club complex invites residents to mingle with their friends and neighbors, or make use of the resort-style amenities. The 40,000 square-foot main facility is home to the Eagle's Nest Restaurant, a fitness center, a cozy library, and a grand ballroom. The complex also includes the Creative Arts Center, a specialized space where residents can express their creativity or pursue a new interest. Studios support hobbies such as ceramics, woodworking, stained glass making, and other arts and crafts.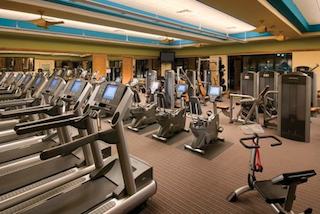 PebbleCreek's second amenity center, the Tuscany Country Club, provides even more recreational opportunities. There are activity rooms, a billiards hall, a library, and a theater with stadium seating. Dining options include a casual cafe, a gourmet hot dog stand, and Toscana's Grill. There is also a sports and aquatics complex where residents can enjoy an outdoor pool and spa area, as well as a state-of-the-art fitness center complete with an indoor lap pool and an aerobics studio.
Recreation
Additional outdoor recreations keep residents moving with activities like golf, tennis, pickleball, and bocce. Resident golfers particularly love PebbleCreek's two 18-hole, par-72 championship golf courses: the 6,790-yard Eagle's Nest at PebbleCreek course and the 6,640-yard Tuscany Falls Golf Club course.
Residences
Beyond its resort-style amenities, PebbleCreek offers desirable single-family homes in a wide range of sizes and styles. Construction of these homes began nearly 20 years ago, in 1994, and is continuing today. This has led to a diverse mix of floor plans throughout the community, ranging in size from 1,110 to over 3,400 square feet.
Single-family homes include two to five bedrooms, two to three-and-a-half bathrooms, and a two- or three-car garage. Many homes also have separate dens and covered patios, while several of the larger models have oversized garages with space for golf cart storage. Homes of every size are designed with appealing features, such as spacious master bedroom suites with walk-in closets, open kitchens, vaulted ceilings, and optional fireplaces.
With beautiful homes, resort-style amenities and a fabulous setting in the Phoenix suburbs, it's easy to see why PebbleCreek is a popular choice for homebuyers aged for 40+.
For more information on this community click here: PebbleCreek – Goodyear, AZ