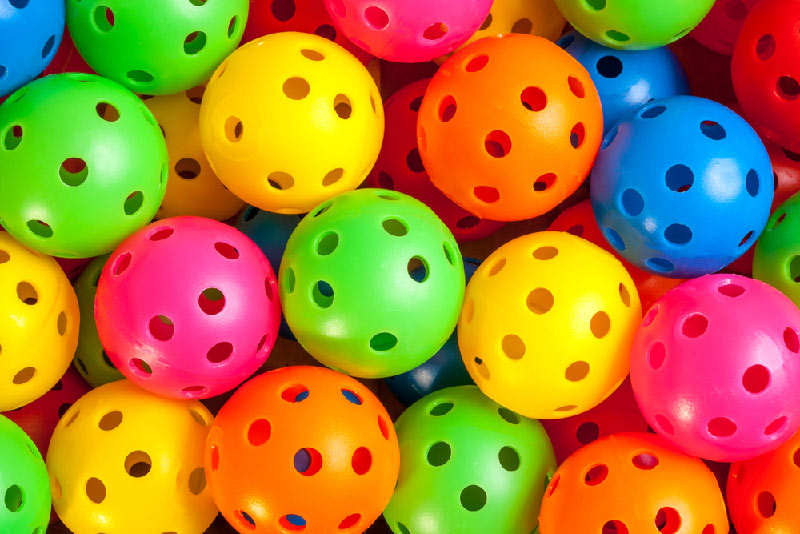 Goodbye shuffleboard, hello pickleball! Shuffleboard, a once popular activity at retirement communities across the country now appears to be facing a retirement of its own. Active adult buyers are searching for communities that offer the latest innovative ways to stay youthful and active. Nowadays people not only live longer, but they also look younger as they seem to age slower.
Active adult community developers understand this and accommodate their 55 and over residents with an appropriate lifestyle. Activities are no exception and pickleball is moving in, while shuffleboard is on its way out. Pickleball certainly sounds more interesting, but what exactly is it?
What Is Pickleball?
It is not a new game and has been around for a few decades. Pickleball actually was born right after the end of the era of the baby boomers, 1965 to be exact. The originators of this game had a dog named Pickle who kept taking off with the ball, and hence the name Pickleball was born. It is generally played with four players, two on each team, but can also be played one on one. Pickleball is played on a hard surface divided into zones by a net, and uses a plastic ball with holes in it. It is a sport that borrows elements from badminton, table tennis, and tennis.
The court is like a badminton court, generally sized 44' x 20' and divided in two courts by a 34" net. The paddles are similar to those used in table tennis, but are slightly larger. Only the team who serves can score. While volleying is allowed in this game, it is not allowed in the non-volley zone (within seven feet from the net) or right after the serve.
During game play, the ball must be returned over the net before it bounces twice. Players are only allowed to touch the ball with the paddle or their hand, as it serves as an extension of the paddle. The team which reaches eleven points first wins, but must win by two points. Exceptions can be made if the game runs too long.
Great Form Of Exercise
After understanding the game, it is easy to see why it has become popular in active adult communities and beyond. Pickleball is a desirable sport for all family members, but leave the dog inside! It is a perfect addition to the active adult community calendar because of the balance it strikes between high impact sports like tennis, and slower paced activities like the now ill-fated shuffleboard.
Since pickleball is a low impact sport, people who nurse lingering injuries or suffer from conditions such as arthritis can now exercise while maintaining the fun factor. Not only is pickleball fun for the players, but it is exciting to watch, which makes it a much more sociable and interesting event than shuffleboard.
Active adult communities recognize these factors and are setting up pickleball courts everywhere. Since not much space is needed and the gear used is very inexpensive, everyone involved comes out a winner.