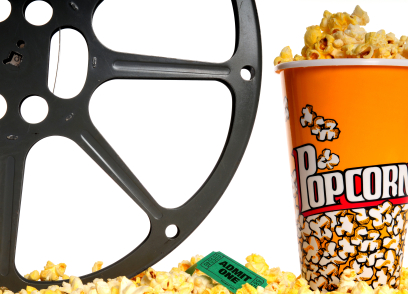 At active adult communities around the country, empty nesters and retirees gather for a variety of social events. While activities cover a wide range of theme parties, lecture series, and other entertainment attractions, movie night is a staple that shows up everywhere from the smallest neighborhoods to sprawling resort-style communities. What makes movie night such an enduring pastime? And how can more active adult communities enhance their own movie night events?
Movie night is a hit at so many active adult communities because it is a highly adaptable activity. Smaller, more intimate communities may host a movie night that brings together a dozen or so of the residents, while large resort-style communities might have a theater room that can seat upwards of 100 people. The largest communities may even have their own full-blown movie theaters where residents can arrange to have regular group outings.
The wide variety of movies available on DVD or Pay-Per-View makes it easy to choose genres that appeal to a particular group, or host themed screenings. With movies being released on DVD so quickly, it is easy to feature a recent movie without the hassle of going out to a crowded theater or the expense of rising movie theater ticket prices.
Yet movie night does not have to feature a newly released blockbuster. Classic films are also a great choice for movie night, as it's always more fun to watch a favorite movie with a group of friends. To really make the most of movie night, some active adult communities extend the screening to include a pre-movie dinner, post-movie discussion, or both.
For groups who really like to delve into a variety of movies, themed showings of lesser-known movies can introduce films that residents may otherwise not encounter. And audiences don't always have to wait for a DVD release to see non-mainstream films. For example, some independent and foreign films that have a limited theater release are simultaneously available through Video On Demand services.
At many active adult communities, movie night is a regular part of the community activity calendar. Just a few of the diverse communities that host regular Movie Nights include Trilogy at Power Ranch in Arizona, Steeplechase at Church Club in Illinois, Lakes of Mount Dora in Florida, Potomac Green in Virginia, and High Country Villas in California. For movie buffs across the country, active adult communities provide the perfect setting for a fun-filled movie night.