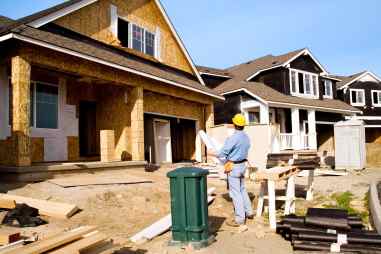 Searching for a new 55+ home for sale is often wrought with new terminology. Understanding floor types to moulding can be overwhelming, and that's before you get to the mortgage.
Although there are nearly endless ways to customize the interior of the home, the exterior home styles are no less diverse. To help navigate this part of choosing a home, we've compiled a list of the most popular exterior home styles in active adult communities.
Cape Cod
Particularly popular in the Northeast, the Cape Cod style surged to national popularity just after World War II. The Cape Cod home was influenced by the thatched roof style found in Britain in the 1600s and was transplanted to the New World, where the Cape Cod's large fireplaces and steeper roofs were helpful during brutal Northeastern winters.
The Cape Cod's distinctive characteristics include windows that flank the front doors, dormer windows, cedar shingles, and often have a rectangular shape. Although typically single-family homes, Bent Creek Crossing in Mechanicsburg, PA, has Cape Cod style attached homes.
Craftsman
Born out of the Arts and Crafts movement that came to the United States in the early 20th century from the United Kingdom, Craftsman-style homes are often constructed with natural materials like wood, stone, and brick. Craftsman homes, keeping with the spirit of the Arts and Crafts movement, emphasize simplicity, originality, and hand-crafted features.
The exterior style of a Craftsman home is distinguished by the wide front porches underneath an extension of low-pitched roofs and a rustic, natural paint color. Heritage Creek in Southern Delaware is one active adult community that offers the Craftsman style.
Colonial
Also a form of a 17th century aesthetic, the Colonial style has a pleasing simplicity to its approach. Defined by its symmetry, colonial-style homes often have evenly spaced shuttered and dormer windows, columns, and paired chimneys. Another common characteristic are the two sets of windows that flank the centrally placed front door and a medium-pitched roof, the better for drainage during rainy days. Heritage Run in  Lebanon, Pennsylvania offers a more modern interpretation of the traditional Colonial-style home.
Mediterranean
A popular home style from its namesake's region, the Mediterranean style has found popularity in Southern California, Arizona, and parts of Nevada. Coming to prominence in the inter-war period, the Mediterranean-style home is defined by red-tile roofs, arches, plaster surfaces, porticos, balconies, and highly stylized and ornamental details. This style also typically has heavy wooden doors and multicolored tiles. Toscana County Club near Palm Springs, California is one of several active lifestyle communities that incorporates this increasingly popular style.
Spanish
Imported to the United States from Mediterranean settlers, Spanish-style homes fused European and Native American aesthetics, finds fans in Florida, Texas, Arizona, New Mexico, and California. These homes are distinguished for their stucco exteriors, clay tile roofs, wrought-iron details, and some with more elaborate examples like bell towers. Spanish-style homes, also referred to as Spanish Eclectic houses, were also developed to incorporate open outdoor gathering spaces and often have central courtyards for this reason.
Cottage
Originating from European peasant farmers (called "Cotters") in the Middle Ages, Cottage homes became popular stateside in the early 20th century. Cottage homes are defined by stone or wood siding, curved entryway, gravel or brick front walkway, and bright colors in a smaller living space, making them popular options for active adults looking to downsize. These homes are often asymmetrical and are great for homeowners looking for individuality and character in their home.
Which home style is your favorite?