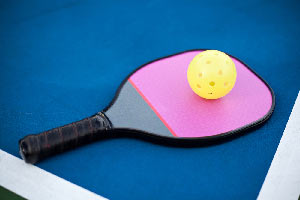 The Quad States Senior Open Pickleball Tournament will be held at Robson Ranch Texas this year.
Robson Ranch in Denton, Texas will host the annual Quad States Senior Open Pickleball tournament on May 8-10. The tournament is sponsored by the USA Pickleball Association and the event is geared towards players aged 50+.
More than 250 teams have entered the tournament and organizers are expected to host players from 17 different states. Robson Ranch Denton Pickleball Club has 16 pickleball courts and more than 350 members, making it the largest social club within this 55+ community as well as the perfect place to host such a large event.
"We are excited to be hosting the Quad States Senior Open Tournament at Robson Ranch," said Warren Williams in a statement, president of Robson Ranch Denton Pickleball Club. "Our pickleball courts are exceptional and our pickleball program is robust. We love having the opportunity to showcase our community."
Pickleball has seen a rapid rise in popularity among active adults and those in 55+ communities over the years. The sport is a combination of tennis, badminton, and ping-pong. It's played on a badminton-sized court with tennis lines and a modified tennis net. Games can be played in singles or doubles and players use a paddle to hit a plastic ball to the other side. Pickleball is known for its simple rules and being accessible to everyone.
The tournament is free and open to the public and will be held at 9501 Ed Robson Blvd., in Denton. Men's doubles and women's singles will be played May 8, mixed doubles on May 9, and men's singles and women's doubles on May 10. Matches will begin at 8 a.m. and end late afternoon. Pickleball players and fans throughout the Dallas-Fort Worth area will enjoy a great weekend of sport and recreation at Robson Ranch in Denton.