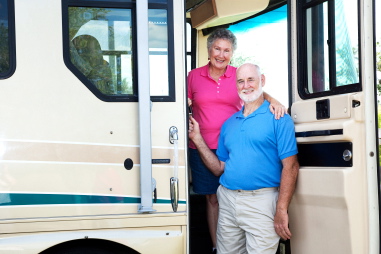 There are many items that southbound snowbirds must remember when packing up their RVs. The best way to be prepared is to make a detailed list and check off the items as you go. The packing list itself should also come along. Stash the list in an easily accessible drawer and add items to it while traveling. That way, you can be even more prepared when packing up in the following years. Whether you'll be traveling the scenic East Coast, the coastal West Coast, or somewhere in between, you'll want to make sure your RV is fully prepared so you can make the most of your time on the road.
When making your RV packing list, it might help to divide it up based on different categories. The specific items you need will vary from person to person, however the following categories are a good place to start.
First Aid/Medicine
Always pack first aid supplies, such as assorted bandages, alcohol wipes, antibiotic cream, tweezers, gauze pads, adhesive tape, pressure dressings, hot/cold packs, and a book on first aid. Your list should also include your prescription medication, various over-the-counter medicines, vitamins, a thermometer, and your doctor's phone number.
RV Housewares
There are many day-to-day items you will need while traveling, such as garbage bags, paper towels, toilet paper, food storage bags, cleaning supplies, soap, shampoo, a travel clock, batteries, flashlights, and a fire extinguisher. You should also list bedding and towels. Items like safety pins, duct tape, and a Swiss Army knife or multi-tool can help in many situations.
Cooking Supplies
This includes everything you need to cook and eat your meals, minus the food itself. List items like pots and pans, cooking utensils, mixing bowls, measuring cups, dishes, drinking glasses, eating utensils, a teapot or coffee maker, mugs, oven mitts, and anything else you use to prepare your meals.
Food
While you will continue to grocery shop while traveling, you do want to start your trip off with some essentials, including plenty of snacks. Plan on stocking some simple, non-perishable meals like cans of soup, boxed pasta and jars of sauce, and canned fruits and vegetables.
Entertainment
This fun list will include items for the road like MP3 players, laptops, books, games, and puzzles. It also lists recreational items like fishing poles, hiking gear, kites, golf clubs, sporting goods, exercise gear, and tennis racquets.
Clothing
It may help to have a general list of the types of clothing you want to bring. This might include bathing suits, beach cover-ups, evening wear, jackets, rain gear, pajamas, sun hats, sandals, hiking boots, or other special occasion clothing.
Destination-Specific Items
If you are traveling to a summer home, make sure you have the keys. If you are renting a home, you should bring the rental agent's contact information and a copy of the rental agreement. You will also want to bring local maps, security system alarm codes, and any other important documents.
While there will be opportunities to shop during your travels, you do not want to leave behind important items like prescription medication or the keys to your summer home. When migrating south for the winter, experienced snowbirds know that a thorough RV packing list will make for a more enjoyable journey.