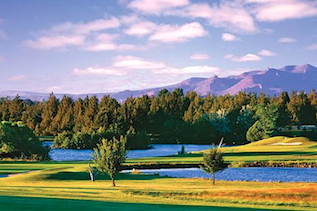 Set in the center of Oregon, Bend offers a scenic mountain retreat with the sunny days and cool nights that are typical for its high desert elevation. Bend is the largest city in Central Oregon with a population of just over 80,000. In addition to its beautiful mountain vistas and outdoor recreations, Bend provides plenty of entertainment including shops, restaurants, museums, and theaters.
Originally known as "Farewell Bend," the city of Bend is nestled right in the center of Oregon at an elevation of 3,625 feet. Bend is about two and a half hours from Salem and Eugene, and just over three hours southeast of Portland. Snow-capped mountains, high-desert skyline, and a charming downtown area each add their own appeal to this tranquil getaway.
Climate
With its high desert elevation, Bend's climate is relatively mild with low humidity and the diversity of experiencing all four seasons. Summers are typically sunny and comfortable with days in the low 80s and chilly nights. Winters bring snow, particularly in the peaks of the nearby Cascade Mountains, and days that often range from 40 to 50 degrees. Bend's unusual location between the mountains and high desert causes the temperature to fluctuate quite a bit throughout the day, however it also leads to an average 300 days of sunshine each year.
Recreation
Sunny days, cool nights and four seasons make Bend a great location for a variety of outdoor recreations. Some of the popular local pastimes include golfing, biking, hiking, rock climbing, fishing, rafting, skiing, and snowboarding. Bend is also a great place for avid runners as it offers an extensive trail system including 51 miles of in-town trails.
The pristine scenery paints a beautiful backdrop for any outdoor adventure, even strolling through town or dining al fresco. Savvy shoppers can explore a variety of local shops and national retail stores in Bend's downtown area or Old Mill District. Fabulous restaurants throughout the area also provide everything from casual buffets and micro-breweries to fine dining and an exciting nightlife. Bend is a fabulous spot for a tranquil yet active vacation.
The Falls at Eagle Crest
However, its scenic beauty, mild weather and diverse attractions also make the area an appealing retirement destination. Active adults who choose to settle in the Bend area may find a charming home in town or just outside of the city. The Falls at Eagle Crest, in nearby Redmond, is a beautiful 55+ community with a variety of resort-style amenities including an inviting clubhouse and three 18-hole golf courses. High desert and mountain vistas, 300 days of sunshine and an eclectic mix of entertainment and outdoor recreations help make Bend, Oregon an appealing spot for visiting or relocating active adult retirees.