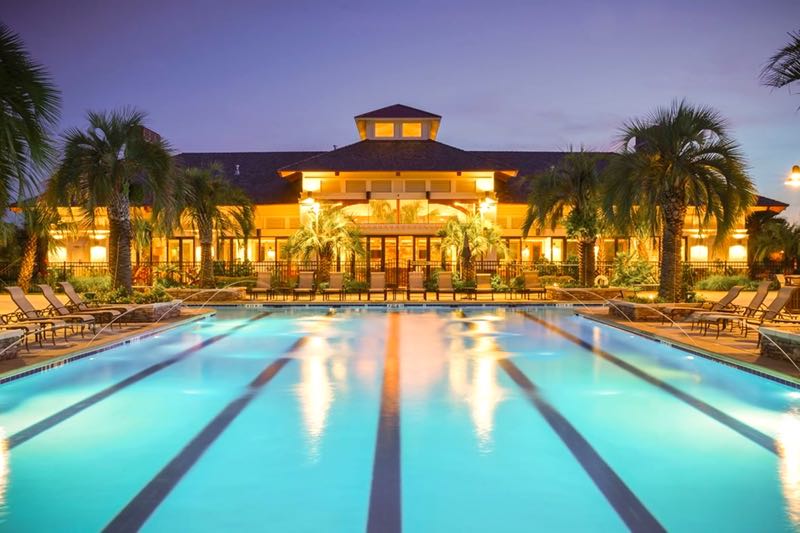 Compass Pointe is a luxurious non-age restricted community featuring thoughtfully designed amenities and a resort-centered lifestyle in Leland, North Carolina. It opened in 2007, and upon completion will offer 2,000 single-family and attached residences clustered within distinctive neighborhoods.
Homes are being built by several development companies and are currently available on a new and resale basis. Widely varying floor plans range from 1,600 to 3,000 square feet, and many are customizable to homebuyers' tastes and preferences. Residences feature up to four bedrooms, four bathrooms and attached garages. The social hub of the community is the Grand Lanai Amenities Center, a 10,000 square-foot clubhouse that offers a little something for everyone. A large central lounge greets visitors when they first walk in with ample seating, dual bars and a fireplace and TV. Community members like to gather here for formal parties and informal socializing. Elsewhere within the facility, several multipurpose rooms and a well-appointed catering kitchen also encourage a congenial, community atmosphere.
For the fitness-minded, a separate 7,000 square-foot center houses state-of-the art exercise equipment — spin bikes and cardio/strength machines — plus a spa complete with a sauna and steam rooms. Outside, two lighted tennis courts invite friendly competition, and a resort-style pool with a large patio area beckons homeowners for a relaxing time in the sun.
The surrounding property provides miles of parkland and open space, trails for walking and biking, an inland lake with beachfront, and access to a dog park. Under construction but not yet complete is an 18-hole championship golf course. It's a Rick Robbins signature course that will also offer practice greens and an on-site pro shop. Although there's plenty to keep residents busy on the property, the small town of Leland is just minutes away and features recreational opportunities and beautiful beachfront.
The secluded beaches of the Brunswick Islands are all within driving distance, and while residents are waiting for Compass Pointe's golf course to be built, they can check out the award-winning Magnolia Greens and Cape Fear National courses in the heart of Leland. Boutique shops and restaurants and the Silver Coast Winery are just a few of the other many attractions in this charming and historical town.
Nearby Wilmington offers additional opportunities for shopping and dining, as well as a beautiful downtown historic district and riverwalk. Specialty boutiques sell everything from antiques to handmade crafts, while independently owned restaurants and breweries serve up fresh, local fare.
Outdoor enthusiasts will find much to love about Wilmington as well — several outfitters rent kayaks, canoes, jet skis and more for a leisurely day out on the water. Like Leland, Wilmington is known for miles of scenic, white sand beachfront complete with boardwalks and places to launch a boat or fly a kite, perfect for when grandchildren are in for a visit.
Active adults aged 55 and better who are looking for a multigenerational community with world-class amenities, a resort lifestyle and low-maintenance features should chart a course for Compass Pointe.