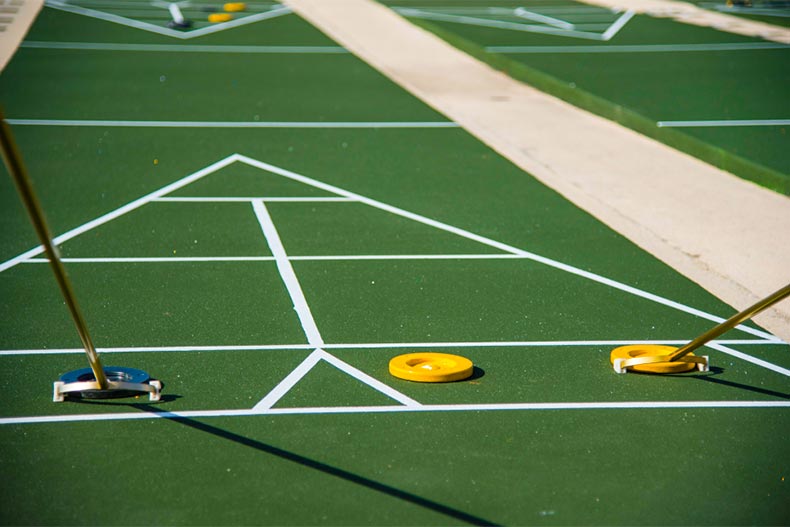 Shuffleboard may seem like a pleasant hobby; a way to get a little exercise while you socialize with friends and partners. But, if you're serious about your shuffleboard, you may feel a little competitive out there on the courts.
Many active adult communities in Florida offer shuffleboard as an amenity. It's a year-round activity in every part of Florida and a trend that has reached all age groups. Private shuffleboard clubs have emerged in places like St. Petersburg, Zephyrhills, Lakeland, and Miami.
Two Florida 55+ communities take their shuffleboard offerings to a new level. They play tournaments.
Sea Pines - Hobe Sound, FL
With two shuffleboard courts available for practice and play at Sea Pines in Hobe Sound on Florida's Treasure Coast, residents and their guests can compete for fun or for glory. The community offers shuffleboard tournaments regularly, and if you live in one of the 118 attached homes, you may find yourself wanting to watch the competition even if you don't participate. There's a spirit of competition, but an even stronger spirit of sportsmanship, making these shuffleboard tournaments one of the many perks associated with the Sea Pines lifestyle.
In addition to the shuffleboard fun, residents of Sea Pines enjoy a game room, a billiards room, and a well-stocked library. There are movie nights, book clubs, and bingo games. The community is close to some of central Florida's nicest Atlantic beaches, as well as Lake Okeechobee, the state's largest freshwater lake.
Shuffleboard 101 Tip
Know how to keep score. Sliding your disc into the top triangle gets you ten points, the two boxes below it get you eight points, and the two boxes blow those get you seven points. If your disc slides into the bottom box, you lose ten points. Any discs touching a line means no points.
Vista del Mar - Vero Beach, FL
Shuffleboard tournaments are encouraged and regularly played at Vista del Mar a community for active adults in Vero Beach. The social dynamic in this gated condominium community is such that residents and neighbors are always coming together for activities and events. Tournaments frequently get organized around the four shuffleboard courts. There's also a pool, a clubhouse, and private beach access for residents at Vista del Mar.
Condos at this community range in size from 800 square feet to 2,000 square feet. They were built in the 1970s, but all units are updated and modernly appointed. With an active homeowners' association, residents enjoy low-maintenance living and have plenty of time for clubs, activities, and shuffleboard tournaments.
Shuffleboard 101 Tip
No fancy footwork. If you're holding your shuffleboard cue in your right hand, the last step you take before moving your disc should be with your left foot. If you're holding your shuffleboard cue in your left hand, the last step you take before sliding your disc down the court should be with your right foot. It's like bowling.
Getting Involved in Shuffleboard Tournament Play
If you love playing at your community's shuffleboard courts but you haven't found a tournament yet, why not start one? Talk to your activities director or association about putting together some friendly matches. You can also join the Florida Shuffleboard Association, an organization of statewide shuffleboard clubs separated into seven regional districts. You can even join a private local club. If you live in the Tampa Bay area, the St. Petersburg Shuffleboard Club is wildly popular, has tournaments and leagues, and allows for free community play every Friday night.