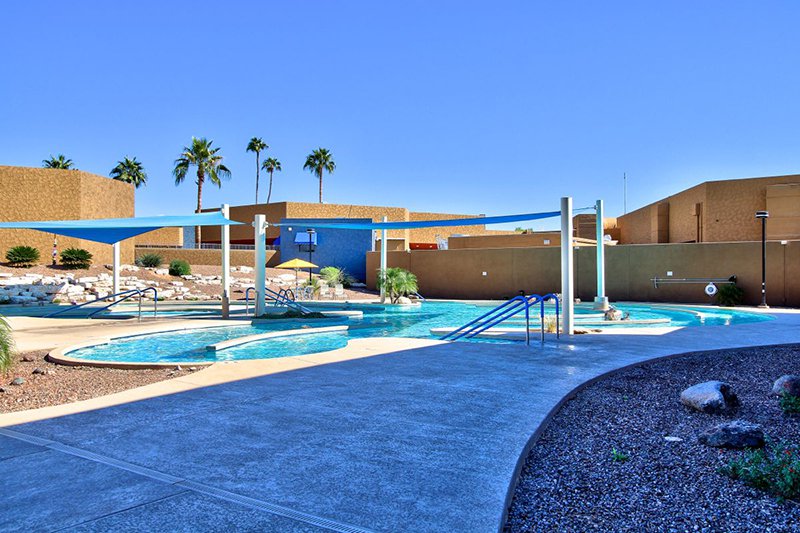 Retirees who value a close-knit neighborhood setting but don't want to sacrifice great amenities and social lifestyle should consider a smaller 55+ community in Arizona. Baby Boomers can choose from a variety of small active adult neighborhoods with less than 500 residences in Arizona.
They're smaller in size than large 1,000-home communities but still have well-appointed clubhouses and plenty of social activities that keep residents busy all year long. So if you prefer to live in a less crowded environment that offers a small town vibe where neighbors become lifelong friends, then check out these six small 55+ communities in Arizona.
Four Seasons at The Manor in Sun City
Active adults will love this new 55+ neighborhood coming to Sun City. With just 140 single-family homes built by K. Hovnanian, retirees will enjoy the friendly and welcoming atmosphere in this small community. The best part about living in Four Seasons at The Manor is the countless indoor and outdoor amenities found at Sun City's active adult community.
Residents have access to multiple community centers and clubhouses with plenty of social spaces, fitness centers, game rooms, outdoor pools, sports courts, and golf courses. Four Seasons at The Manor may be small within its own neighborhood section, but offers world-class amenities and activities like a typical upscale country club.
Meridian Manor in Apache Junction
Located in an eastern suburb of Phoenix, Meridian Manor not only offers a small community setting but a prime location in Central Arizona that's close to daily conveniences and attractions. This 443-home community also provides a 10,000 square-foot clubhouse with plenty of resort-style amenities that keep residents physically active and socially engaged any day of the week.
Homeowners will enjoy everything from fun indoor activities like billiards and table tennis to outdoor sports courts like shuffleboard, pickleball, and bocce ball. And with a long list of activities, clubs, and events to choose from including stretch class, bible study, cribbage, card bingo, line dancing, and ladies luncheon, residents will never have a boring moment in Meridian Manor.
Vista View Resort in Sierra Vista
Vista View Resort is an affordable 55+ community in Southern Arizona. This gated active adult neighborhood will have 355 single-family residences at completion. Retirees who choose Vista View Resort as their retirement destination will enjoy the 5,500 square-foot clubhouse that provides a great lineup of amenities.
Here, residents stay fit in the fitness center, read a book in the library, play poker in the card room, or play a round of miniature golf. Neighbors get to know each other easily with planned events and clubs like knitting club, tai chi, and Wii bowling that are organized by the community's activities director. Thanks to the activities director, social and recreational activities are continuously planned for all residents to participate in and meet new friends.
Unlike any other small 55+ community in Tucson, Academy Village does not only have a close-knit neighborhood setting, but it is also home to the Arizona Senior Academy (ASA). Here, residents pay a low monthly fee to attend continuing education classes and access the computer center and library. The ASA also provides free concerts, lectures, and public service events for Academy Village.
In addition to the ASA, residents also have a community center that features a café, outdoor pool, hiking trails, Pilates studio, and meeting rooms. Homeowners have a vibrant lifestyle in Academy Village. They find it easy to meet new neighbors while staying busy socially. They can join a hiking group, weekly resident get-together, a Spanish group, needlework group, social hour, or poetry club. The options are endless for keeping residents active and busy in this small age-restricted community.
Victorian Estates in Prescott Valley
This established 178-home active adult community provides a welcoming setting for retirees in Northern Arizona. Homeowners are socially engaged with a great clubhouse full of charming amenities such as an exercise room, picnic area, outdoor pool, veranda, billiards, and multi-purpose room.
Residents can participate in fun activities and get to meet new people to share common interests or start a new club. Activities and clubs like Ladies bridge, red hat club, canasta, bunco, book club, and much more are always available for homeowners to enjoy. Baby Boomers thrive in this fun and tight-knit community where neighbors become fast friends. Victorian Estates also has a prime location in the heart of Prescott Valley, which allows easy access to golf courses, shopping, and dining, and attractions close by.
Verde Groves is a small, yet charming age-restricted community in Mesa, Arizona. Retirees who value their privacy but want to remain close to attractions will love the gated and intimate neighborhood setting that's near everything the Phoenix area has to offer. With just 210 attached homes, residents enjoy the close-knit environment without giving up world-class amenities.
The heart of Verde Groves is found at its 10,000 square-foot clubhouse. Retirees who have a passion for the arts can explore their creative side by utilizing the ceramics, sewing, or arts and crafts studio. The clubhouse also provides fun social spaces like a card room, ballroom, library, billiards, and catering kitchen. Neighbors often gather for poker, painting, Mah Jongg, water exercises, quilting, sewing, and much more. The options to have fun and be active are endless in Verde Groves.