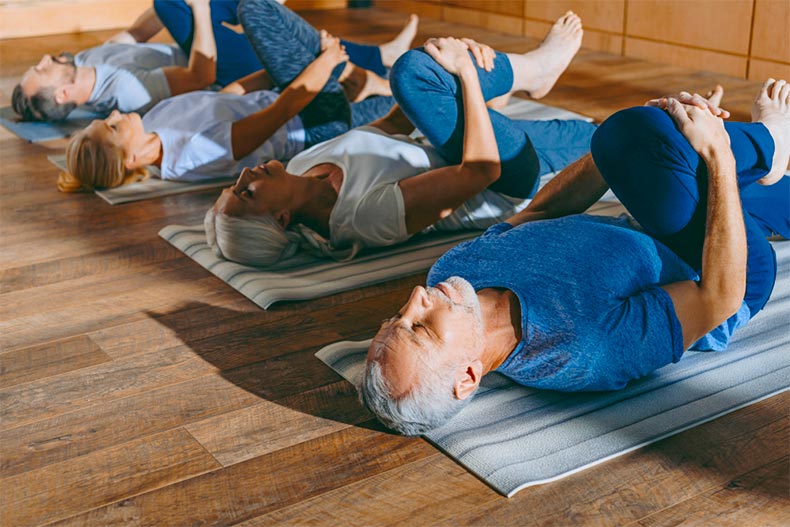 By living in a 55+ community, active adults likely have access to a wide range of fitness classes and activities, including yoga, pilates, spin classes, and more. Whatever your preference may be, there are a variety of ways to stay in shape. And as any fitness enthusiast can tell you, there are always new trends and workout techniques to check out.
One of the newest trends to emerge in the fitness world are stretch studios. As their name implies, stretch studios are wholly dedicated to helping participants stretch themselves in unique ways thought unachievable by most. And though they aren't necessarily available within an actual active adult community, many older adults are taking advantage of the many benefits that come with this activity.
All across the country studios like Stretch Zone, StretchLab, and Motion Stretch are opening, offering visitor a one-on-one session with stretching experts, otherwise known as "flexologists". Although it may sound simplistic, stretching is purported to lead to a number of health benefits, including a boosted blood circulation, reduced pain, improved posture, and an overall better disposition.
Benefits for Active Adults
Active adults in particular have been found to benefit from stretching exercises and classes. In a 2014 study conducted by the Journal of Exercise, Sports, & Orthopedics, active adults who followed a regular stretching regimen for a year found their flexibility and muscle strength to be vastly improved to others in their age group.
Another study in the journal, Gerontology, tested a small group of women with an average age of 65. After 12 sessions of stretching exercises over a course of four weeks, the group found the length and speed of their strides to resemble that of much younger adults.
Less Strenuous
While other workouts like Soul Cycle, running, and boot camp classes can leave your body feeling strained and compressed, stretch studios are designed to do just the opposite.
Participants will instead be treated to a calm environment where the number one priority is to relax and unwind. Depending on which studio you choose prices ranging from $40 or so for 25 to 30 minutes to $100 for a full hour. However, many studios offer packaged discounts as well.
Solo or in a Group
Though you can of course stretch on your own, one of the main benefits of utilizing a stretch studio is getting to work directly with an expert. Classes are often personalized so that trainers can base a session off the specific needs and requirements of participants.
Trainers will help guide participants in the correct position so that injury is avoided and also to get you into a deeper stretch than would be possible on your own. This ensures that whatever the situation, stretchers will benefit as much as possible from their session. Though stretch studios are therapeutic, they are in no way a substitute for actual physical therapy. They're simply a more relaxing fitness activity to help stay in shape.
Whether you're suffering from muscle pain or an injury, looking to improve balance, or simply seeking out a new workout that isn't as strenuous as others, stretch studios might just be the solution you're looking for. Who knows, maybe your 55+ community will be the first to jump on the bandwagon.