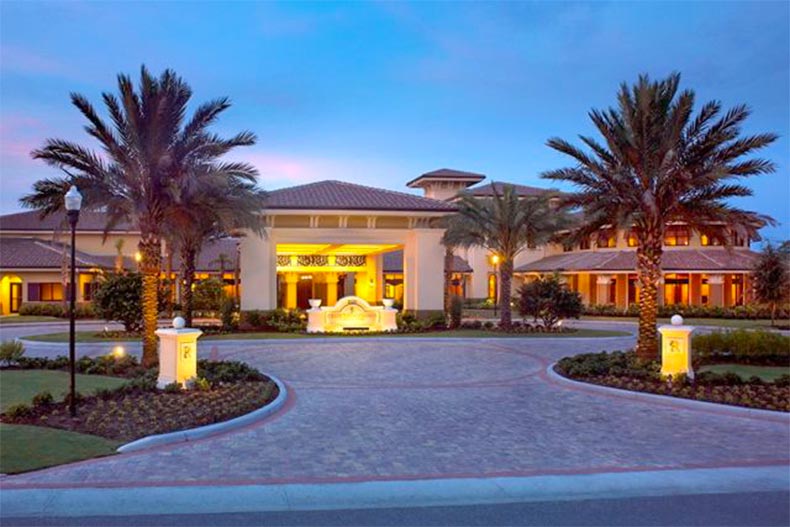 For more than 50 years homes have been constructed in Sun City Center, one of the largest 55+ communities in Florida. Now, the development has reached its final build-out and the last new home has been sold. Building began in 1961, since then this active adult paradise has been the standard against which all similar communities are measured. Luckily, there are plenty of resale options available to potential homeowners preparing for an enviable move to the Tampa Bay area.
The Sun City Center Community
Sun City Center was created by Del Webb, who is also responsible for other popular Sun City communities like those in California and Arizona. In 1972, Del Webb sold the land that had not yet been developed and a number of builders came and went over the years. In 2010, Minto Communities bought the remaining land and constructed 718 properties in neighborhoods such as Kings Point, Oakley Green, and Renaissance. The builder also updated the landscaping and the entrance to the community, appealing to buyers who were looking for something modern and attractive.
Resale options in Sun City are diverse so there are options for all kinds of lifestyles and budgets. Prospective residents can choose from attached villas, single-family homes, and condos. Whether you want a small, two-bedroom home with a porch or a sprawling four-bedroom house with over 3,000 square feet and a den, you'll be able to find something that meets your needs within one of Sun City Center's 100 homeowner associations.
This is a self-contained village in an unincorporated part of Hillsborough County, where residents have their own shopping centers, grocery stores, places of worship, and medical facilities—including a hospital.
Sun City Center Amenities and Lifestyle
Sun City Center is known for its amenities and an independent way of doing things. With clubhouses, fitness centers, and pools spread out among the associations, there's always somewhere to go that's within walking distance (or driving distance on your golf cart). Residents can take part in various clubs, activities, and classes. Some of the most popular things include aerobics, yoga, writing, photography, painting, and dancing. There are local bus trips planned to places like St. Petersburg, the Brandon Mall, and the beach.
Additional amenities include saunas, shuffleboard courts, volleyball courts, theaters, tennis, lawn bowling facilities, and a woodworking shop. Without an organized government in place, the community is run by volunteers.
Sun City Center Location
One of the best reasons to live in Sun City Center is its location. Less than half an hour from Tampa, there's plenty to do and a lot of recreational and cultural activities to enjoy. There are museums, professional sports, performing arts theaters, and all kinds of shopping venues. Fishing and boating are easy to do on Tampa Bay, in the Hillsborough River, or in the Gulf of Mexico.
Sun City Center is located just down the street from Little Manatee River State Park, which is known for its hiking trails and kayaking opportunities. Ruskin is also close to Sun City Center, and one of the best places to find authentic Mexican cuisine. You can also launch your boat, canoe, or kayak from Cockroach Bay State Preserve, one of the best places to view and photograph birds and wildlife.