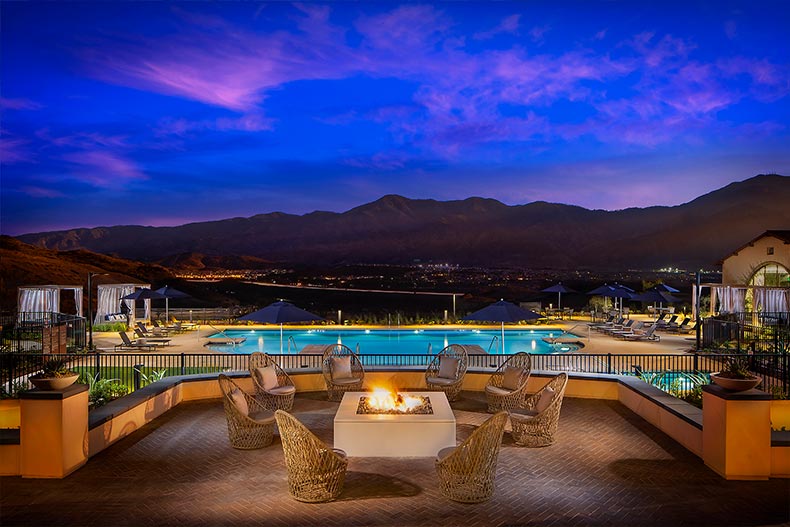 The Inland Empire of Southern California – already rich in active adult communities – is welcoming a new, master-planned, 55+ neighborhood option at Terramor called Oakton. Terramor is the award-winning, multigenerational development located in the Temescal Valley south of Corona in western Riverside County.
Terramor's master developer, Foremost Companies, celebrated the grand opening of builder Van Daele Homes' new Oakton neighborhood with a hospitality and entertainment event in late April. Prospective residents were invited to tour three professionally decorated model homes and enjoy the views from homesites in this unique neighborhood.
There's a Lot Going on at Terramor
The new Oakton debut caps a big year for the growing Terramor resort. Early in 2018, the community made a splash with the grand opening of another brand new 55+ neighborhood, Sterling.
As the year progressed, so too did the Terrace Club, leading up to the exciting big reveal, when residents and visitors alike got to explore the resort-style amenity center and take part in tennis and pickleball lessons, art classes, live pottery demonstrations, and more. The opening of this exclusive oasis for 55+ residents raised the bar for Terramor living.
Along with these special events, the lifestyle at Terramor has been growing. The Welcome House established monthly homeowner events to spark connections and friendships between neighbors and residents. Getting involved in the community became second nature with welcoming social and wellness clubs.
Terramor has also taken pride in its open and scenic nature. Public trails opened and construction began on the Vista Trail, which will make it even easier to explore the beautiful surrounding preserved open space, winding through the nearby hills with spectacular views of the Santa Ana Mountains. For even more outdoors to discover, Terramor Commons will soon be enjoyed by residents with sports fields, dog parks, event space and more.
It's also worth noting that Terramor was named Master-Planned Community of the Year by the Building Industry Association of Southern California at its 2018 SoCal Awards, citing spacious home models, world-class amenities, and the engaging lifestyle.
What Does Oakton Have to Offer?
The Oakton neighborhood includes 83 homes across three different floor plans that range from approximately 2,485 to 3,207 square feet with two or three bedrooms, three to four-and-a-half bathrooms, and attached two-car garages. These single-story homes also include optional features such as second-floor spaces, dens, wet bars, and more. Prices for Oakton homes range from the high $400s to mid $600s.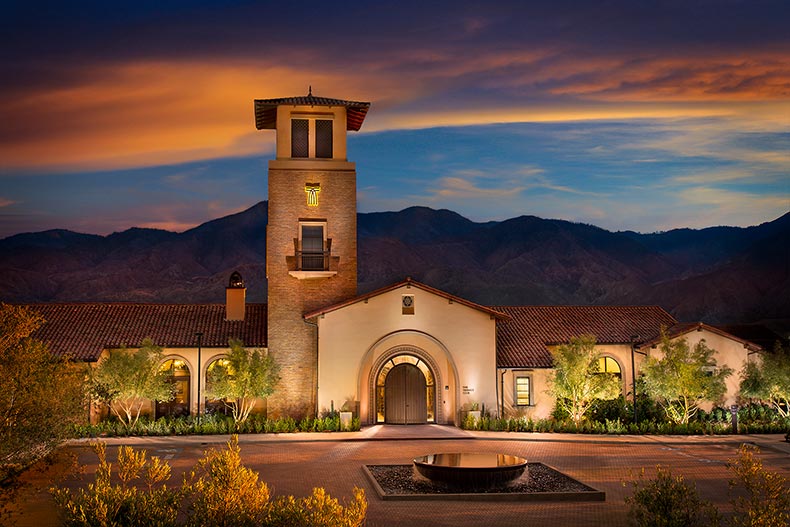 The Terrace Club is home to 20,000 square feet of amenities and is only for Terramor's 55+ residents.
Terramor Homes & Amenities
In addition to Oakton, Terramor's 55+ neighborhoods include Ardena, Cortina, Sterling, and comprise some 350 luxury ranch-style homes. When finished, the larger residential resort community will consist of 1,443 single-family homes in sixteen neighborhoods, including residents of all ages.
The Terrace Club boasts 20,000 square feet of amenities exclusively for 55+ residents. The clubhouse includes a gym and wellness studio, indoor saltwater swimming pool, saunas, locker rooms, multipurpose meeting rooms, and an arts and crafts studio.
Outside, residents can enjoy a resort-style swimming pool and spa, outdoor living space with shaded seating and a fireplace, a pavilion with a bar, and a cooking area. There are also sports courts for tennis, pickleball, and bocce.
There's also the Veranda clubhouse, which features conference and event spaces for community gatherings and private parties. It also has its own swimming pool, as well as a patio, and covered barbecue overlooking the vineyard.
The community also includes 540 acres of protected open space and 22 acres of parks.
The Inland Empire Life
Terramor is located close to so many natural attractions and interesting destination that it's hard to list them all. The San Bernardino Mountains are one of the area's biggest attractions with Big Bear Lake and Lake Arrowhead featuring a variety of ski slopes and more than 100 miles of walking and biking trails.
Local attractions worth visiting include Tom's Farms, Skull Canyon Ziplines, Corona Heritage Park & Museum, and the UC Riverside Botanic Gardens. Meanwhile, golfers have so many options, including Dos Lagos Golf Course, Cresta Verde Golf Course, and Anaheim Hills Golf Course.
Day trips to Los Angeles, San Diego, and Palm Springs only take about an hour-and-a-half in each direction, traffic-permitting. The location also puts you close to multiple airports, making vacations and visits from the grandkids very easy.
---
agent.calls_to_action.here_to_help
agent.calls_to_action.call_us_long