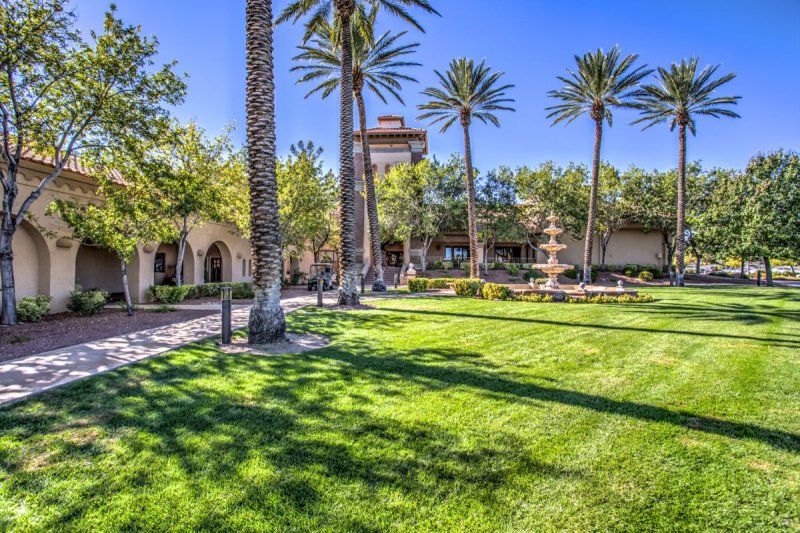 One of the major appeals to retiring in an active adult community is the active lifestyle. From bocce ball to knitting club to casino trips, there's never a dull moment in a 55+ neighborhood. Some communities, though, are more active than others.
We've gone ahead and narrowed down the top twenty most active 55+ communities in the country. We have personally visited every community on this list and have spoken with the residents about their vibrant lifestyles. Additionally, every community listed below offers an extensive list of clubs and activities. Here are the 20 most active 55+ communities for 2015:
1. The Villages – The Villages, FL
If you're familiar with The Villages in Florida, it probably comes as no surprise that it's named our most active community because it's also the biggest active adult community in the country. Thanks to its sheer size, the community is able to fill the grounds with fun amenities and really offer clubs for every interest. There are over one thousand clubs on-site, including unique options like memoir writing and Gaelic dance.
2. Laguna Woods Village – Laguna Woods, CA
With over 12,000 homes in the community, residents of Laguna Woods Village have a wide range of different hobbies and interests. These interests are reflected in the wide variety of clubs and activities offered. From a drum circle to a Scrabble group, everyone can find something they love inside this bustling active adult playground.
3. Rossmoor – Walnut Creek, CA
This Bay Area community may boast older homes, but don't let that fool you. The residents of this community are incredibly active, with over 180 clubs up and running. Foodies can find new friends in the wine and food society, and lifelong learners can join the "Spanish for Fun" group to pick up a new language.
4. Sun City Mesquite – Mesquite, NV
This Del Webb community in Southern Nevada is always moving. Whether your idea of fun is Art in the Park, a Hawaiian-themed Luau, or a day trip to nearby Las Vegas, Sun City Mesquite has it all. With over 125 clubs and activities available, the residents here are never complaining of boredom in retirement.
Sun City in Arizona, the original 55+ community, has been around for decades. As a result, they are home to a number of well-established clubs that represent a variety of interests. You can pick up a new skill at the calligraphy club or show off an old talent in one of the many dance clubs.
6. Frisco Lakes by Del Webb – Frisco, TX
Frisco Lakes really puts the "active" in active adult. History buffs will love the Civil War round table events, and health conscious residents can enjoy meditation groups as well as a slow pitch softball league. Thanks to the warmer Texas weather, there's no seasonal limit on enjoying the outdoors, which makes garden club and water volleyball great options.
7. Sun City Summerlin by Del Webb – Las Vegas, NV
Viva, Las Vegas! And long live the many clubs and activities available at this resort-style community in Southern Nevada. Residents love the unique options like model builders club and Tai Chi. With over a hundred options, there's something for everyone, including newcomers to the Las Vegas area. Groups with residents from New York and Chicago have created clubs that can help you get in touch with your roots.
This bustling community in Kissimmee is home to pretty much every club you could ever imagine, plus a few you've never even dreamed of. Celebrate global cultures in heritage clubs or attend community events like farmers' markets or the annual fall festival. Get in shape and take advantage of Florida's weather with sun exercise options like Hatha Yoga or Aqua Zumba.
9. Sun City Anthem by Del Webb – Henderson, NV
This Las Vegas area community encompasses over 7,000 homes, so it's no wonder it's got a variety of clubs and activities happening on a daily basis. Residents here are kept active with options like karaoke and opera lovers club. Among the many events, the neighborhood hosts Anthem's Got Talent, a competition where residents can show off their skills.
10. Village at Deaton Creek by Del Webb – Hoschton, GA
Village at Deaton Creek may be smaller than most of the other communities on our list, but the lifestyle here is larger than life. Residents can take part in any of a hundred clubs and activities to stay busy. From support groups to travel clubs to scrapbooking, Village at Deaton Creek regularly fills up residents' social calendars.
11. Sun City Texas by Del Webb – Georgetown, TX
12. Sun City Grand – Surprise, AZ
13. Sun City Center – Sun City Center, FL
14. Timber Pines – Spring Hill, FL
15. Sun City Huntley by Del Webb – Huntley, IL
16. Sun City Carolina Lakes, Fort Mill, South Carolina
17. Sun City Hilton Head by Del Webb – Bluffton, SC
18. Kings Point – Sun City Center, FL
19. Sun City Peachtree by Del Webb – Griffin, GA