When active adults search for a new home in a 55+ community, they soon realize that there are some active adult communities so massive that they have their own zip code(s) and may even function as their own towns or cities. With such large 55+ communities, finding a place to start your search can feel challenging.
But large 55+ communities often have expansive amenities and world-class benefits for residents. Plenty of these master-planned developments also offer affordable and low-maintenance homes, which means that living in a neighborhood in a large 55+ community can be more affordable than one might think.
From our list of the "55 Best 55+ Communities," we're highlighting the 25 best large 55+ communities. Each of these large communities includes more than 500 homes, and many of the entries on this list have thousands of residences. Across retirement destinations like California, Arizona, and Florida, take a closer look at the 25 best largest 55+ communities.
High $100s – Mid $1Ms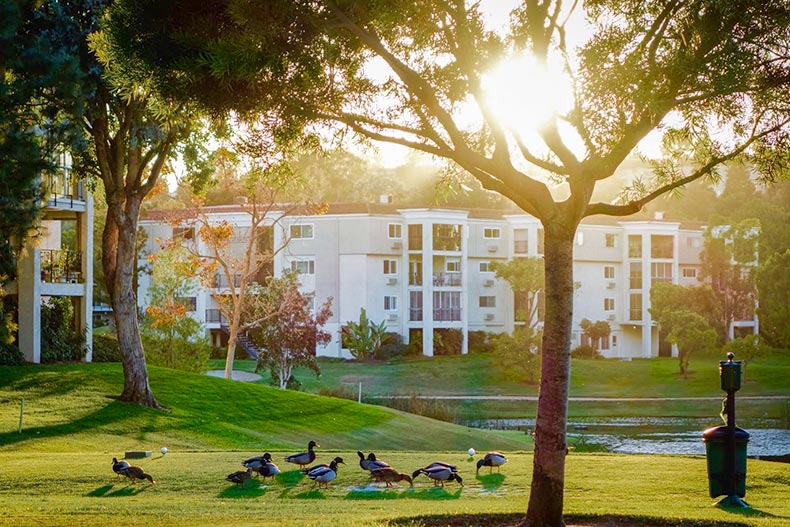 One of the best large 55+ communities in the country also earns the distinction as the largest on the West Coast. With more than 12,700 single-family, attached, and condominium homes, dozens of floor plans, and an abundance of amenities, Laguna Woods Village makes up about 90% of the city of Laguna Woods in Orange County.
With several amenity centers and more than 250 clubs and organizations, this age-restricted community has plenty to offer active adults to suit their interests, hobbies, and pastimes. Some of the highlights include a 27-hole championship golf course, a full-sized library with more than 140,000 books and magazines, an 814-seat theatre, a fine arts center, and many athletic facilities.
The abundance of home types, amenities, and lifestyle activities at Laguna Woods Village ensure that interested homebuyers can find something to love within this massive community located along the sunny West Coast.
Request more information about Laguna Woods Village.
Below $100k – High $800s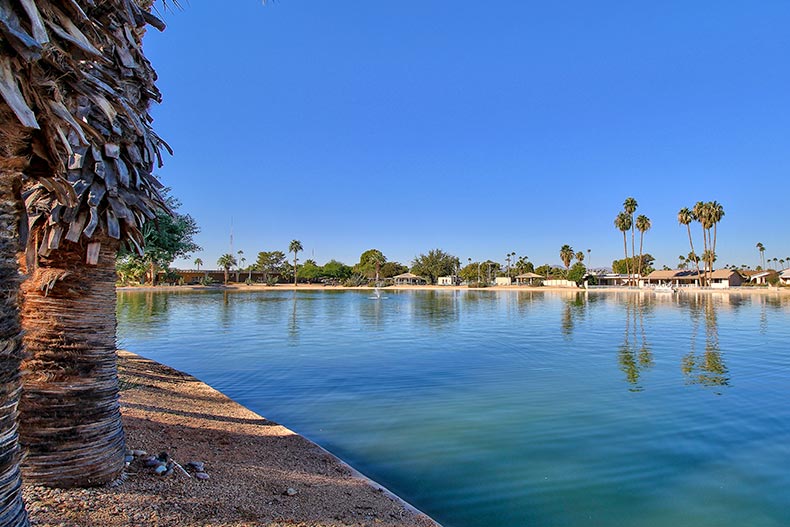 Sun City, one of the largest age-restricted communities in the nation, is also one of the most well-established, given that the community broke ground in 1960. Since then, this popular and massive 55+ community has grown to span seven zip codes, more than 27,000 homes, and a staggering list of amenities and activities to enjoy.
The community features state-of-the-art athletic facilities and courts, entertainment venues, arts and crafts studios, indoor and outdoor pools, and even an on-site hospital. With 11 golf courses and year-round warm weather, Sun City is also a golfer's delight. Residents can also enjoy one of the busiest and most diverse social calendars across the country, with hundreds of clubs, events, and activities to explore.
Interested homebuyers can choose between an abundance of single-family, attached, and condominium homes, and each home style offers a range of floor plans and locations. Sun City attracts active adults and retirees due to its affordability from low-income taxes and homeowners' association (HOA) fees, which also makes the community a great value.
Request more information about Sun City.
Below $100k – Low $1Ms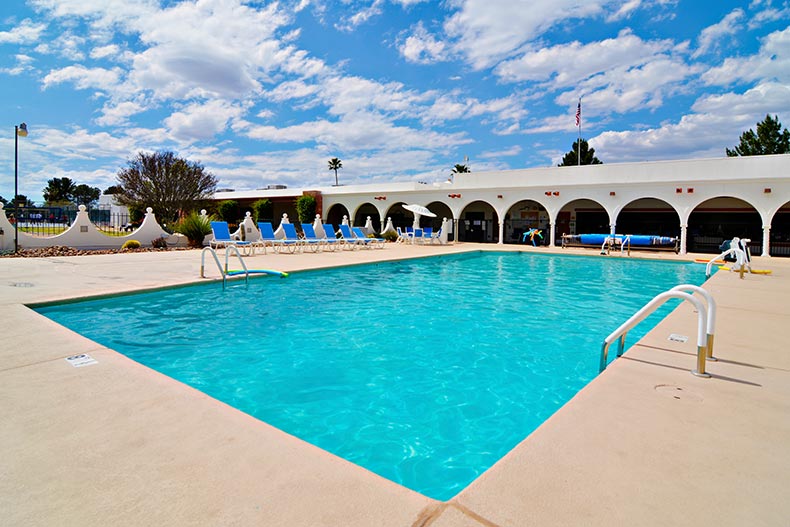 Another large community ideal for active adults who want to retire in Arizona is Green Valley Recreation (or GVR for short). Rather than a master-planned community, GVR refers to a non-profit organization that unites more than one dozen active adult communities into a larger organization that shares world-class amenities and lifestyle activities. Residents who live in communities that belong to GVR can access all of the resort-style amenities found throughout the association, which means that active adults can live in smaller neighborhoods with the benefits of an expansive 55+ community.
GVR includes 13 recreation centers full of amenities for residents to enjoy, such as clubhouses, fitness centers, athletic courts, arts and crafts studios, indoor and outdoor pools, a 500-seat auditorium, and an expansive 11,000 square-foot outdoor entertainment space. Residents can also stay as busy as they like with a full social calendar of interest clubs, groups, and activities.
In total, 13,200 single-family, attached, and condominium homes across several communities belong to GVR. Depending on the neighborhood, membership to GVR may be mandatory or optional, providing even more flexibility to active adults.
Request more information about Green Valley Recreation.
Mid $200s – Low $2Ms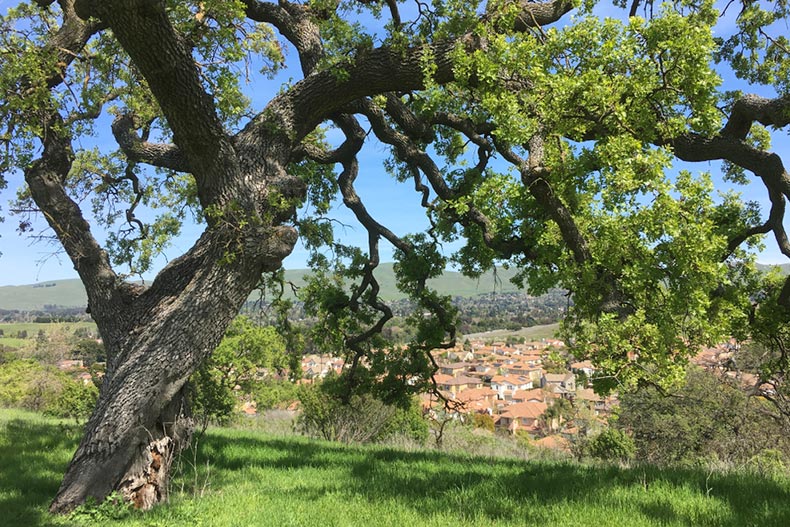 Though Rossmoor has about half of the homes that other large 55+ communities include, this West Coast community holds its own among expansive developments, with 6,678 single-family homes, attached, and condominium homes. The community's location in the desirable Bay Area puts residents about 60 minutes east of San Francisco and all of the entertainment and cultural attractions the area offers.
Residents can also stay close to home and find plenty of opportunities for physical and social activity. Rossmoor hosts more than 200 activities, clubs, and gatherings to keep homeowners as busy as they want to be. Golfers can enjoy Rossmoor's 18-hole championship Dollar Ranch Course, the 9-hole Creekside Course, pro shop, and driving range.
Residents can also take advantage of the miles of hiking trails within the community, multiple state-of-the-art fitness centers, and an abundance of swimming and athletic facilities. Homeowners at Rossmoor also have access to five clubhouses, each with its own amenities, such as art studios, libraries, and gathering areas.
Request more information about Rossmoor.
Below $100k – Mid $500s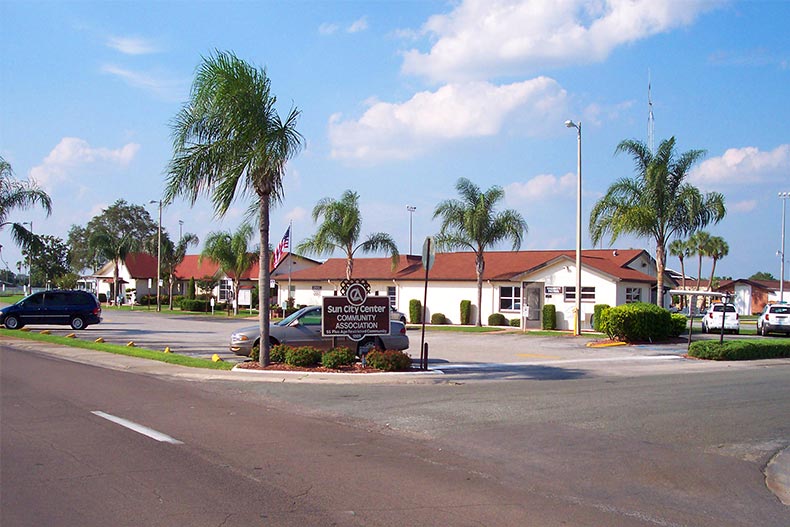 Sun City Center, a Sun City community located in Florida, shares much in common with its Arizona counterpart, including the expansive clubhouses and amenity campuses. The individual neighborhoods within the master-planned Sun City Center development each offer their own clubhouses with art studios, athletic courts, and even more amenities. The community makes up its own self-contained village with shops, restaurants, a hospital, and grocery stores.
The location of this Sun City community in the Tampa Bay area offers homeowners proximity to Tampa, Bradenton, St. Petersburg, and beaches along the Gulf of Mexico. The 55+ community consists of 9,500 single-family and attached homes. The residences offer spacious floor plans, and many neighborhoods offer low-maintenance or maintenance-free lifestyles, with more than 100 HOAs across the development. Homeowners within Sun City Center have access to the conveniences they need both within the community itself and the surrounding area.
Request more information about Sun City Center.
High $100s – High $900s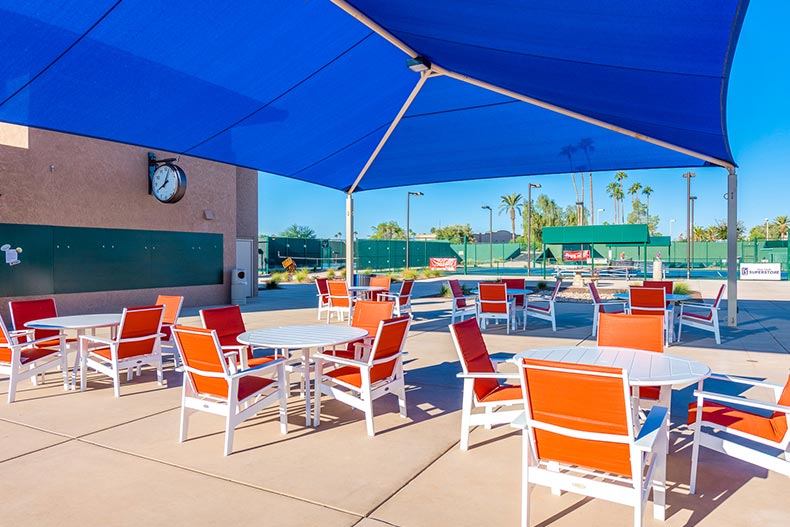 If it isn't already obvious from this list, most Sun City communities feature the best of the best when it comes to active adult lifestyles. Sun City West, which consists of 16,900 single-family and attached homes, offers an abundance of world-class amenities. The location in Central Arizona just west of the original Sun City development provides residents with easy access to the nearby cities of Surprise and Phoenix.
Sun City West features Arizona's largest activity center, the R. H. Johnson Center, which takes up a staggering 118,000 square feet. This massive amenity hotspot includes spaces like art studios, a bowling alley, and a library, but it may be shocking to learn that the community has three additional impressive clubhouses to explore, each with its own fitness centers. The amenities continue with seven golf courses, on-site shopping and groceries, and a hospital.
Request more information about Sun City West.
High $100s – Mid $600s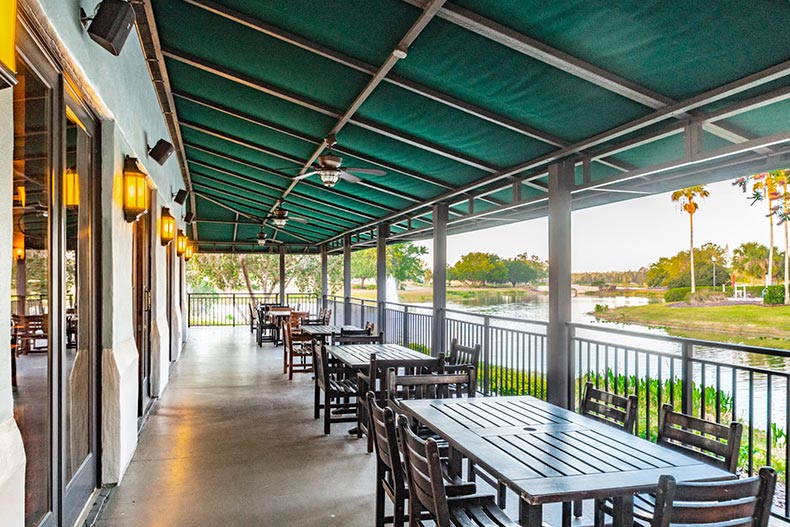 Solivita, a 55+ community in Kissimmee, includes 5,900 single-family and attached homes with more than 20 home collections and dozens of floor plans to choose from. Many neighborhoods in Solivita have HOAs that take care of chores like lawn care, allowing residents to enjoy more time trying some of the many lifestyle activities offered by the community. For homeowners who want to spend a day outside, the community is located 60 minutes south of Orlando and about 90 minutes east of Tampa.
Residents of Solivita enjoy a day-to-day life curated towards leading an active and relaxing lifestyle within the sunny setting of Central Florida. Homeowners of this gated master-planned community have access to eight amenity complexes that feature resort-style amenities. One of these amenity centers, the Riviera Spa and Fitness Center, houses an indoor walking track, an indoor heated pool, and a state-of-the-art fitness center with on-staff certified trainers. Additional amenities within the community include the 17,000-square-foot Starlite Ballroom, arts and crafts studios, and Freedom Park, an 18-acre outdoor park with athletic complexes.
Request more information about Solivita.
Mid $100s – Low $500s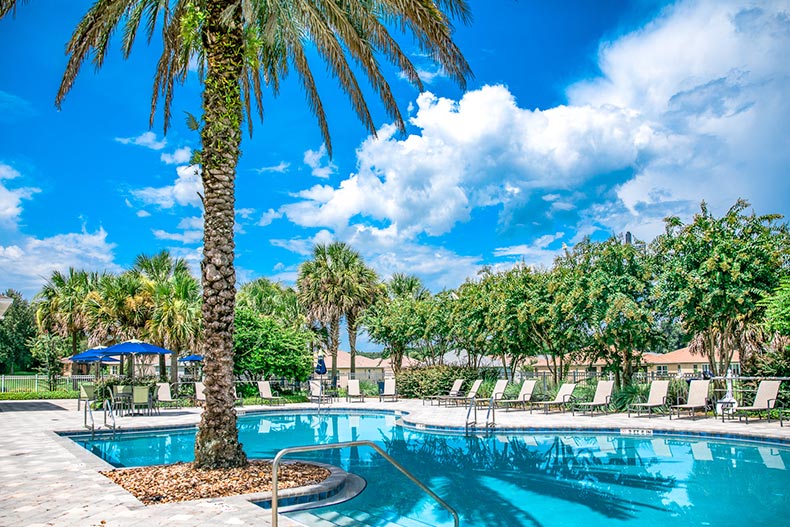 The aptly named community On Top Of The World has much to offer active adults looking for single-family or attached homes for sale in Ocala, Florida. This community consists of 10,000 homes, three 18-hole golf courses, six amenity complexes, and two restaurants, named The Pub and The Club at Candler Hills. The Circle Square Commons offers a town square and a social hub that features the Master the Possibilities Education Center, The Ranch Fitness Center and Spa, Sid's Coffee Shop & Deli, Mr. B's Big Scoop Ice Cream Shop, and several community gathering spaces.
This large 55+ community has two sections, The Villas and On Top Of The World, each with its own individual neighborhoods. The Villas include the attached homes while On Top Of The World has single-family homes, and there are dozens of floor plans for each home type to explore. Whether residents want to take a class or join a club within the community or visit the scenic and sunny nearby area, there's something new to explore every day at On Top Of The World.
Request more information about On Top Of The World.
Below $100k – Mid $300s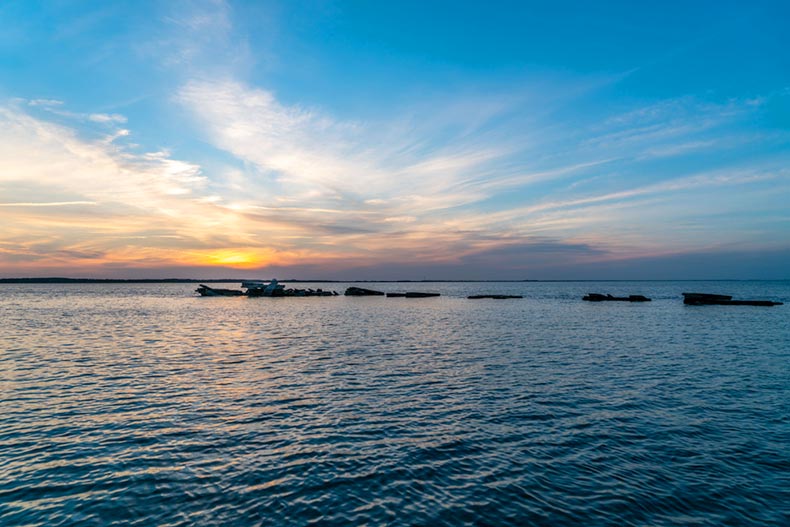 Kings Point is a large 55+ community located in Sun City Center. While the community is located within the boundaries of the master-planned Sun City Center development, it represents its own neighborhood with its own governance and bylaws. That being said, residents of Kings Point still have access to the nearby Sun City Center amenities, such as the Community Association North and South Campuses, which each have benefits like athletic courts, heated indoor and outdoor pools, and social spaces.
Kings Point also features two massive clubhouses exclusive to its residents. One of which, The Kings Point Clubhouse, offers 97,000 square feet of amenities, with a cafe, fitness center, ballroom, library, arts and craft studios, and indoor and outdoor pools. The community hosts a wide array of interest clubs and social gatherings to enjoy, many of which meet up at one of the two clubhouses.
Within Kings Point, there are 5,277 single-family and attached homes that range from 1,360-square-foot duplexes to 3,028-square-foot estate homes. Interested homebuyers can find an abundance of home options and world-class amenities at Kings Point.
Request more information about Kings Point.
Mid $100s – High $500s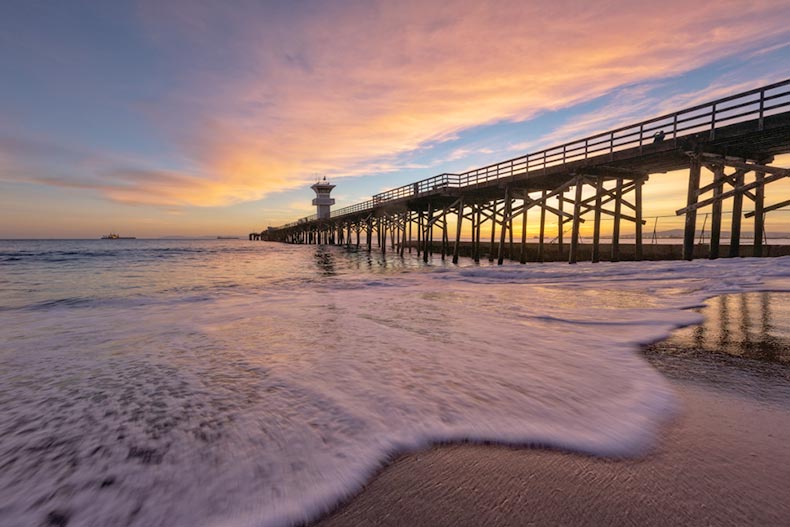 Built between 1960 and 1981 in the Orange County area of California, Leisure World Seal Beach is one of the most well-established and affordable active adult communities in The Golden State. The 55+ community consists of 6,608 attached and condominium homes across 17 neighborhoods.
The community boasts six clubhouses, each with resort-style amenities, as well as amenities such as a 9-hole golf course, outdoor pool and spa, amphitheater, health care center, post office, and library. Residents looking to try something new or find like-minded individuals can explore more than 200 social clubs hosted by the community.
The location of Leisure World Seal Beach puts residents about 30 miles south of Los Angeles and less than ten miles from the South Pacific Coast and its sunny beaches. Homeowners in this community can reap the benefits of a large, well-established community in an exciting and entertaining location in Southern California.
Request more information about Leisure World Seal Beach.
Methodology
The data for "The 25 Best Large 55+ Communities" is pulled from our "55 Best 55+ Communities" list. To get the list of the best 55+ communities, we first identified over 2000 active adult communities with an age restriction. We then created three different scoring categories to determine which was the best.
The Popularity Score looks at overall MLS sales in the last year as well as how many people searched for the community across the web. The Lifestyle Score is drawn from the number of amenities, the number of social clubs and activities within the community, and the different types of homes available. The Financial Score takes into account the cost of living in the nearest city, the state property tax, the state income tax, and the local sales taxes.
We then scored and weighed all the data from each category to finalize the top 55 communities. The communities listed in "The 25 Best Large 55+ Communities" have more than 500 homes to qualify as "large."