In a sense, Green Valley, Arizona is the West's response to The Villages, the largest active adult community (or city) in the country. Located on each side of Interstate 19 in Pima County, Green Valley is a collection of several dozen 55+ communities, rental units, and assisted living facilities. Just south of Tucson, it's right in the Sonoran Desert and near the Santa Rita Mountains, so outdoor adventure is always at hand.
Plus, Green Valley has a warm climate, more affordable homes than Arizona's major cities, and a wider range of housing options. So, if you're looking for Arizona homes for sale, Green Valley should be one of the first places to check.
It also has Green Valley Recreation (GVR), a set of neighborhoods and amenity centers that can be found throughout the area. Not everyone in Green Valley is part of GVR nor is every community in Green Valley age-restricted, so things can get a little confusing.
Here's what you need to know if you're considering moving to Arizona's own retirement city.
What Is Green Valley Recreation?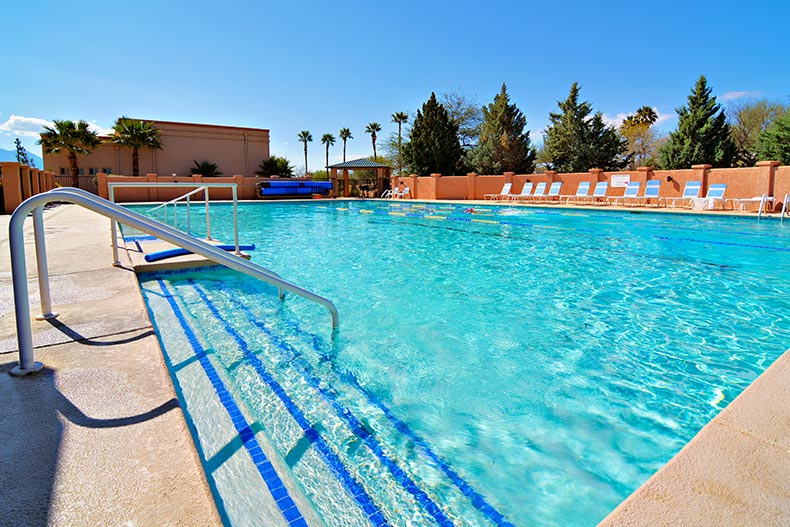 GVR is a non-profit organization that provides amenities and social opportunities for residents of the 13,000 homes under its association. These amenities span 13 recreation centers and one member services center. GVR also hosts and organizes clubs, classes, trips, speakers, and parties for residents.
Who Can Use Green Valley Recreation Facilities?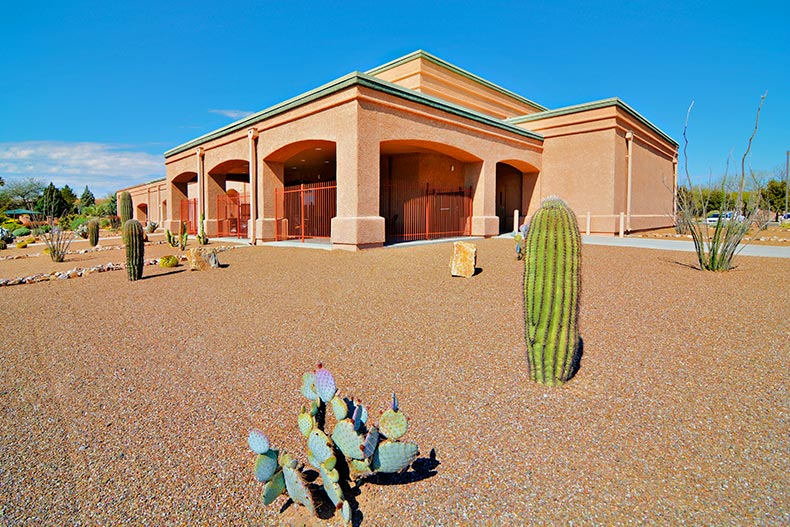 GVR estimates there are 27,000 people living in 13,000 homes that have access to its amenities. This is where it gets a little complicated. GVR members are divided between communities where it's mandatory to be a member, communities where it's voluntary to be a member, and communities outside of GVR but which residents can opt in. All of these range from age-restricted to all-ages communities.
All GVR members are allowed access to every GVR facility, regardless of which community it's located in.
What Types of Amenities Are Provided?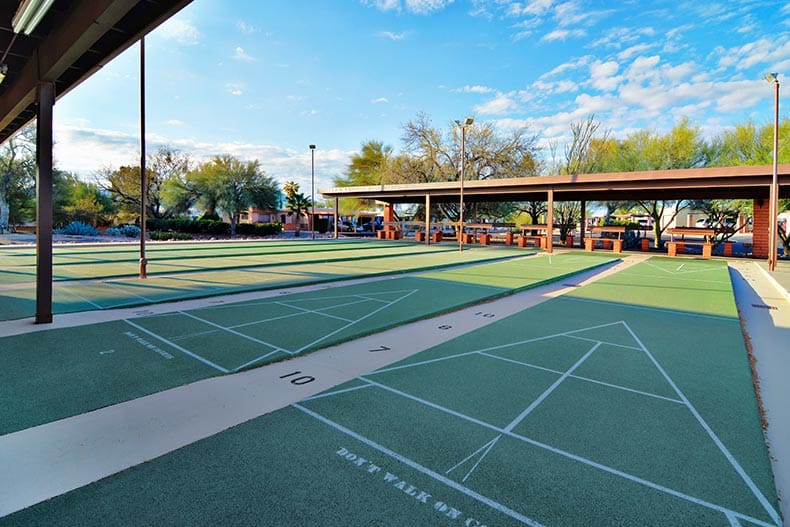 Pretty much everything active adults have come to expect in 55+ communities can be found here. Throughout the eight major recreation centers and six satellite centers, there are six fitness centers, six lap pools, and one dance studio. Sports courts include basketball, wallyball, volleyball, bocce, racquetball, shuffleboard, tennis, and pickleball.
Other amenities include craft studios and art rooms, billiards halls, catering kitchens, a sauna, table tennis, auditoriums, and horseshoes.
There are six golf courses available in the Green Valley area. Four are public while two are private. The courses are available to GVR residents and non-GVR residents alike. There are also 43 other golf courses throughout the region that are easily accessible.
What Social and Lifestyle Options Are Offered?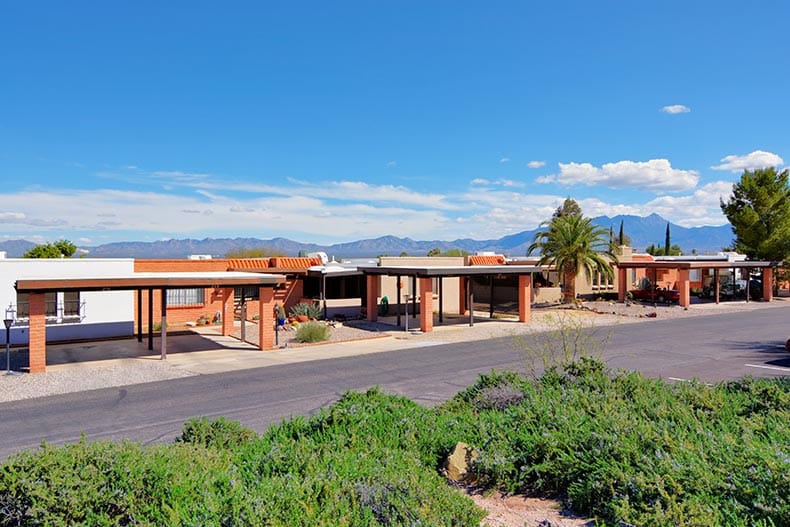 GVR makes good use of its amenities with drop-in activities like billiards, horseshoes, and shuffleboard. There's also a ceramics club, card crafters, artists club, lapidary and silversmith club, metalworking, and woodworking. Social clubs include plenty of groups for people from certain regions of the country, LGBT & Friends club, singles club, travel club, and camera club, among others.
In terms of sports and games, there are plenty of weekly games and clubs for cards, chess, cribbage, and mahjong. Then, there are clubs for billiards, synchronized swimming, tennis club, pickleball club, swim club, hiking club, and hunting and fishing club.
On top of all this, there are plenty of special events put on throughout the community. That includes lectures, classes, concerts, movies, and off-campus trips.
What Are the Fees in Green Valley Recreation?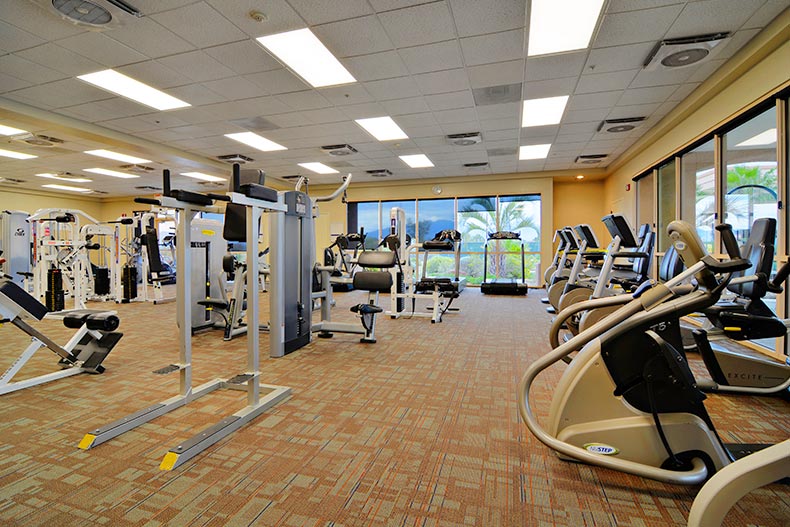 Like in any community, keep in mind that fees change often. As of 2023, the initial fee to become a member if you live in a community outside GVR is set at $2,900. If you're purchasing a home that has a GVR membership, the fee will also be $2,900.
From there, the yearly dues for 2023 are $510. There are also additional fees for transfers and adding a GVR card holder.
Another thing to note is that GVR is not a homeowners' association (HOA). If you live in a GVR community with an HOA you'll have to pay dues to both.
55+ Communities in Green Valley Recreation
55places.com lists over 40 communities where residents are part of GVR or can opt into the amenities and lifestyles. They range from large to small, affordable to luxurious. One of the most popular is Canoa Ranch. Its 2,500 homes come in a variety of styles and are priced from the mid $100s to the mid $700s.
One thing GVR communities are known for is their affordability. Active adults can find Green Valley homes for sale under $250K in communities like Green Valley Fairways and Casa Paloma.
If you're ready to tour this 55+ paradise, contact 55places.com today! We'll be happy to guide you to the perfect home in Green Valley, Arizona.