With pleasant weather all year and miles of beautiful coastline, California is a paradise for active adults. The Golden State offers everything from small desert communities to thriving urban cities to coastal villages, making it an attractive option for those seeking diversity.
While California is known for its higher prices, there are a number of active adult communities in this state tailored to a wide range of budgets. From the desert to the coast, we're exploring some of the best places to retire in California.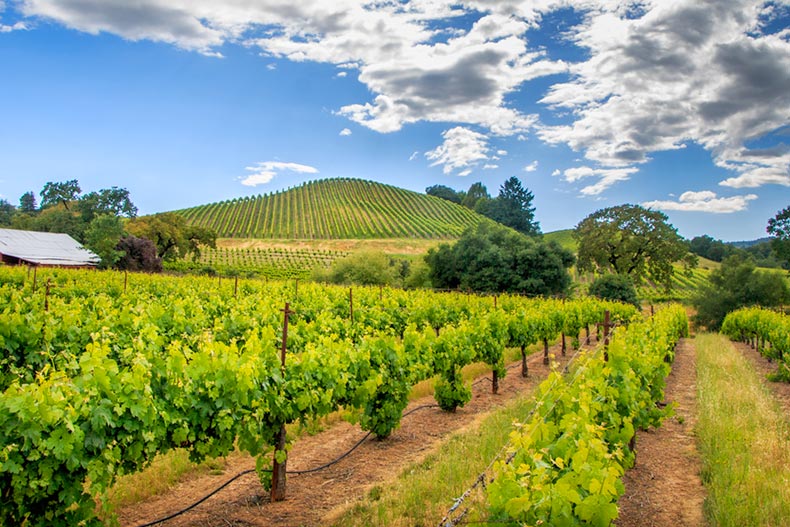 Known for its scenery and abundant vineyards, Northern California is an ideal retirement destination for active adults. Though its climate ranges depending on proximity to the coast, the weather is generally milder, avoiding the sweltering summer temperatures further south. Residents seeking urban centers and easy access to outdoor recreation can find it in Northern California.
Located slightly inland from the San Francisco Bay, Brentwood offers residents the best of both urban and rural worlds: Residents enjoy high-end designer boutiques at The Street of Brentwood as well as accessible outdoor recreation at the nearby Round Valley Regional Preserve. Then, there are the courses at the Brentwood Golf Club.
One major benefit of this Bay Area city is that it receives less rainfall than its neighbors because it's in the rain shadow of Mount Diablo. In addition, as it's further from the water, the Delta Breezes don't cool the afternoons as quickly, keeping up warm temperatures.
55+ Communities in Brentwood
The capital of California, Sacramento is one of the most historic cities in the state. There are plenty of local museums, and Old Sacramento is the revitalized historic district with restored buildings and novelty shops on the waterfront. In addition, the downtown area has community and seasonal events like concerts in the park and a winter ice skating rink.
Sacramento's biggest draw is its affordable housing. While still above the national average, housing costs in Sacramento are far below the rest of the state. And when it comes to sun, Sacramento reigns supreme with some of the world's sunniest summer months.
55+ Communities in Sacramento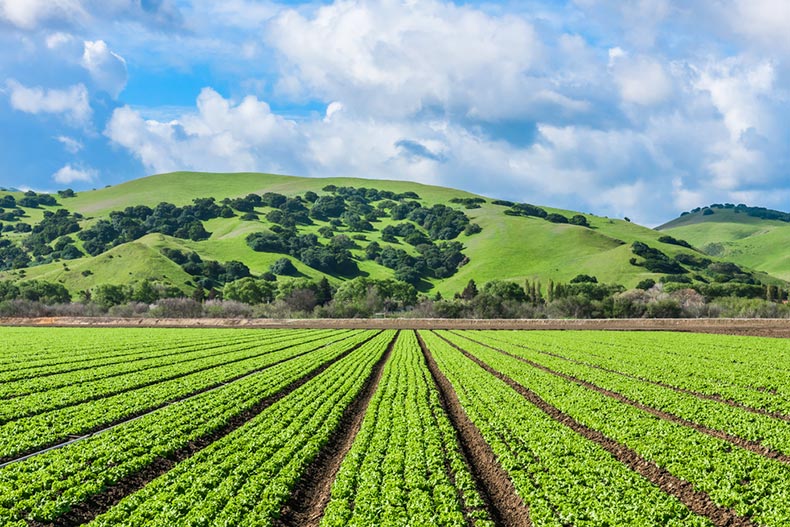 California's Central Coast region spans the area between Los Angeles and San Francisco. Major counties in this area include Santa Barbara, Ventura, San Luis Obispo, Monterey, Santa Cruz, and the further inland Fresno and Kern.
This region experiences warmer summers than its northern neighbors and mild winters, giving residents pleasant year-round weather. Retirees looking to escape big-city congestion will feel right at home along the Central Coast, and this region contains some of the most affordable retirement communities in California.
Located between the Sequoia National Forest and the Los Padres National Forest, Bakersfield gives residents all the benefits of living in California, like warm weather and scenic views, without the high price tag.
Bakersfield not only offers residents quick access to hiking trails and wildlife viewing, but it also has an active Downtown Arts District that hosts exhibitions, markets, and other community events. Local museums and an antique district are popular among retirees as well.
55+ Communities in Bakersfield
Closer to the coast, Arroyo Grande has a vibrant community and distinctive amenities, like Victorian buildings surrounding a walkable downtown area. It's also a haven for wine lovers with numerous wineries and vineyards scattered throughout. Additionally, the Oceano Dunes Natural Preserves are nearby, offering residents a chance to hike on sandy hills.
With the ocean so close, Arroyo Grande receives more cooling sea breezes than its inland neighbors, resulting in more moderate temperatures all around.
55+ Communities in Arroyo Grande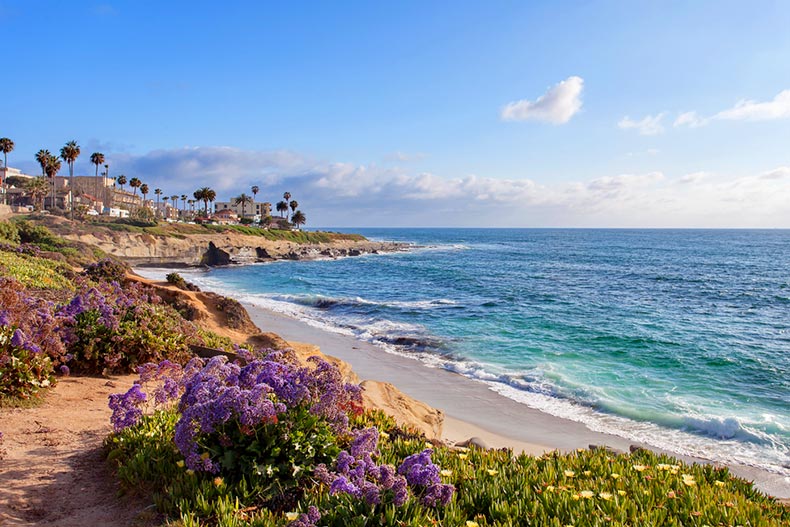 With the most retirement communities in California, Southern California is hard to beat. Containing areas like the Inland Empire, Los Angeles County, and San Diego County, this part of the state has reliably warm weather, top-rated health care, and scenic mountain views. Popular hiking, designer boutiques, and beachfront downtowns make this area one of the best places to retire in California.
For retirees looking for all the benefits of Southern California without the crowd, Menifee is the perfect destination. Centrally located in the Inland Empire, Menifee has true year-round warmth with winter temperatures staying above the 70s, making outdoor recreation accessible at any point in the year. Popular spots include state parks like Crystal Cove and teeing off at Menifee Lakes Country Club.
Though it's a more rural area, the shopping, dining, and entertainment of major cities like Riverside and San Bernardino are only a half-hour away.
55+ Communities in Menifee
Hemet has a location similar to Menifee, but with a slightly more active community and lower housing costs. The city has plenty of local shopping and dining, and its current historic downtown is in the process of being restored. While that's under construction, residents can drive a half-hour for name-brand shopping in other Inland Empire cities like Riverside.
Its location in the San Jacinto Valley helps retain heat in the winter as the surrounding mountains help block any cooling sea breezes. This makes hiking at Lake View Trails or catching an outdoor concert at the Ramona Bowl Amphitheater easy throughout the year.
55+ Communities in Hemet
Those looking for an active retirement can find it in Oceanside. As its name suggests, its proximity to the Pacific Ocean offers residents plenty of swimming, boating, and snorkeling opportunities. Plus, with its mix of Mediterranean and semi-arid climates, summers are warm and dry while winters are mild, and ocean breezes help prevent extreme temperature swings. With this pleasant climate, residents can dine and shop outside all year at Oceanside Harbor.
55+ Communities in Oceanside
Just minutes south of downtown Los Angeles, Torrance is popular for its daily sea breezes and low precipitation. The Del Amo Fashion Center brings high-end shoppers from all over, but residents enjoy the local farmers market and Antique Street Faire as well.
Though Torrance has its own 1.5 miles of shores along the Pacific coast, next door Redondo Beach is a popular coastal site featuring Redondo Beach Pier, world-famous for its shopping and dining.
55+ Communities in Torrance
Palm Desert is a sought-after resort town in the Palm Springs area. It's located in the Coachella Valley in the Inland Empire east of the San Jacinto and Santa Rosa Mountains, which keeps the weather warm all year, even during winter nights.
Though high-end designer shopping at The Shops on El Paseo is a huge draw to Palm Desert, residents also enjoy hiking at the Coachella Valley Preserve and catching theater and comedy performances at the McCallum Theater.
55+ Communities in Palm Desert
Also in the Coachella Valley, Indio is known for hosting the world-famous Coachella Valley Music and Arts Festival, which draws thousands of music lovers every year. In fact, the city is dubbed the "City of Festivals," hosting rodeos, concerts, artisan markets, and other special events throughout the year. Indoors, the Indio Performing Arts Center brings in touring musical and theater performances.
The Coachella Valley also houses about 28 percent of California's golf courses. With hot weather circulating throughout the year and very little rain, the hardest part will be choosing the right course.
55+ Communities in Indio