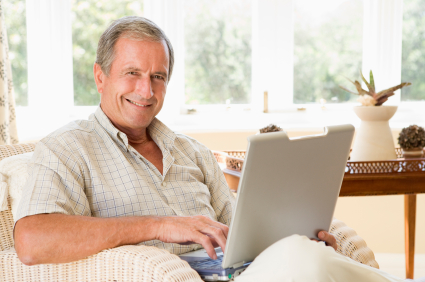 These days it seems like everyone has a blog. Blogging has been around for more than a decade and is a great way to have an interactive experience, communicate with an online community, and even make a little bit of money on the side.
At first it may seem a bit difficult, but you don't need to be a computer genius to start a blog. Anyone with computer and Internet access can start a blog. With years of personal and professional experiences, Baby Boomers should take up blogging so they can share their ideas and have a voice in an online platform.
Blogging is a great way for Baby Boomers to get creative and express their ideas and experiences. They can start a blog with Wordpress, Tumblr, or Blogger, which are free and easy to set up. Retirees can find a topic they are passionate or knowledgeable about and start writing about it in their blog. Whatever topic you choose, from politics to exotic cuisine, there is sure to be a niche market for it online.
Blogging is also a great way to communicate with people from all over the world. It can open up new forms of discussion and it's a great way to get feedback from those who are reading your blog. Another reason why Boomers should take up blogging during retirement is that you can do it remotely. So grab your laptop or smart phone and post from your home, coffee shop, or while traveling.
Establishing a routine throughout your retirement is important so you don't get bored. Having a blog where you can post daily is a good way to break up your day. It's also an important factor to regularly post on your blog. By posting often, you can make your blog more popular with your readers. This will keep readers engaged and keep them coming back to your blog for fresh content. Retirees can plan a blogging calendar or schedule with a variety of topics they want to write about and set up reminders so they can post often.
Blogging can also help you learn about new topics and trends like the influence social media has on blogs as well as using social media to promote your blog. Baby Boomers who may have never used social media sites like Facebook, Twitter, Instagram, etc. can research these social media outlets and use them to connect their blog so they can share their blog posts in an instant.
One of the main reasons Baby Boomers take up blogging is to supplement their income. Many retirees fear that they will outlive their retirement savings and not be able to live a comfortable lifestyle. Making money while blogging is a great way they can earn some extra money on the side while doing something fun that they love.
There are plenty of online articles and resources like Forbes that give useful tips and guidelines on how to make money by blogging. Bloggers typically monetize their blog by adding ads as well as writing sponsored posts and product reviews from companies or marketing agencies. Once you have the details figured out, you can start making money from your blog in the comfort of your own 55+ community.