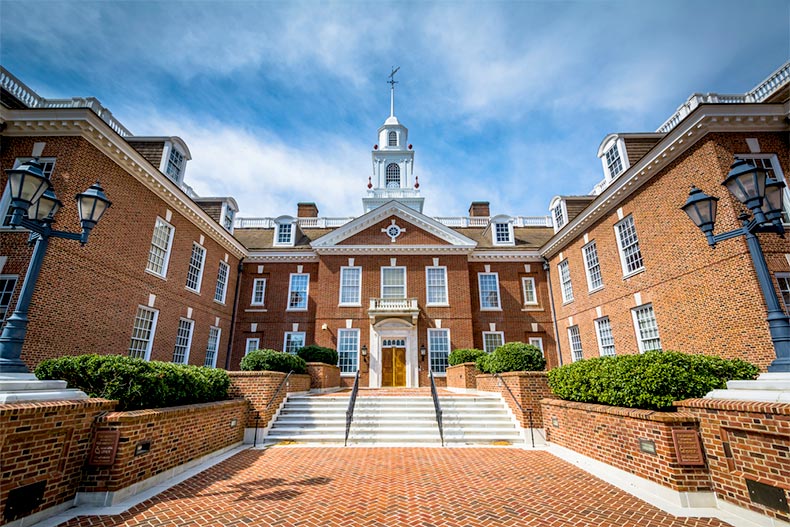 The Central Delaware area near Dover offers seven age-restricted communities. For active adults, these communities offer low maintenance living with many amenities. Although these communities offer a variety of homes, some are more suited to active adults looking to downsize.
When considering moving to a new home, many active adults also consider downsizing. Without kids in the house and with a desire to travel more, a lot of space can be more work than it's worth. A 2018 survey by AARP found that most adults over 50 would like to remain in their same home, but they often realize that their homes may not suit their needs as they age.
In addition to less space, active adults may also want single-story living, open floor plans, and attached garages to make life a little easier. The same survey found that people over 50 want well-maintained streets, parks, and public areas. These results suggest that 55+ communities can provide the lifestyle active adults are looking for if they would like a smaller, easier-to-maintain home.
Here are four Dover-area communities great for downsizing.
1. Noble's Pond - Dover, DE
Noble's Pond in Dover is the largest community in the area. Regal Homes plans to build 800 homes within the community. With over twenty models of attached and single-family homes, prospective homebuyers can find something that fits their needs.
The attached carriage and cottage homes are all under 1,500 square feet with two bedrooms, two baths, and at least a one-car garage. Although compact, features like great rooms, open floor plans, and vaulted ceilings make these homes feel spacious.
Noble's Pond also provides plenty of opportunities for residents to get out of their homes and enjoy everything the community has to offer. At The Point, residents have a clubhouse with an exercise room, creative center, billiards and game room, and library. Outside, residents can take advantage of an outdoor pool, gardens, walking trails, and a putting green.
2. Longacre Village - Dover, DE
Longacre Village is a 250-home community also located in Dover. The homes include attached and single-family models, built by K. Hovnanian builders between 2006 and 2016. Featuring open floor plans, the two attached models are both under 1,500 square feet with two bedrooms, two baths, and an attached garage.
Under 1,400 square feet, three of the single-family models are also good for downsizing with three bedrooms and two baths. Many homes also include patios or screened-in porches. Longacre Village's community meeting place is the 3,000 square-foot clubhouse. Here, residents can enjoy getting to know their neighbors, exercising, or swimming in the pool.
3. Champions' Club - Magnolia
Champions' Club is another active adult community near Dover offering new homes for those who want to downsize. The McKee Group plans to build 326 single-family homes, ranging from about 1,200 to 2,200 square feet. The four models in the Americana series are under 1,300 square feet with one to three bedrooms, two baths, and a two-car garage. They all have open living spaces with front porches and optional patios.
Two of the models in the Classic series are just over 1,500 square feet, and they offer similar floorplans. In addition to enjoying the quiet neighborhood just outside of the town of Magnolia, residents can socialize and stay fit at the clubhouse, on the tennis courts, or in the outdoor pool. Golfers can walk to Jonathan's Landing Public Golf Course, and three other private courses are just a short drive away.
4. Southern Meadow - Magnolia, DE
Also located just outside of Magnolia, Southern Meadow is a small 55+ community with single-family homes. Built between 2007 and 2015, the 120 homes are offered on a resale basis. Finding a house for downsizing is easy here, with four of the six models under 1,500 square feet and the other two models under 1,800.
Residents experience low-maintenance living in these single-story homes, and the clubhouse offers a place for residents to exercise, relax, and get to know neighbors. Even though the community is small, it offers an active lifestyle with social clubs, exercise classes, game nights, craft groups, and card clubs.