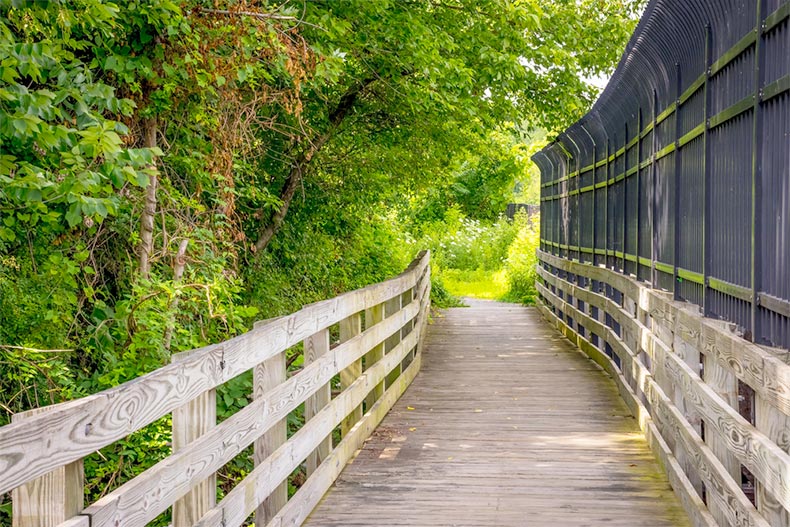 New Jersey has a reputation for high priced real estate, especially its northern counties which are close New York City. Mercer County is smack-dab in the middle of NJ, and it's home to the state capital Trenton as well as Princeton. If you're looking to purchase a home for sale here, you can plan on spending upwards of $250k in a sought-after retirement community.
Mercer County's west side borders the Delaware River, which is right next to Pennsylvania. So although Philadelphia is about an hour's drive away, active adults living in Mercer County are close to Bucks County, an area that's packed with attractions like Amish farms, wineries, historic covered bridges, and antique shops. Getting into New York City from the county is also easy via the NJTransit station in Hamilton.
Here are some of the best lowest-priced 55+ communities in Mercer County.
High $100s - Mid $200s
Geared towards downsizing, Traditions at Federal Point is an outstanding choice for retirees who are seeking low-maintenance lifestyles. This welcoming community was built from 2001 to 2005 and offers 140 resale attached homes. They are all single-story models, and range from 880 to 1,598 square feet with one to three bedrooms, one to three baths, first-floor master suites, vaulted ceilings, and attached garages. Options may include dens and formal dining rooms, and the monthly homeowners' association (HOA) fee covers trash and snow removal, exterior building maintenance, and lawn care.
The inviting clubhouse has a multi-purpose room and a catering kitchen, plus an exercise room. Traditions is just minutes from Cobblestone Creek Country Club, which has a stunning golf course, tennis courts, swimming pools, and a fitness and health facility. It's also conveniently close to I-295, Loveless Nature Preserve, and Rider University.
Request more information about Traditions at Federal Point here.
Low $200s - High $200s
Our second Lawrence Township community, Lawrenceville Point, has a lot in common with Traditions at Federal Point. Completed in 2003, it has 88 resale attached homes, and a private clubhouse with similar amenities.
The 1,200 to 1,500 square foot townhomes are built into four-unit quads throughout the property, and each unit offers two to three bedrooms, two to two-and-a-half baths, and a two-car garage. Upgrades may include fireplaces, updated appliances, first-floor master suites, and custom window treatments. The HOA fee includes common area maintenance and lawn care.
Lawrenceville Point is not far from The College of New Jersey, one of the top colleges in the state. Nearby shopping centers include Quakerbridge Mall and the Lawrence Shopping Center; the surrounding area also includes a community center, churches, grocery stores, and pharmacies.
Request more information about Lawrenceville Point here.
Low $200s - High $200s
Evergreen at Hamilton is a beautiful place to live, and it's within walking distance of Robert Wood Johnson Hospital and lovely Veterans Park. The community was built from 1999 to 2005, and it has 416 resale attached and single-family homes ranging from 1,300 to approximately 3,000 square feet. These must-see homes offer two to three bedrooms, two baths, and attached garages; some also include eat-in kitchens, rear patios, and basements.
The tasteful clubhouse has its own indoor pool, an exercise room, a catering kitchen and ballroom, plus an arts and crafts studio, computers, and a game room. Outdoor amenities include a putting green, tennis, bocce, and a community greenhouse, while popular clubs and activities like line dancing, holiday parties, bible study, and water aerobics keep residents active and engaged. Nearby shopping centers include Independence Plaza, Hamilton Marketplace, and The Shoppes at Hamilton, which provide every type of store imaginable.
Request more information Evergreen at Hamilton here.
Mid $200s - High $300s
This Pulte-built active adult neighborhood is less than a mile from Evergreens at Hamilton, and it has 276 resale attached homes that were built from 2005 through 2014. They were designed with three one-story floor plans sized between 1,300 and 1,500 square feet with two to three bedrooms, two to three baths, and attached one- or two-car garages. Features like expansive master suites, sunrooms, formal dining rooms, lofts, and patios give these homes an elegant, contemporary feel, and the HOA fee covers certain community costs.
Traditions at Hamilton Crossing's private clubhouse has a catering kitchen, a ballroom for special events, a fitness center, and activity rooms. There are also tennis and bocce courts, an outdoor pool and patio, plus a community garden, walking trails, and a putting green.
This 55+ neighborhood does have a Trenton mailing address, but it's considered part of Hamilton Township, and it's close to the same landmarks as Evergreens. It's also less than five miles from Mercer County Park, where you can find a wildlife refuge, a lake, Mercer County Community College, and Mercer Oaks Golf Course.
Request more information about Traditions at Hamilton Crossing here.
Mid $200s - Mid $300s
Also in Hamilton, Locust Hill was built in 2006 with 247 resale attached and single-family homes less than three miles from Traditions at Hamilton Crossing. Most of the residences here are single-family homes, with three models ranging from 1,349 to 1,900 square feet. These offer two to three bedrooms, two or two-and-a-half bathrooms, and attached two-car garages. Most also have first-floor master suites, crown molding, and vaulted ceilings. The select number of townhomes range from 1,200 to 1,700 square feet with two bedrooms, two or two-and-a-half baths, attached one-car garages, and similar features as the single-family models.
The well-appointed clubhouse has indoor and outdoor amenities like a computer room, a fitness center, and activity rooms. There's also a sparkling outdoor pool, a putting green, walking trails, tennis, and bocce courts. Well-attended clubs and events include holiday events, water aerobics, and garden club.