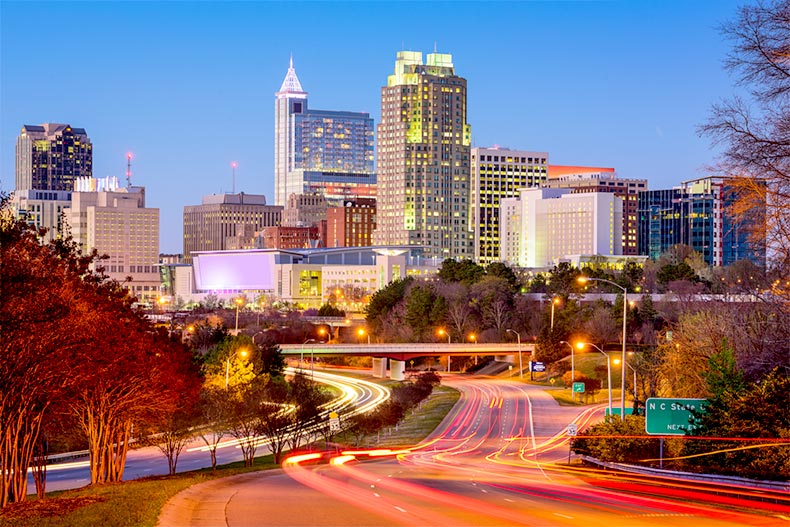 There are many reasons for active adults to consider moving to North Carolina's capital of Raleigh. The city has all the perks of larger cities in the state, like Charlotte, but it still manages to keep the close-knit feeling that comes along with living in a smaller town.
There's a wide variety of activities and entertainment options for residents to enjoy, as well as countless restaurants, shops, and cultural amenities like museums and performing arts theaters. And, while the city has much to offer its residents, it doesn't have to cost a fortune to live in the area. There are several active adult communities within the Raleigh area that offer affordable home prices.
Here are four of the best lowest-priced communities near Raleigh for active adults to consider:
Ashbury Crossing - Mebane, NC
Only a short drive from Raleigh sits the age-restricted community of Ashbury Crossing in the small town of Mebane. The community was originally built in 2007 by Cimarron Homes and features 127 new, attached homes.
Prices in the development start in the mid $200s, and there are several floor plans for potential homebuyers to choose from. The neighborhood's five floor plans range in size from 1,718 to 2,350 square feet and can have up to three bedrooms, two-and-a-half baths, and a two-car garage.
Residents of Ashbury Crossings will enjoy a variety of amenities that include a clubhouse, a fitness center, multi-purpose rooms, an outdoor pool and patio, a spa, and shuffleboard courts. For those residents who love being outdoors, there are also walking and biking trails spread throughout the community as well as parks and natural space.
Fearrington Village - Pittsboro, NC
Fearrington Village is another community that also offers affordable housing prices. Built in 1975, this established neighborhood offers both new and resale homes. There are a number of home designs for potential residents to choose between, including a selection of single-story ranches, two-story single-family homes, and townhomes. Floor plans within Fearrington Village range from 1,867 square feet up to 2,116 square feet and can have two to three bedrooms, two bathrooms, and two-car garages.
With an on-site spa, multiple restaurants, on-site retail shops, swimming and croquet facilities, tennis courts, and gardening plots, the list of amenities within the community is impressively long. Additionally, there are many outdoor spaces throughout the neighborhood, including scenic ponds and streams as well as parks and natural spaces.
Residents will also have access to the Duke Center for Living, which is a 20,000-square-foot state-of-the-art fitness center that boasts an indoor lap pool, an indoor walking track, and an aerobics and dance studio.
Forge Creek at Flowers Plantation - Clayton, NC
Forge Creek at Flowers Plantation is one of the newest active adult communities in the Raleigh area. It's a small, age-restricted community built by Dan Ryan Builders, and it will feature only 127 single-family homes upon completion. The four home models to choose from vary from 1,794 to 2,765 square feet. Depending on the model selected, homes can have two to three bedrooms, two to three bathrooms, and two-car garages.
Noteworthy amenities in the community include a clubhouse, multi-purpose rooms, a club cafe, and a fitness center. Outdoors, residents will find a swimming pool and waterslide, a patio, walking and hiking trails, plus pickleball and tennis courts.
Hidden Valley - Fuquay-Varina, NC
Located less than 30 minutes from Downtown Raleigh, Hidden Valley is another new active adult community in the area, and it will eventually feature a total of 500 single-family homes once construction is completed. With two home series and more than a dozen floor plans for potential homeowners to choose from, there are many options when it comes to the look and feel of homes within Hidden Valley. Residences range from 1,633 to 2,956 square feet of living space and can have two to five bedrooms, two to three-and-a-half bathrooms, and attached two-car garages.
Amenities within Hidden Valley include a clubhouse, multi-purpose rooms, an outdoor pool and patio, an athletic field, a community garden, pocket parks, and a scenic pond.