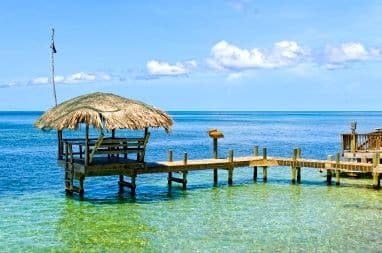 Advancements in travel and communication technology has made it easier than ever for retirees to relocate while still staying close with family and friends. For many Baby Boomers, this opens the door toward a more exotic — yet affordable — retirement outside of the country in regions such as Central America.
Tropical Countries
Retiring abroad is appealing for many reasons, and Central America certainly has a lot to recommend it. By plane, the region is not far from the United States, and many Central American countries have growing enclaves of international retirees. This makes it easy for expatriates to gather together, learn from each other and easily transition into life in a new country. The region boasts several tropical countries: Belize, Guatemala, El Salvador, Honduras, Nicaragua, Costa Rica and Panama. Each country has its own distinct culture, climate and lifestyle, so it may help to visit several locations before choosing a Central American country to call home.
Climate in Popular Countries
Different countries and cities have been popular with retirees over the years, but the current trend seems to have Costa Rica, Panama and Nicaragua emerging as international retiree hot spots. Though the climate and landscape varies from one country to the next, all of Central America is considered to have a tropical climate. There is essentially no winter season, and temperatures stay relatively constant year-round. Though some areas, such as Costa Rica, have distinct wet and dry seasons. Depending on the region, average daytime temperatures may be in the low 80s or up to the high 80s and low 90s.
Choosing a home in Central America doesn't necessarily mean living on a beach or beside a lush jungle. There are plenty of cities where retirees can enjoy a more urban retirement while still being in close proximity to the region's more exotic offerings. This diversity gives relocating retirees many options for building the lifestyle they desire. Of course, affordable living is one of the main reasons why Americans choose to retire to Central America.
Lifestyle and Culture
The cost of living can vary widely from one country to the next, but there are many locations where retirees can live quite comfortably for a fraction of the cost of staying in the United States. In addition to having affordable housing and daily living expenses, other necessities like quality healthcare are also comfortably priced. Yet retiring to Central America is not for everyone. As with any retirement location, there are certain drawbacks that should always be considered before making the move.
In Central America, crime is a common concern and in some places that fear is justified. Street gangs and drug trade are a problem in certain areas, so it is important to understand the risks before choosing a retirement destination. There are many cultural differences which may not appeal to some Americans.
English is the official language in Belize, and it is understood in many other Central American countries, but Spanish and a variety of native languages are spoken more commonly throughout the region. Learning a second language may be a fun part of the adventure for some, but it may leave other retirees feeling homesick. Though Central America is developing, it does not yet have many of the conveniences that Americans are used to having in the United States.
For example, public bathrooms are not always readily available and when they are, there's often a fee to use one. Relocating retirees should also be aware of the risks of contaminated drinking water or contracting diseases such as malaria while in Central America. While affordable living is an attractive benefit of Central America, the cost of living in many popular areas is on the rise.
As the countries in this region continue to develop and attract new residents and businesses, it will only become more expensive to live in the area. As with choosing any retirement destination, it's important to find out as much as possible before relocating. Visit an area during different times of the year and talk to others who have moved to the region to get a wider perspective. Central America may be a retirement paradise to some, while others would prefer to just visit.