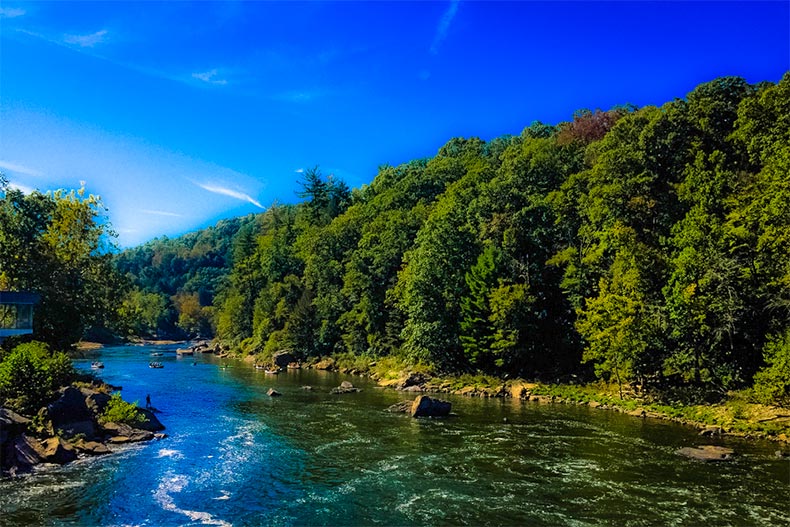 Their names sure do sound alike, and these two Pennsylvania 55+ communities have much in common. They are both located in the southeastern part of the state, yet are an hour away from each other. Depending on traffic, they are both around a 45-minute drive from Philadelphia. Besides proximity to the city, these two neighborhoods enjoy similar benefits from living in this region, like an abundance of scenic beauty, and being close to the Philly airport. In addition, state sales tax is low, and Social Security and retirement account income is exempt from taxes.
The Villages of Flowers Mill and Hershey's Mill both offer a welcoming, tranquil environment with desirable amenities, appealing floor plans and a wealth of friendly neighbors and leisure opportunities. Need help making up your mind? Scroll down to find out where the similarities between these two vibrant communities end.
The Villages of Flowers Mill - Langhorne
Built from 1999 to 2003, The Villages of Flowers Mill has 676 single-family and attached homes. It's the third (soon to be fourth) largest 55+ community in Pennsylvania and draws in active adults with its range of amenities and lifestyle options.
Models
This gated development is a good option for home seekers who like to study different floor plans, since between the attached and single family offerings there are 16 models.
The single-story, attached quads range from 1,488 to 2156 square feet with two to three bedrooms, two or three bathrooms, and attached, two-car garages. The two-story duplex townhomes are 1,582 or 1,811 square feet and feature two bedrooms, two to two-and-a-half bathrooms, and attached, one car garages.
The single-family options are sized from 1,432 to 2,117 square feet, with two bedrooms, two to two-and-a-half bathrooms, and one or two-car garages. There are numerous options and upgrades available in these well-appointed resale homes, like patios, sunrooms, dens, impressive master suites, and second-story lofts.
Lifestyle and Amenities
Some of the residents here enjoy their peace and quiet, but there are countless recreational opportunities here for friends and neighbors to enjoy together. There are activity clubs for every interest, like arts & crafts, cards, quilting, photography, a singles' club, chorus, and line dancing. The modern clubhouse has indoor and outdoor pools, a fitness center, and classes. Additional outdoor facilities like a putting green, tennis and bocce courts, and walking trails keep homeowners active and engaged.
What's Nearby
The Villages of Flowers Mill is easy to get to from Interstate 295 and U.S. 1. There are many shopping outlets in town, with the Langhorne Square Shopping Center and the Oxford Valley Mall both less than 10 minutes away.
Some of the most popular local eateries include Moish & Itzy's Deli Restaurant, Erwin's Country Kitchen, and for fine Italian Dining, Bella Tori. Langhorne is served by several top Bucks County medical facilities, including Jefferson Health Bucks County and St. Mary Rehabilitation Hospital.
For active adults that like spending time with their grandchildren, Sesame Place is an outdoor theme park that has been entertaining families since 1980. There are also several beautiful recreation areas, like Chickenfoot Park in Levittown and Core Creek, which is home to Lake Luxembourg, where visitors can enjoy fishing and boating. The area's top golf courses include Middletown Country Club and Oxford Valley Golf Course, plus five others within 10 miles.
Hershey's Mill - West Chester
Reviewed as one of the best 55+ communties in the region, Hershey's Mill has been keeping active adults happy since 1978. Final build out was completed in 2006 and the community now totals 1,720 attached homes.
Models
This 55+ community is divided into 25 distinct villages on a gated property that spans 800 acres. There are nine attached home floor plans sized from 1,000 to over 3,000 square feet. They have one to three bedrooms, two to four bathrooms, and attached one- or two-car garages. Some of these homes feature outside terraces, decks, cathedral ceilings, fireplaces, and dens.
Lifestyle and Amenities
Hershey's Mill is well-known for its resort-style amenities, with the star attraction being Hershey's Mill Golf Club, which is within the community. The 24,000 square-foot clubhouse includes a restaurant, ballroom, and a challenging 18-hole golf course.
Also on-site is a smaller community center with activity rooms and a sparkling outdoor pool. Residents can also get their feet moving at the tennis, shuffleboard, pickleball and bocce courts. There are also horseshoes, a pet park, gardening plots, and walking trails.
The community has an impressive number of clubs and groups. There is even a community television station and studio, and frequent bus trips for excursions to casinos, shopping, and more.
What's Nearby
West Chester is accessible via Interstate 76 and US 202. Its namesake university was established back in 1871, and like most cities with universities, West Chester has a trendy downtown area, with cool shops, galleries, and restaurants.
The town of Exton, which is five miles away, has a Walmart, grocery stores, pharmacies, and banks. Hershey's Mill is also near top hospitals and medical offices, including Chester County Hospitals (part of Penn Medicine) and LifeCare Hospitals.
There is no shortage of outdoor activities near West Chester. The idyllic Willisbrook Preserve is a great place to enjoy nature walks, wildlife observation, hikes, and special events. There are other fun things to do near Hershey's Mill, like spending the day at East Goshen Township Park, the American Helicopter Museum and Educational Center, or the Brandywine River Museum of Art.
Weighing the Facts
These two desirable active adult communities both have a lot going for them, so arriving at a verdict may not be that easy. Their price ranges overlap somewhat, so your budget may accommodate either community. Hershey's Mill is about three times the size of The Villages of Flowers Mill, and some of its sections are more well established.
Hershey's Mill on the other had has some larger floor plans. If you consider golf a big part of your retirement, Hershey's Mill might be the community for you. If you'd rather avoid green fees then The Villages of Flowers Mill is a better option.
Whatever your preference, it's hard to go wrong with either of these large Pennsylvania 55+ communities.