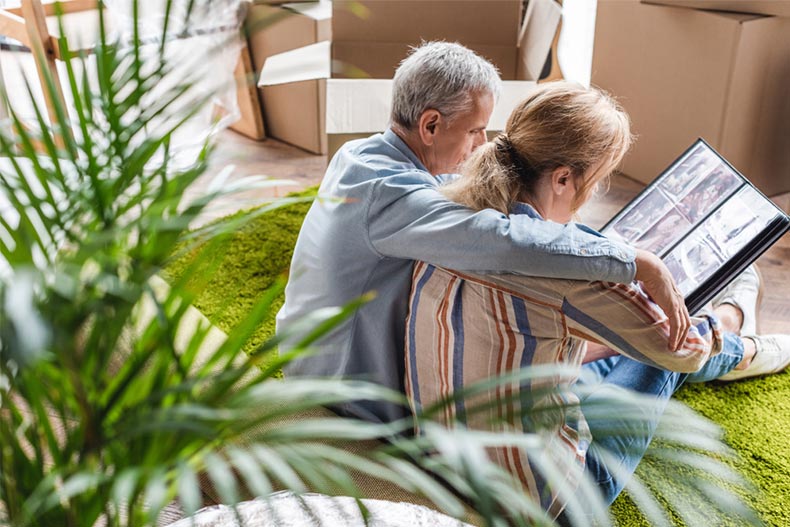 Home can mean different things at different stages in your life. Once you reach retirement, you might find that all of the space you had while raising your kids and focusing on your career no longer holds the appeal it once did. You might be ready to downsize.
Downsizing can give you the opportunity to reduce your maintenance obligations, as well as the cost (i.e. mortgage and taxes) that comes with homeownership. You also have the freedom to find a smaller home in a completely new place, possibly somewhere warmer or somewhere closer to family and friends.
How does the downsizing process work? You'll need to think about selling your home, finding a new home that is the right fit, and fitting your belongings into your new, smaller space.
Selling Your Home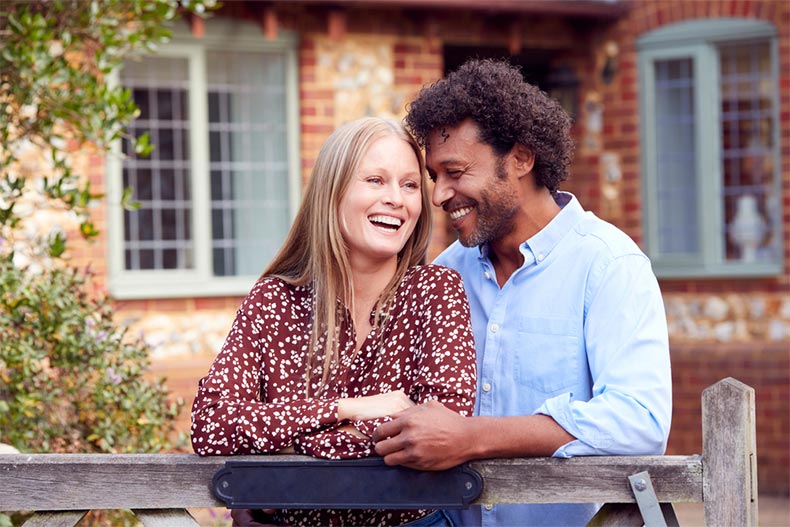 Preparing to sell involves finding a realtor you trust and getting your home ready for the market.
If you've made the decision to downsize, you are faced with the considerable task of selling your current home. Preparing to sell involves finding a realtor you trust and getting your home ready for the market. This process might include:
Upgrades. Is there any aspect of your home that will significantly affect the sale price or buyer interest? Depending on your timeline, you have the option of taking on some projects that could make the sale process easier. For example, a recently replaced roof or an updated HVAC system could be a strong selling point.
Painting. A fresh coat of paint can do wonders for your home. If you have brightly colored walls or funky wallpaper, consider swapping those shades or prints out for something more neutral. Neutral colors offer prospective buyers a blank slate for their tastes.
Upping the curb appeal. First impressions do matter. How does the exterior of your home look? Cleaning and painting the front door and sprucing up the lawn and landscaping can help improve the curb appeal of your home.
Deep cleaning. Buyers want to see a clean, organized home. If you have the time and motivation, you can do the deep cleaning yourself, or you can hire a service.
Staging. Staging can help a home sell faster and potentially increase offer prices. Staging involves making your home look as inviting as possible while allowing buyers to imagine making it theirs. After a deep clean, you can focus on depersonalizing the home and arranging the space to be welcoming. Like deep cleaning, you can outsource this process to a service or do it yourself.
You likely have certain expectations about how much your home should sell for, especially if you have lived there for years and invested in upgrading the property. Keep in mind that your expectations may or may not be met. Do your research and get a professional estimate of your home's value so you can plan accordingly. How much you net from the sale of your home will likely affect your plans for what comes next.
While making a profit is the ultimate goal of selling your home, keep in mind that there are costs involved.
Closing costs. Keep in mind that you will need to pay costs related to the closing of the sale. The real estate agents involved in the transaction will also need to take their commission.
Potential tax implications. If you have a capital gain from your home sale you may owe taxes. Individuals may be able to exclude up to $250,000 of that gain from their overall income, while married couples filing their taxes jointly may be able to exclude up to $500,000.
Moving costs. During all of the work you do to put your home on the market, it can be easy to forget that you'll also need to pay your own moving costs.
Choosing a New Home
Selling your home frees you to find a new place to live that better fits your retirement lifestyle. While smaller and more manageable may be your goal, those likely aren't the only criteria you have in mind.
As you look for your new downsized space, consider what other features you want for your new home.
Size. How much smaller do you want your home to be? Do you want to shift from a multistory, single-family home to a single-story home? Maybe you'd prefer to shift to something attached, like a condo or a townhome.
Location. You may want to stay in the same area, simply trading your larger home for something smaller. Or, you might be looking for a more dramatic change of scenery. Consider how you want to spend your retirement. Do you want to move closer to your grandkids? Do you want to move somewhere without that pesky winter weather? Do you want to settle down somewhere that caters to your hobbies? Is a lower cost of living an important factor in your decision-making process?
Amenities. Small doesn't necessarily have to mean barebones. Think about what features are most important to you in your living space. Do you want outdoor space for a garden? Is a sizable kitchen for cooking and baking high on the priority list? Do you want your home to be located near dining and restaurant options? How nearby are necessary healthcare services?
Buy or rent? You have the option to buy or rent in retirement. Buying gives you the security of living in one space. Plus, you can continue to take advantage of the tax benefits of homeownership. Renting gives you more freedom, particularly if you plan to move multiple times. Plus, you do not have any of the maintenance responsibilities that come with owning a home.
You can start to narrow down your budget once you know what you are looking for in a downsized home. Smaller likely means less expensive, but keep in mind, the cost of living in the area you're considering. A condo in an expensive city could cost more than a large, single-family home in another area of the country.
When you downsize, you still need to think about:
Mortgage or rent. Do you have a target amount you'd like to reduce your monthly home payments by, whether mortgage or rent?
Taxes. If you plan to buy a smaller home, you will still need to think about property taxes, as well as other potential fees, such as HOA dues.
Insurance. Home insurance is still an important consideration. If you rent, you can protect your belongings with renters' insurance.
Sorting Through Your Belongings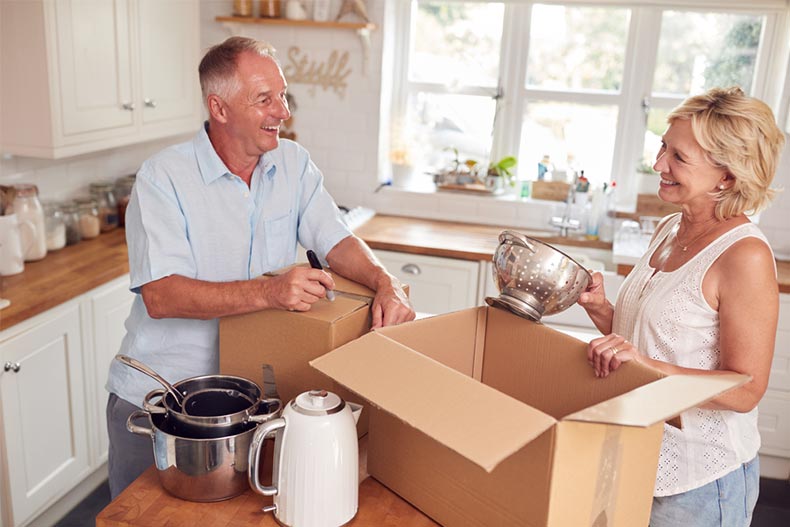 The timeline of downsizing can look different for everyone.
Downsizing can make your life easier in a lot of ways, but for many people, the process of paring down their belongings can be difficult. Many of us become attached to our things—items we have curated over a lifetime. How do you begin and make it through this emotional job?
Determine how much space you will have. What is the square footage of your current home, and what is the square footage of your ideal downsized space? It can be hard to visualize what will and will not fit in your new home, but having the exact numbers is a good starting point for determining what portion of your belongings needs to go.
Break the project down by room. Just thinking about sorting through an entire household's worth of belongings is overwhelming. Try to make it easier on yourself by going one room at a time. Make a list of the items in each room and start to sort them into different categories (e.g., things you need to keep, things you want to keep, and things that can go).
Share with family and friends. You will probably find a number of things that can simply be thrown away, but what about the belongings you can't keep but want to see in good hands? Talk to your social network to see if items you're getting rid of can be put to good use. Consider giving sentimental items to family and friends. More practical items, like furniture, might find a second life with a friend of a friend or with a friend's children.
Sell and donate. Once you know which items you can and need to part with, you can start to sort through what can be sold and what can be donated. Items can be sold or donated through online platforms. You can also use services that will come to your home to pick up items, like furniture or clothing. You also have the option of selling smaller items or donating to local thrift stores or charities.
Rent a storage unit. The timeline of downsizing can look different for everyone. You may be in a situation where you don't know exactly how much space you will have in your new home. Maybe you have decided to rent for a brief time before finding a home to buy. Whatever the case, you aren't sure of how much to keep. Renting a storage unit can allow you to safely store items you would like to keep, either for yourself or for your family, as you figure out where to call home in this next phase of your life.