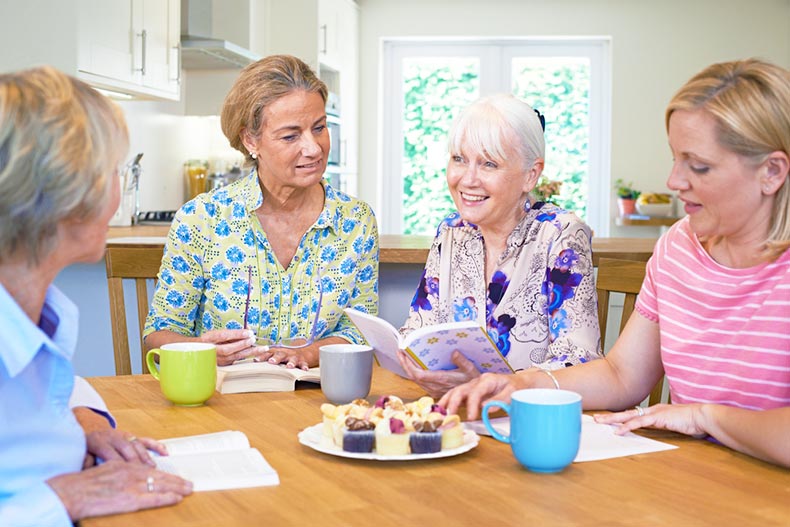 Active adult communities often include a variety of social groups designed to match the interests of the community residents. While book clubs are popular among groups of all ages, not every active adult community offers one. This may be due to lack of interest, or it may simply be because no one has yet suggested it. Whether you live in an age-restricted community or a neighborhood that includes all ages, there are many ways to start your own book club.
Getting Started
The first step to beginning a book club is to find a group of people who are interested in participating. This is often easier than you might think. You can start by asking your friends, family, and coworkers. You can place an ad in your community newsletter or hang a flyer on your community message board. If you live in an active adult community that has an activities director, you can approach her about starting a community book club. There may be a certain process in place for starting up new social clubs, especially if you plan to meet at the community clubhouse or in another common area.
The Right Size
Book clubs come in all sizes, but you may find that a club with 8 to 12 members is ideal. Too many people can make it harder for everyone to be heard during your discussion. Too few members can mean that a meeting can fall apart with only a few cancellations. While every member should attempt to make the meetings, be aware that busy schedules will keep some people from attending. If your group includes 12 people, your monthly meetings may average 8 or 9 participants.
Define it by Genre
When planning your book club, you should have some general ideas about the kind of books you expect to read. If you are interested in starting a club that only reads one type of book, such as non-fiction or literary classics, you should be clear about your intentions when approaching potential members. If you are more flexible with the content of the books you will read, you can wait and discuss it with the group.
The Rules
Your first meeting is the best time to decide on the book club's rules and general operating procedures. How often will you meet? Where will you meet? How will you choose the books to read? There are many ways to run a book club, and customizing your own club will give you the ideal setting for your group. Most book clubs meet once a month to discuss one book that everyone has agreed to read before the meeting. There are many ways to decide on the books to read. The club can collect suggestions and vote as a group, one club leader can choose the books, or members can take turns choosing the books. When taking turns, one twist has members suggest two books and let the group vote on which to read.
In an active adult community, your book club may be able to meet regularly in the clubhouse or other community space. Members could also take turns hosting meetings in their own homes or at a restaurant or coffee shop. If you plan to serve refreshments at the meetings, decide up front who will pay for them. Will you collect dues to cover the expense? Will you take turns hosting and have the host foot the bill? Once you have decided who will join, how you will choose books, where you will meet, and how the group will serve refreshments, you are ready to get started.
Getting the Discussion Going
Book club meetings generally run themselves, and discussions naturally arise as people voice their opinions about the book. If you are worried about kicking off the discussion, you can prepare a list of questions in advance or look online for a reading guide about the chosen book.
Book clubs are an inexpensive way for groups of people to get together and share their love of reading. By belonging to a book club, members often discover books they might have never read on their own. The discussions can also prompt members to look at the books from a different perspective. If you want to join a book club, but there is not currently one in your community, do not be afraid to start your own. You are likely to find that many of your friends and neighbors would be interested in joining. And, if your community has an activities director, you may find that you have a handy resource to help you get your book club off the ground.