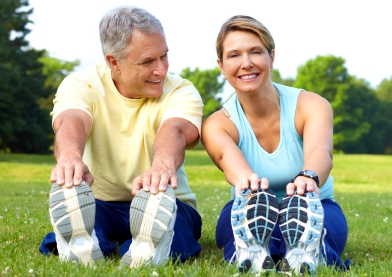 With the seasons changing it may be time to switch up your workout routine to get fit by spring. You may have gained some dreaded winter weight with all of the holiday parties and delicious, high calorie foods consumed. The winter blues also made us stay indoors and become less active throughout the day, but now is the time to shed those unwanted pounds.
Getting fit doesn't have to be difficult and with a few simple tips and tricks you can get back on the health wagon. Some changes may include eating healthy, quitting a bad habit, or trying new workouts. Exercising in a group with friends can also help put back a little pep in your step. It's also important to have fun while you're working out too, so lace up your sneakers and get ready to move this spring.
Eat a Healthy Breakfast
Breakfast is the most important meal of the day and you should fuel your body properly. Start your morning off right with a healthy and delicious breakfast that's packed with all of the nutrients you'll need. Green smoothies are a simple, fast breakfast option for active adults on the go. They typically consist of greens like spinach or kale, fresh fruit, and almond milk or coconut water that are blended together for a tasty, healthy liquid meal. Green smoothies are full of essential vitamins and minerals as well as powerful antioxidants that can help prevent some illnesses. It can also help increase your metabolism, give you energy, and shed some unwanted weight. Other healthy breakfast options include oatmeal, whole grain pancakes or toast, greek yogurt, and hard-boiled eggs.
Get Moving with Cardio
Getting in a cardio workout at any level is a great and easy option for active adults. They can walk on treadmills at an easy pace and gradually increase the speed to work up a sweat. They can also go for a walk at the mall or outside in the park. Elliptical machines and recumbent bikes are also great for Baby Boomers because they help build cardiovascular fitness and balance. Adding a few hard intervals in the routine can help rev up their metabolism too. Retirees should take the stairs or perform stair-climbing exercises to keep muscles strong and maintain balance. They can also sign up for aerobics and dance classes where they can perform low-impact exercises to improve their cardiovascular health.
Start Strength Training
Weight training is not just for the young. Retirees should lift weights to improve muscle strength. Weightlifting machines are good for beginners because there is a lower risk of falling or injury. Once you're comfortable with the weightlifting machines then you can move on to free weights and elastic bands. You can also use small weights or no weights at all. Basic strength training exercises require you to use your own weight like push-ups, lunges, sit-ups, planks, and squats. Incorporate strength-training techniques along with some cardio a few times a week to maintain a healthy fitness routine.
Flexibility Is Key
Yoga and Pilates are great ways to become more flexible while getting fit. Pilates helps strengthen your muscles and abdomen which will improve your flexibility and tone your stomach area. Yoga also increases core strength and balance while relieving stress, fatigue, and minor pain. Learning a few yoga or Pilates techniques can help improve your health and shed some weight over time. It can also help you relax and get a good night's sleep. Retirees can take beginners classes taught by certified instructors where they will learn proper body positioning methods to avoid injury. A full body stretch routine can also be added to any cardio or weight-training regime when muscles and joints are warm and pliable to avoid cramps or soreness.
Stay Hydrated
Water is the elixir of life. It's the most important part of any healthy diet. Drinking at least eight cups of water a day will keep you hydrated, alleviate headaches and muscle soreness, and stave off cravings. It's also important to drink water before and after a workout to get toxins like sugar, caffeine, and alcohol flushed out of your system.
A healthy diet and exercise routine is essential for anyone looking to stay fit. Hopefully you'll find these tips useful to help you achieve your goals just in time for spring.