The decision to transition from your family home into a 55+ community can be one of the most exciting decisions of your life. A new home is always a major milestone, but moving into a 55+ community can bring newfound freedom to your active lifestyle. Whether you're planning ahead for retirement or you're already retired, this senior transition comes with a sense of adventure.
However, even if you're extremely excited about the move, there can also be anxiety or nervousness. Luckily, there are plenty of steps along the way that you can take to make the transition as easy as possible. Let's explore some of the ways you can prepare to make the transition from your family home to a 55+ community.
Plan Ahead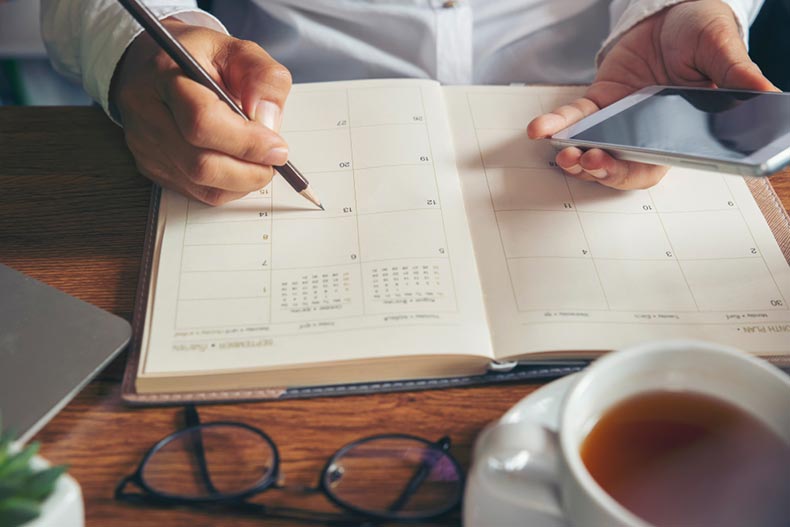 When it comes to planning ahead, it's never too early to start preparing for the future. However, there's also no one right way to make preparations. There are many ways to make plans and begin preparing for a new chapter in life. Some people might make the decision to move and find their next home all within a few months, while the process might take a year or more for some people. Others might have a five-year plan to make their dreams a reality.
Planning is a useful tool to help make everything in the transition easier. Although there may be some uncertainty at first, things will fall into place as you learn more information and those feelings will turn into anticipation and excitement.
One of the most useful tools for planning a move is to create a timeline or set a deadline for when you would like to be in your new home. Marking some definitive dates on the calendar can help motivate you and set everything in motion.
Find The Right Community For You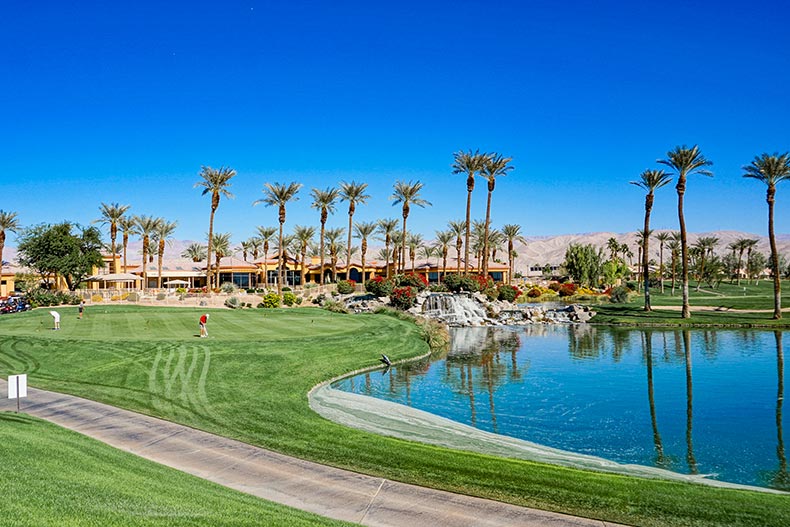 Whether you plan on moving in the next few months or the next few years, you can start researching communities to find your next home. Conducting online research about 55+ communities can help you learn everything you need to know. By reading about neighborhoods, visiting community websites, and browsing virtual home tours, you can start narrowing down where you want to live or even discover new features you want.
There are plenty of factors and characteristics to consider when looking for the right 55+ community for you. You might start with the geographic area. Do you want to live in the same state that you currently live in or are you planning to make a move across the country to a retirement destination? If you want to move from the North to the South, you might consider comparing retirement states like Florida and South Carolina or Arizona and Texas.
After choosing a state or two, explore the major towns and general areas. Would you rather live in the Southern, Central, or Northern part of the state? Does East or West suit your lifestyle? What does each area have to offer? If you're flexible about where to move within a particular state, you can explore the surrounding area near communities, including daily conveniences, entertainment options, and travel opportunities.
When it comes to comparing specific age-restricted communities, there's something out there for almost everyone. Some of the characteristics to consider include price range, home styles, overall size, amenities, and social activities. Overall, conducting research can help you solidify what you're looking for in your next neighborhood.
Prepare For Your Move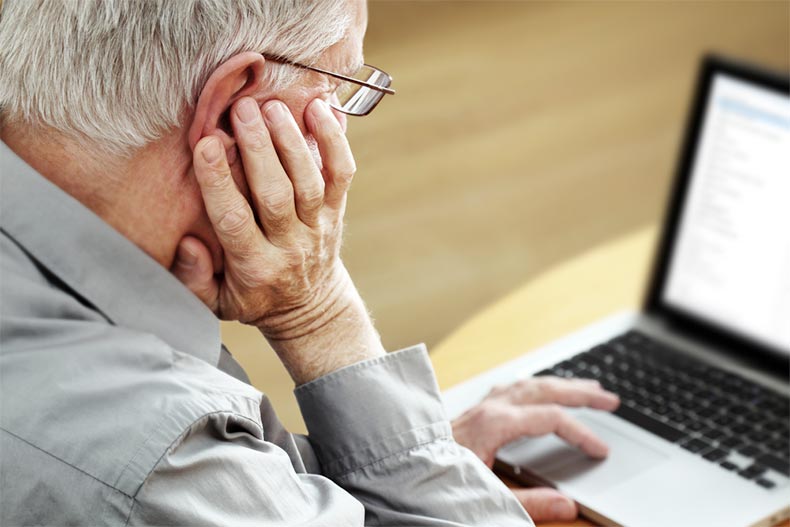 Moving can feel overwhelming, whether you're moving across the state or across the country. But with plans in place, there are some ways to prepare for your move and help you feel confident about the process.
For example, it might be useful to start considering some of the decisions you can make about moving. Do you plan to use professional packers or will you pack yourself? Will you hire a moving company? If so, will you purchase moving insurance? Will you need to ship your car or other vehicles? And what type of packing materials will you use? The answers to questions such as these can help you get a better sense of your moving budget and plans.
Decluttering and downsizing are some of the best ways to prepare for your move. With both of these strategies, which are discussed in more detail below, make sure to be mindful of how much storage will be available in your new home. The new home and new lifestyle you imagine for yourself should guide your decisions about what to bring with you.
Decluttering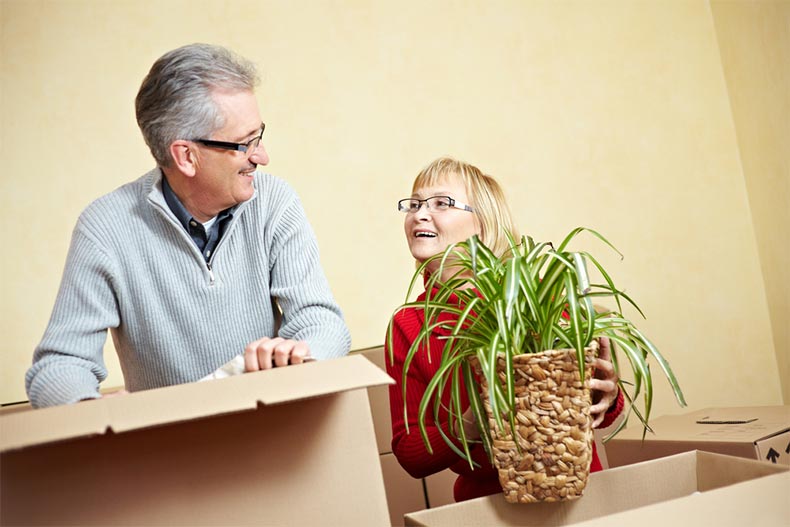 Declutter your home by getting rid of non-essential items, even if you aren't ready to start packing. If you can spread this process out over a few months, decluttering can be an ongoing process without too much time pressure. Think of decluttering as spring cleaning or seasonal housekeeping so you can reduce your possessions with a leisurely pace.
Even when you don't have to rush, it's still helpful to have a schedule and stay organized. There are many effective strategies to declutter a home included in our "Active Adult Guide To Decluttering." One popular method is to go room by room. Try focusing on one room each week, or set aside specific blocks of time; sort through items for 30 minutes each day until the room is complete.
To help guide decluttering, choose a target date to finish the project. While it doesn't have to be definitive, a timeline can help guide and plan how much time everything will take. In addition to going through each room, you can also donate items. For each room, you can set aside boxes for items to keep, donate, or throw away. That way, you're also packing a few items at the same time. No matter how you go about it, decluttering is an important part of any move.
Downsizing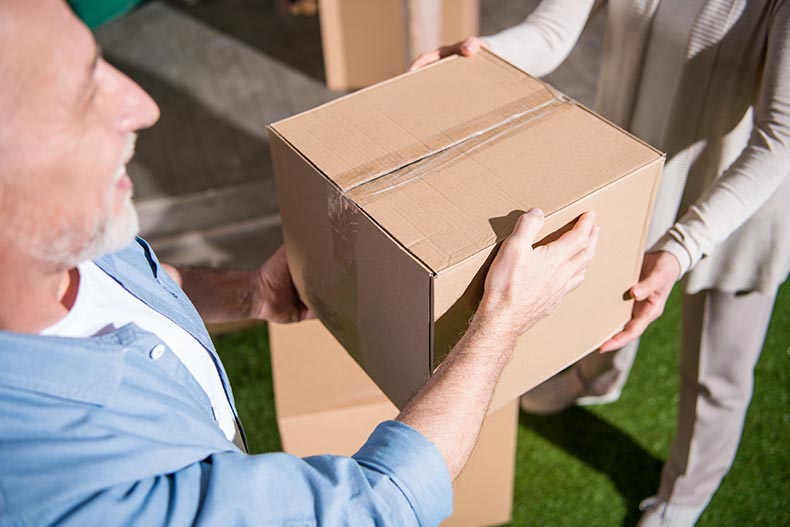 Many people choose to downsize when they move into a 55+ community. By downsizing, active adults can enjoy a low-maintenance lifestyle with fewer chores. Whether you're moving into a single-family home, a townhome, or a condominium, all of these home styles can mean different things for how much you want to downsize. When downsizing and decluttering, it's most important to consider the home you're moving into and let the future guide the process.
Downsizing means only keeping the possessions you truly love and need and discarding any unwanted items. Not only does this make your move easier by having fewer items to move, but it may also make your new home feel right for the next chapter in your life. Some easy ways to downsize include hosting yard sales or estate sales. You can also give items to your children or family for safekeeping, or you can simply donate items to those in need.
Sentimental Items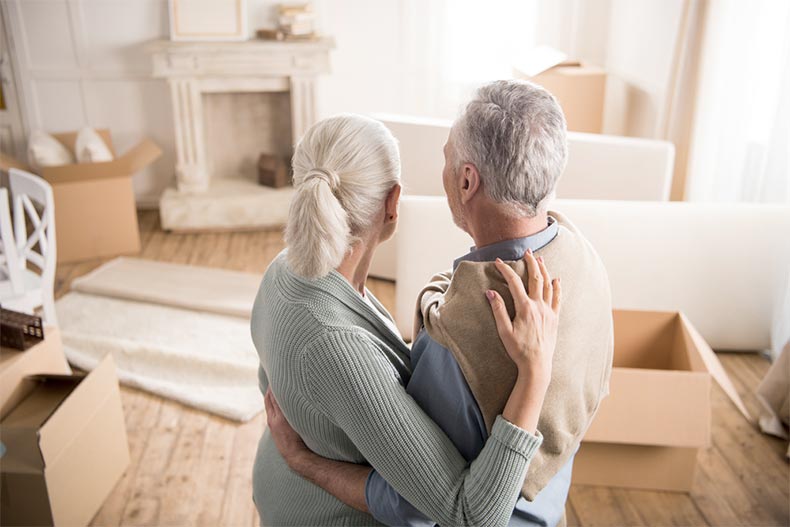 Both decluttering and downsizing can feel like an emotional process, especially when associated with a move away from your family home. The entire moving process can stir up unexpected emotions. While sentimental possessions may feel the most difficult to get rid of, remember that you don't have to discard everything. You can use the storage in your new home to keep these items or even decide to rent a storage space nearby.
The Marie Kondo method offers some helpful advice on how to handle sentimental things. She says that even if you decide to dispose of sentimental items, you will always have the memories associated with them. It's okay to dispose of items that no longer bring you joy. Remember that you can also give items to family, children, or friends to hold onto as well.
Packing the Essentials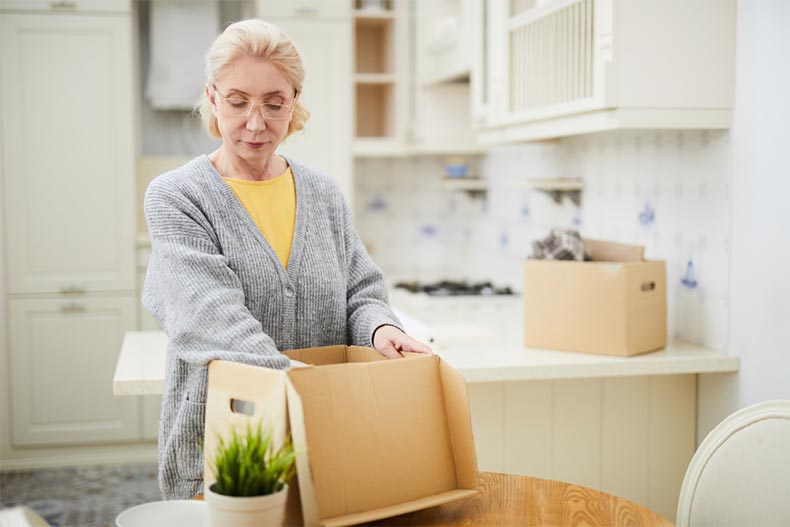 All of your considerations should center around the lifestyle you imagine for your future. So, based on where you're moving to and the type of community you want to live in, make sure to prioritize packing the essentials.
For example, if you're moving to a retirement destination in a warmer climate, think about getting rid of most of your heavy winter clothing. Pack up those heavy sweaters and coats for storage. You might also think about the gear you need for outdoor activities. Keep the supplies you need for hiking, boating, fishing, swimming, camping, or skiing as well as sporting equipment for tennis or pickleball. Discard the items you don't need so you can make space for the new things you need for your new lifestyle.
Cleaning and Repairs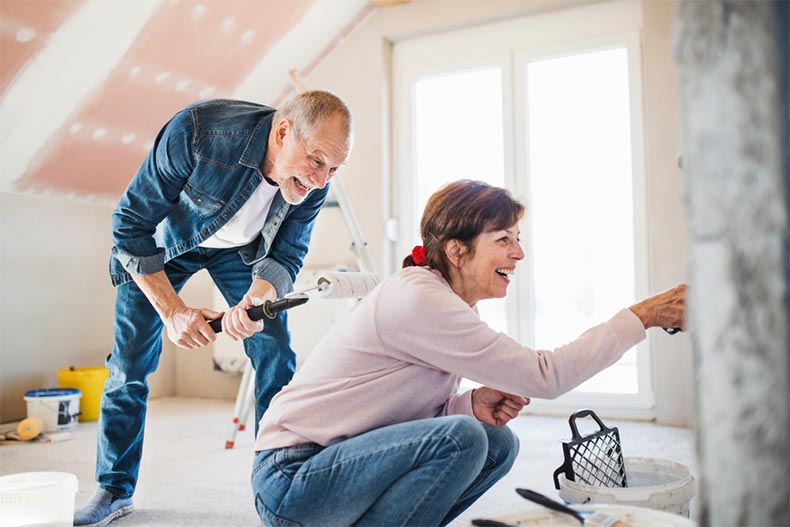 After decluttering and organizing the home you're leaving, you can still take other steps to prepare the home that you're selling. Think about cleaning and making any necessary repairs to make it more sellable. Sometimes painting or staging the home can help it sell faster or for the best price possible. When preparing for a move, it can be easier to take care of repairs over time rather than rushing to get everything ready.
Preparing Your New Home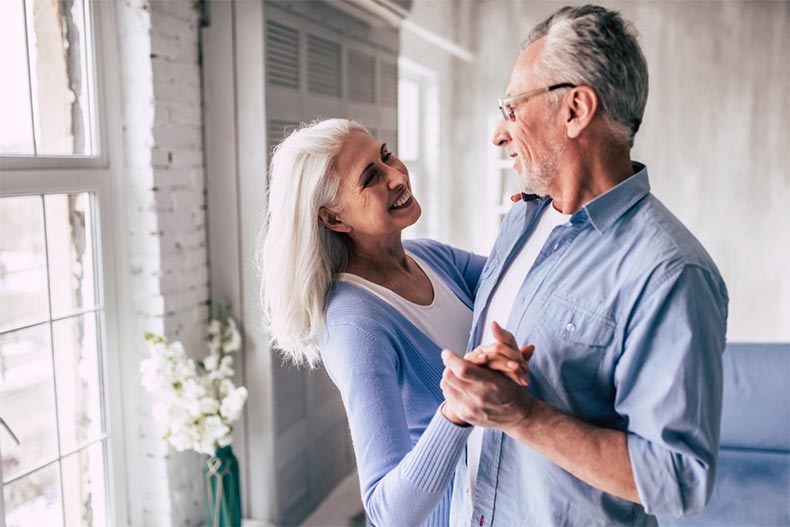 Once you shift your focus from your old home to your new home, you can continue to take steps to ensure the home will be in its best shape when you move in. Even if you currently live far away, you can work remotely to get ready to move into your new home.
Before you move in, you may choose to schedule a cleaning of your new home or some repairs. Of course, the current homeowners may be responsible for some repairs before you move in. But other home improvements, such as painting or changing the light fixtures, might be helpful to begin before you move in.
Another component you may want to explore in advance is the utilities. You want to make sure to either cancel or transfer your current utilities so the providers know when to stop charging you. When you move, you may have several options for providers for cable television and internet, so you can shop around to find the best deal for you. There's also water, gas, and electricity to set up so they're working the day you move in.
There are plenty of other ways to prepare your new home and change your residency. You can start to update your home address by forwarding your mail and figuring out how to change your driver's license, car registration, insurance, and any other important documents.
When you finally move in, you can breathe a sigh of relief. All of the research, planning, and preparation is over. Now, it's time to settle in. Take your time to unpack and decorate, organizing items as you go.
Settling Into Your New Community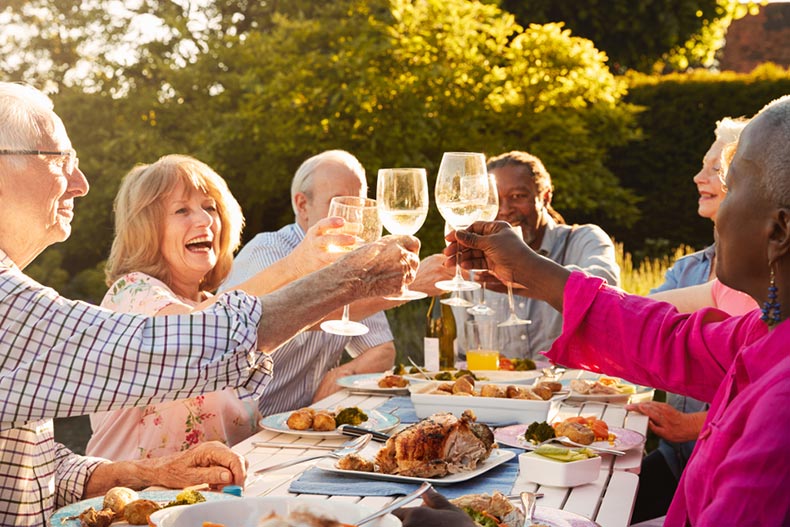 As a resident of a 55+ community, you likely have access to a range of amenities and lifestyle activities to enjoy. Above all, you likely have a newfound sense of freedom to spend your time enjoying your hobbies while exploring new interests and activities.
Your community might have a welcome committee, but your neighbors are usually an excellent resource to introduce you to your neighborhood. As some of your first friends in the community, they can help you meet more neighbors and accompany you to some clubs or activities.
More than anything, you can start enjoying your leisure and freedom. You successfully made the transition from your family home to a 55+ community and you deserve to look forward to all of the good things to come.