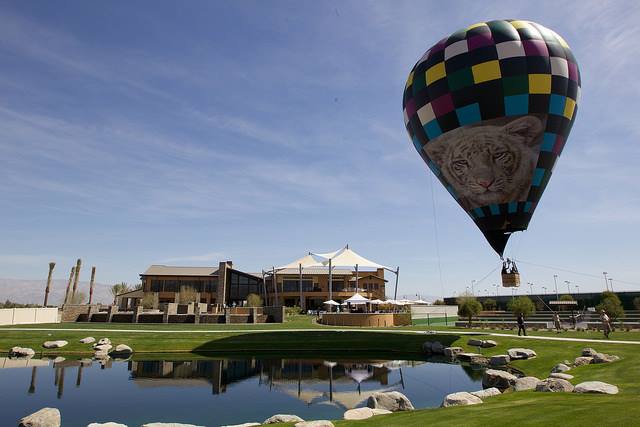 Residents of Trilogy at The Polo Club in Indio, CA, have something to celebrate these days: the grand opening of its new clubhouse, The Polo Club. The 25,000-square-foot Polo Club is a luxurious and well-appointed clubhouse that is the heart of this beautiful community. This members-only facility provides the best of indoor and outdoor amenities where residents can explore, learn, and be enriched on a daily basis with other like-minded adults.
Lounging With Friends
The Polo Club is a two-story building that has sterling amenities on each floor, making it easy for active adults to have everything they could want or need just a few steps away. Attractive amenities found on the first floor include a welcoming and spacious Grand Living Room that has a cozy fireplace and plenty of seating areas for friendly gatherings. The Polo Club also provides a variety of culinary options from elegant, private dining to casual grab-and-go meals.
Dining and Cooking
Residents enjoy five-star dining at the on-site restaurant, June Hill's Table. As the main restaurant of The Polo Club, June Hill's Table features local and regional cuisine that's fresh, healthy, and flavorful. It has a communal table that acts as the focal point of the restaurant as well as dining areas for larger parties and quiet and private tables for two. Outdoor patio seating is also available to dine al fresco with beautiful views of the Santa Rosa Mountains.
Homeowners who love to cook or want to learn can do all of that in McCarroll's Kitchen. This demonstration kitchen offers cooking demos and classes provided by the onsite culinary team. It's also the perfect place to relax or host private parties with family and friends in a fun space that has a showcase kitchen, cozy seating areas, and big-screen HD televisions.
But residents who are looking for a unique and more intimate dining experience can check out The Cuverie. This private dining suite features exclusive menu items prepared by the chef and culinary team for special events like birthdays and anniversaries. Residents can also customize menu items off of the regular menu for a classic twist that will impress their guests.
Grab 'N Go
When you need to grab a cup of coffee, a quick snack, or a few items for dinner on the way home, The Market Place is your one-stop shop. With a coffee and sandwich shop as well as a grocery store, The Market Place makes it convenient for those moments when you need to pick up breakfast or lunch on-the-go or you need to make a quick pit-stop for last minute ingredients for tonight's dinner.
Indoor Games and Amenities
The Polo Club's recreational facilities and activities are like no other. The Paddock is the community's most popular space because of its modern man-cave decor. It's filled with billiards tables, darts, an indoor golf simulator, and a large flat-screen TV to watch all of the top sports games while lounging on comfortable and spacious seats. It's the perfect place to gather with friends for casual get-togethers in a relaxed environment.
A separate room for card games is also available within The Polo Club. The Four Suits is equipped with enough tables for residents to play every card game imaginable including poker, pinochle, cribbage, and canasta. Located adjacent to the Four Suits room is the 2Palms Event Center. Both spaces can be combined to host large tournaments or events. The 2Palms Event Center also provides the perfect place for large parties, banquets, and even weddings. It comes equipped with a commercial catering kitchen and two outdoor patios that can be enjoyed year-round for multi-functional purposes.
Staying Fit
Residents can forget about driving to the gym or paying insane membership fees. Instead, they can check out the state-of-the-art fitness center and glass-encased studio, located on the second floor of The Polo Club. Named The Flow, Strength & Movement Studio, active adults from all fitness levels and backgrounds can workout in comfort in this clean and open facility that has the latest fitness equipment. There are separate areas for strength training, conditioning, and cardio as well as personal training sessions or group fitness classes like yoga, Pilates, and tai chi. Staying in shape has never been this fun or easy.
Outdoors, homeowners can delight in the Southern California climate. The Polo Club has three swimming pools for fitness, relaxation, and laps. Neighbors can challenge each other on the multiple sports courts in a game of tennis, bocce, or pickleball. An outdoor amphitheater is perfect for attending a show on a beautiful night on the lawn. Residents will find 19 parks as well as exercise stations scattered throughout the community for additional recreation and open social spaces.
The Polo Club is sure to be a hotspot for social recreation and physical activity in this vibrant active lifestyle community in Southern California.