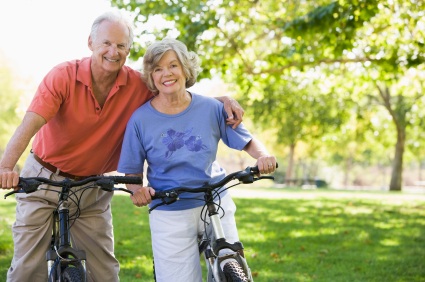 When searching for a fun way to stay fit, active retirees may look to the past. For many Baby Boomers, a bicycle was their first mode of transportation and their first taste of freedom. But the end of childhood doesn't have to mark the end of bike riding.
Active adults often find that retirement is the perfect time to get back on a bike. Cycling is a great low-impact exercise, it's a healthy alternative to driving a car around town, and it can be a fabulous way to see the sights while on vacation.
Active Adult Communities
Some—like The Quarry, in Florida, or Texas' Del Webb San Antonio—also have their own special-interest groups for biking enthusiasts. Joining with friends can make cycling more fun, while also providing support. When vacationing, or just exploring your own town, group bike tours can be a memorable way to find the best views.
Organizations like Senior Cycling help older adults find fabulous biking excursions around the country. These trips include riding tours with stops to see the local sights and social evenings for dinner and relaxation at the end of the day. Of course, you don't have to travel to enjoy bike riding. If your home is near retail centers, grocery stores or other attractions, you may be able to substitute cycling for driving the car or golf cart around town.
Health
There are many ways that cycling can become part of a healthy retirement. Scenic biking trails add tranquil beauty to a morning or afternoon ride, and cycling groups can help you find friends to keep you company along the way. Many active adult communities offer extensive walking and biking trails, in addition to their quiet, tree-lined streets.
Bicycles are cheaper to buy and maintain than a car, they are better for the environment and they take very little room to store. There are many health benefits that come with regular cycling as well.
Riding a bike burns calories and can keep your metabolism keyed up even after you get off the bike. It's a great cardiovascular exercise that is easy on your joints. Cycling builds muscle strength and it enhances your coordination. Bike riding may also strengthen your immune system and improve your mental health.
Comfort
When buying a new bike, some older riders prefer the comfort of a recumbent trike. This reclined, low-to-the-ground bike is often more comfortable and can be easier on your body. It can take some effort to adjust to a two-wheeled recumbent bike, but the three-wheeled trike variety is a great choice for nearly any rider. The third wheel adds safety and stability, while the trike still provides active exercise.
Retirement is a great time to try new activities or get back into old favorites. Get back on a bike and see how cycling is a childhood pastime that can be enjoyed throughout your adult life and well into your retirement years.