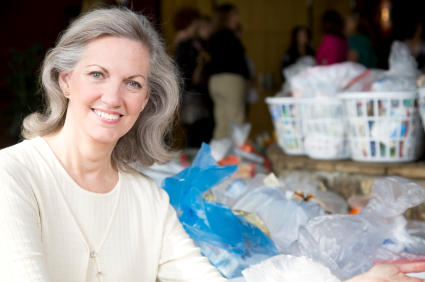 Retirement is a great time for traveling, taking up new hobbies and spending more time with family and friends. It's also a great time to get involved with volunteering. Volunteering lets you support your favorite causes, while also making new friends and trying new things. Best of all, helping others feels good and can be good for your own health.
New retirees are often warned that it's a bad idea to stop working without a plan. Too much free time can leave a person feeling like they have no sense of purpose. While hobbies and travel plans are a great part of your new lifestyle, you may also want to carve out some time for volunteering.
There are many different ways to volunteer. You can help at a community school or library, work at a theater or museum, visit patients in a hospital or nursing home, or serve meals at a homeless shelter. Local charities often need help with fundraisers or office tasks, or you could help support a political candidate.
Think about your skills when looking for volunteer opportunities. Do you like organizing events? Do you have experience with fundraising? If you were a teacher, you might volunteer your time as a tutor. If you are an artist or musician, perhaps you could offer free lessons to kids who couldn't otherwise afford to learn.
It's often easier to start volunteering if you sign up with a friend. Talk to your friends to find a shared interest in particular causes or decide on a few areas where you would like to help. If you live in an active adult community, you may be able to join a group focused on volunteering or start your own group.
You can also find volunteer opportunities by looking online. VolunteerMatch.org lets you search for opportunities based on your interests and location. If you love to travel and want to see the world, GoEco.org has worldwide projects that are specifically designed for volunteers over the age of 50.
If you would rather make a donation, there are many things you can do without leaving your home. You can knit or crochet items for charities, donate a handmade quilt or other craft for a raffle or bake treats for a local bake sale. You can save labels and coupons for local school programs, donate blood through the American Red Cross or make regular phone calls to sick or elderly neighbors.
Volunteering is a beautiful way to add purpose to your retirement years while making a difference in someone else's life. Look for opportunities that align with your interests and you are sure to find rewarding experiences.