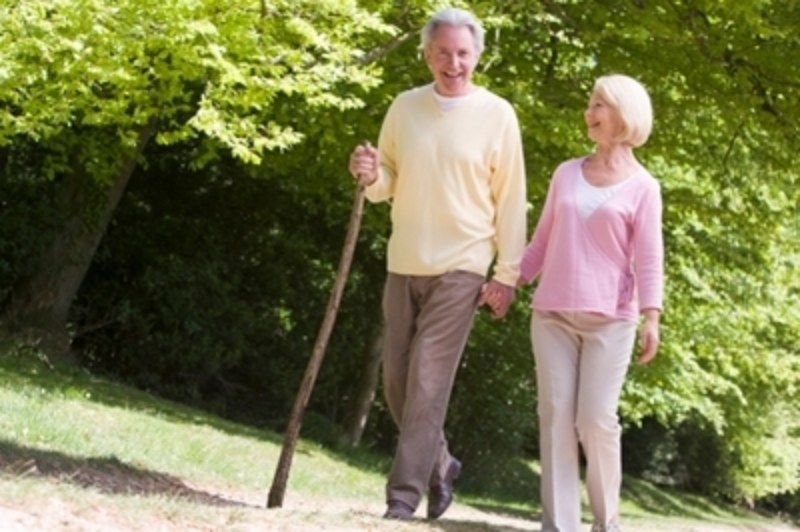 For many active adults, walking is great way to stay in shape, lose weight, or even manage a chronic health condition. When walking with a buddy or joining a walking club, this great activity can also be a good way to socialize and reach shared goals. Walking can even help raise awareness (and money) for your favorite charity. Walking is a low-impact exercise that has many health benefits and few risks, especially when done properly.
Health Benefits of Walking
Regular walking boosts heart health. It can lower bad cholesterol (LDL) levels and raise good cholesterol (HDL) levels. It can also lower your blood pressure, reduce your risk of developing Type 2 diabetes, and help you lose weight. In addition to these clear health benefits, walking can improve your overall outlook and help you feel strong and physically fit.
Before beginning any walking program, or other new exercise routine, get the okay from your doctor. This is particularly important if you have certain medical conditions or if you are recovering from an injury. There are also a few steps you can take to reduce the risk of injury while walking, including warming up slowly, stretching, and cooling down gradually.
When it comes to equipment, you will need a good pair of walking shoes, comfortable clothing, and light or reflective clothing if you plan to walk outdoors after dark. While walking may be one of the more natural forms of exercise, fitness walking can be a bit more involved than your daily way of getting around. Learning how to use the proper form while walking for fitness will keep you from putting unnecessary strain on your body and help to prevent injuries. This is particularly important if you decide to try a specific style of walking, such as race walking.
Active Adult Communities with Indoor Walking Tracks
Walking is a simple form of exercise that can be performed nearly anywhere. You can walk indoors or outdoors. You can walk on a treadmill or explore the hiking trails at a nearby nature center or state park. Indoor walking tracks are also available at many active adult communities, including Anthem Ranch in Colorado, Sun City Lincoln Hills in California, Del Webb Lake Providence in Tennessee, and Potomac Green in Virginia.
Walking can be either a solo sport or a social form of exercise. Walking with a buddy is good for both safety and personal motivation. Walking clubs or groups can help each member train for a common goal, such as training to walk a 5K for a chosen charity. Experienced walkers can offer advice to new members as well, helping spread the love of this beneficial activity. Whether joining a walking club or heading out on your own, walking is a low-impact exercise that brings many health benefits. Walk several days each week for a month and see the difference for yourself. You will feel more fit, sleep better, and be glad you gave fitness walking a try.