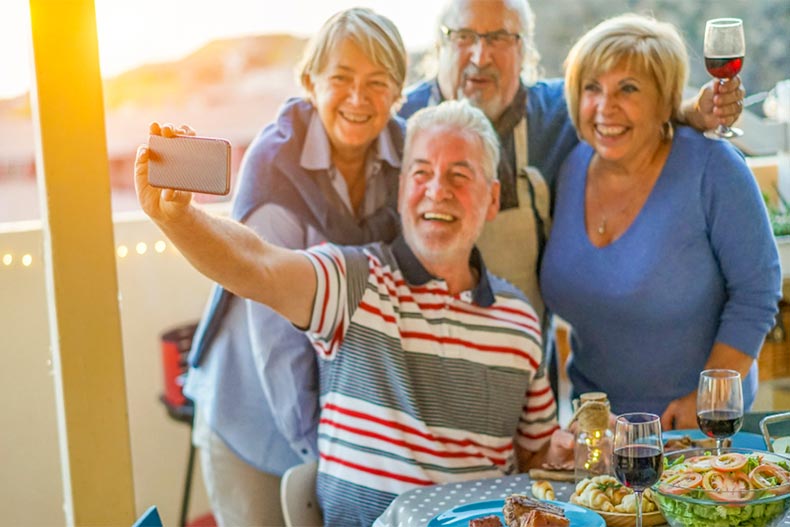 With their children grown and their careers behind them, many retirees are left feeling a bit lonely. Without the daily excitement of caring for a family or the need to communicate with colleagues on the job, many people age 55 and older don't always get to regularly interact with others.
More than 40 percent of adults over 55 report feeling lonely on a regular basis, according to a study by the University of California, San Francisco. Loneliness can really take a toll on someone's physical, mental, and emotional health. One study revealed that lonely individuals report 38.5 percent more severe depression symptoms than those who were less lonely. Research also shows that isolation is as damaging as smoking a pack of cigarettes a day.
Loneliness and social isolation only continue to increase among retirees. About 14 percent of Americans over 65 live alone, according to the Administration for Community Living, and nearly half of women over 75 live by themselves.
A cohousing neighborhood might be a solution to this loneliness and isolation.
So Long Loneliness, Hello Neighbor!
According to The Cohousing Association, a cohousing neighborhood is an intentional community of private homes clustered around shared space. There are currently 168 cohousing communities around the United States, with more on the way.
Designed to facilitate community, these neighborhoods are becoming increasingly popular among active adults who want to share life with others. Their shared spaces, which often include a common house with a large kitchen area, laundry, and recreational area, encourage residents to help each other, whether they bake a batch of cookies together or support someone going through a major life change.
While in a traditional active adult community, homeowners might pull into their garage, shut the door, and not ever get to know their neighbors, a cohousing community encourages residents to come together. Homeowners in a cohousing neighborhood often combine their resources and efforts for everything from sharing meals to planting in a community garden, similar to an agrihood.
While there's no sharing of income, residents in a cohousing community share just about everything else, from the proverbial cup of sugar to hedge trimmers. Neighbors help neighbors and look for ways to be good to one another. Rather than relying on an administrator, they turn to each other.
For many active adults, cohousing is an appealing way to boost their quality of life. With positive social support all around them, they naturally enjoy many benefits, including psychological and physical wellness. In a cohousing community, active adults look out for others and know that others are also looking out for them.
Retirees who don't want to feel isolated and who long for companionship should explore cohousing communities. They provide an opportunity for active adults to ward off loneliness and interact with community members in new and meaningful ways. Click here for a directory of cohousing communities across the country.