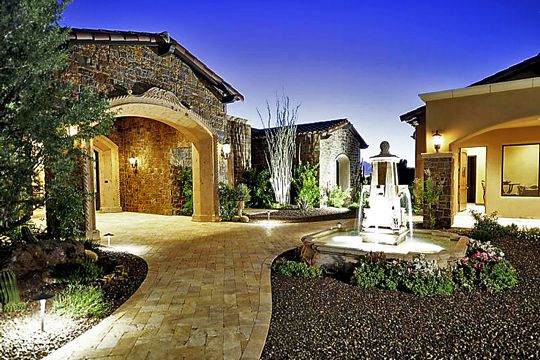 While those who live in Southwest states such as Arizona and New Mexico are likely to be familiar with casitas, the term may be new to homebuyers from other parts of the country. Casitas are similar to an in-law suite or guest room, yet they usually have the added benefit of being separated from the main home.
What is a Casita?
In Spanish, casita means "little house" and it refers to a small suite which comes with a single-family home. Casitas are usually detached and located at the front of the property. They can also be in the backyard or attached to the main house, but with a separate entrance. Casitas generally include their own bathroom, and they may have a small kitchen or kitchenette as well.
Casitas in active adult communities typically consist of one main room and a bathroom. Homeowners often use their casitas for vastly different purposes. These little houses are commonly designed as home offices, media rooms, music rooms, art studios or special hobby rooms. Being separated from the main house makes a casita a great quiet retreat, perhaps for a library or meditation room. They are also ideal to use as an extra bedroom suite for out-of-town guests.
Not every single-family home in Southwestern active adult communities will come with a casita, but they are popular enough that many developers will offer some models with a casita option.
What Are the Benefits of Casitas?
It's easy to understand why homeowners would see casitas as an added benefit, but this amenity does come at a premium. A casita option will increase the purchase price of a single-family home, particularly if it is designed as a separate building. This is because there is more cost involved with building a second structure. In addition to constructing walls and a roof, the builder has to run plumbing and electric, and also install heating and cooling systems.
To save money, and still have some of the benefits of a casita, homebuyers can look for floor plans with a few other in-house options. Some active adult communities feature homes with second-story lofts where an extra room and bathroom would make an ideal guest suite, home office or hobby room. Homeowners may also meet their needs with a home that has two master bedroom suites, or by simply buying a home with an extra bedroom or bonus room.
Whether it's used as a separate guest suite or a hobby studio, a casita provides a home with added functionality. Active adults who can afford to buy a residence with a casita are sure to love the options that it brings.
---
agent.calls_to_action.here_to_help
agent.calls_to_action.call_us_long