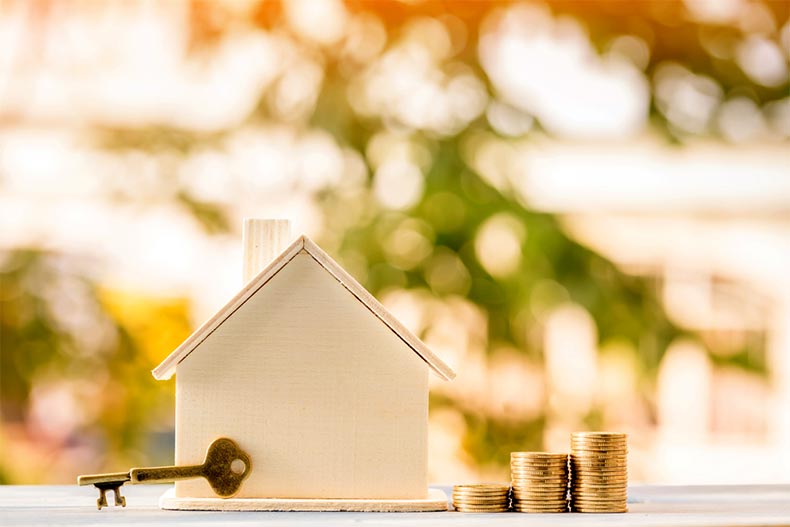 If you're on the fence about buying a home, the time to pull the trigger might just be right now. Though uncertainty abounds thanks to the coronavirus outbreak, the housing market has boomed in 2020, and overall housing conditions are still going strong. Rates are low, home prices are largely holding steady, and there's still a good window before the homebuying season slows down.
In August, according to a recent report by SoFi, new home sales exceeded 1 million for the first time since 2006. Within the same month, the average home price in the U.S. was a record $319,178 (up 13 percent year over year).
Have you been thinking about buying a house? Here are five reasons you might want to do so soon:
1. Rates are at historic lows.
Earlier this year, mortgage rates hit their lowest point in almost 50 years, and rates have stayed under 3 percent since July, according to a recent Freddie Mac report. Therefore, someone buying a $400,000 home a year ago would now pay $170 less per month at today's rates.
As a result of this, the housing market has seen a strong, upward trend during a very uncertain time. Potential homebuyers now have more purchasing power, and many current homeowners have the option to refinance for a better rate.
2. Homebuying power is up.
Thanks to low rates and increasing wages, homebuying power is up considerably for most Americans. According to title insurer First American's Real House Price Index, "real" home prices—which take into account earnings, interest rates, and nominal home prices—have actually dropped around 6.5 percent over the past year. In New Mexico, Utah, and North Dakota, they've actually fallen 9 percent or more.
3. Busy season is about to end.
Late spring and summertime are the busiest homebuying seasons of the year. During these months, buyer demand is up, prices rise in step, and bidding wars become the norm. In short? It's harder (and more expensive) to buy a home.
As we enter the fall months, demand usually eases which lowers prices and lowers the chance of a bidding war. While anything can happen in 2020, the chances of you getting a better deal on a new home increases in the winter.
4. Coronavirus has competition low.
The uptick of COVID-19 cases in the U.S. has impacted the lives and incomes of many Americans, putting some out of work entirely. As a result, many consumers have had to put major financial purchases on hold (buying a home included).
Though this is certainly no positive for the overall economy, it does mean a less competitive housing market may be on the way in some places—especially ones severely impacted by the outbreak. It could mean lower home prices, fewer bidding wars, and sellers more willing to negotiate to make a deal happen.
Just use precaution if you're buying in an area with a high number of confirmed coronavirus cases. Stick to virtual tours when possible, avoid large open houses, and see if you can do your closing appointment all online. You should also take the proper sanitary precautions: avoid shaking hands, wash up after touring a property, wear a mask, and stick to the six-foot rule when you're around other people.
5. Home prices are climbing.
Due to rising demand coupled with limited supply, home prices are climbing. But despite climbing prices, monthly mortgage payments may remain relatively small, thanks to low mortgage rates.
According to SoFi, the Federal Reserve has promised to keep interest rates at zero through at least 2023, meaning that this trend could continue. Both real estate industry experts and potential homeowners are hopeful that the demand for housing will stay strong in 2021 and beyond.
6. Touring a home is still possible.
Most builders and communities have begun virtual tours for homes. This allows you to see a model home without having to visit the community. While being a house sight-unseen might seem risky, there's plenty of precedent for it.
If you're not willing to purchase after a virtual tour, travel is also still possible. While air travel should be avoided at all costs, driving to a community has become popular among homebuyers. As long as the area you're traveling to isn't experiencing a spike in cases, there's nothing wrong with packing up a cooler, hopping in the car, and making the drive to visit a home.
As always, take the proper precautions: avoid shaking hands, wash up after touring a property, wear a mask, and avoid close contact, especially indoors.
7. The future is uncertain.
There's no telling how long these conditions will hold or what the next few years will bring—especially with so much up in the air regarding the coronavirus outbreak. What we do know is that mortgage rates are at historic lows, and prices aren't skyrocketing as they have in years past. There's also the chance for declining demand and competition in many major markets.
If buying a home is anywhere on your radar, shopping around for rates and properties now might be a wise idea. At the very least, consider getting preapproved with a lender to see what you'd qualify for and take a look at what inventory is available in your market. Depending on how things shake out, there may not be another opportunity like this for a while.
Ready to get started? Reach out to 55places Mortgage today.