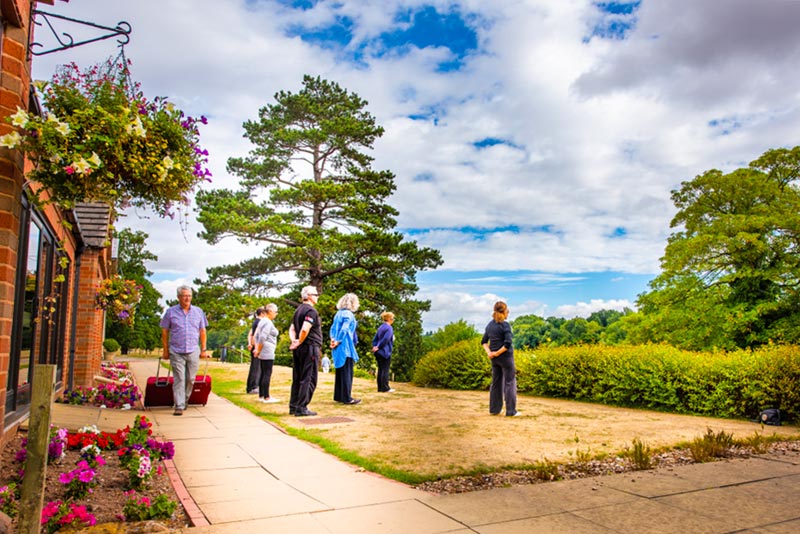 Flexibility, strength, and mental clarity are all important elements of golf. They are also three of the benefits achieved through regular yoga practice. Given this, it's no wonder that yoga is becoming a popular form of golf fitness training. Today, it's easier than ever to start a yoga routine thanks to its surge in popularity. Yoga classes can be found at gyms, local park district programs, and at many active adult communities.
Yoga for Golfers
While a general yoga routine will improve your flexibility, strength, and mental clarity, there are yoga programs specifically designed for golfers. Katherine Roberts, a fitness expert and regular contributor to The Golf Channel, has designed a popular Yoga for Golfers program. Her website, YogaForGolfers.com, offers information on how yoga conditioning can improve your golf game. Katherine Roberts has also published two popular books: Yoga for Golfers and Swing Flaws and Fitness Solutions.
By using yoga conditioning, golfers can improve their physical form, maximize their mind-body connection and improve their overall game. And Katherine Roberts is not the only golf expert recommending a yoga-based training program. There are several books and DVDs, from a variety of fitness gurus, that focus on combining yoga and golf.
Bird Golf Academy, a popular golf school with locations throughout the United States, also recommends yoga for golfers. At the Bird Golf Academy website, golfers can find a variety of recommended yoga poses to help on the course. Some, such as the Club Overhead Pose, even incorporate your golf club to give you a good, controlled stretch.
How Yoga Benefits Golfers
Increasing flexibility and building core strength are only two of the yoga benefits that help improve a game of golf. As any golfer knows, the game also requires mental clarity. Through yoga breathing exercises, also known as pranayama, golfers practice a form of breathing that helps reduce stress and increase mental clarity.
Breathing is perhaps the most important element of yoga, so any yoga-based golf conditioning program should include a few breathing exercises and focus on breathing throughout each yoga pose. This clears your mind, reduces your stress, and brings in the oxygen that will help your muscles become strong and flexible. Without focused breathing, yoga simply becomes another form of stretching.
A yoga-based golf conditioning program will teach you techniques to improve your game, but the best program will be one that you can easily incorporate into your regular routine. A 45-minute yoga program practiced once or twice a month will not be as useful as a 15-minute routine that you can practice before each game. Specific yoga poses can even be easily practiced on the course between shots, and yoga breathing techniques should become part of your play.
If you are looking to take your golf game to the next level, consider adding yoga-based fitness training into your routine. You are sure to appreciate the enhanced flexibility, strength, and mental clarity that it will bring.