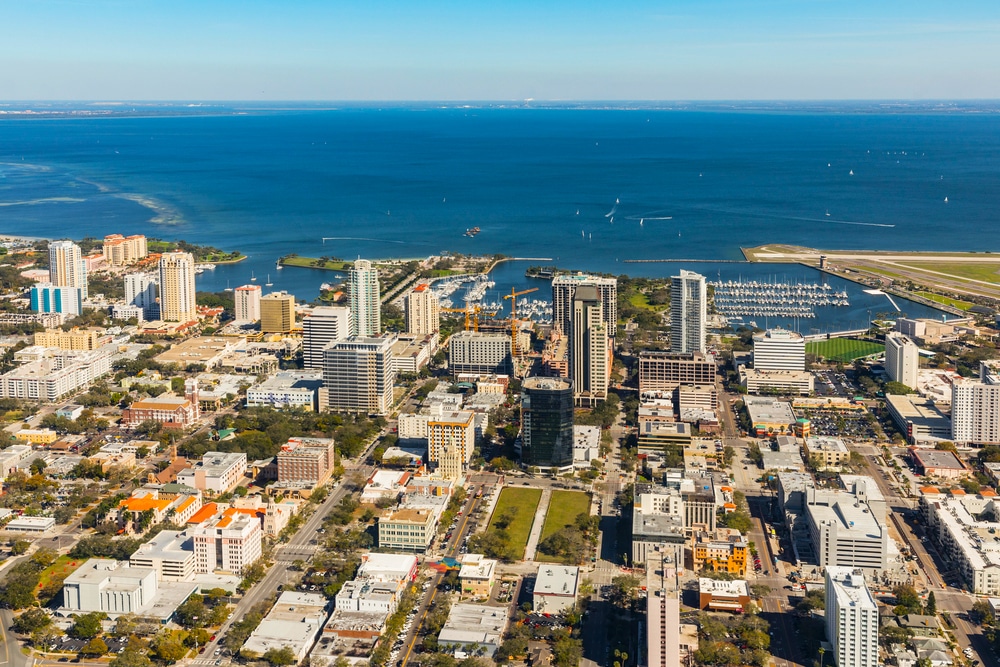 Florida has long been known as the top retirement destination in the country. Besides just warm weather, the state offers a diverse selection of lifestyles, communities, and amenities. This is mostly due to the many midsized and large cities throughout the state. From Orlando to Tampa to West Palm Beach, it's likely Florida has a home or community for you. Here's a look at some of the most prominent Florida cities when it comes to retirement.
Tampa – St. Petersburg
Possibly the biggest destination in Florida for active adults, these two cities and their suburbs feature 39 distinct communities that make for great retirement options. Their location on the Gulf of Mexico means there's plenty of opportunities to boat, fish, or just relax on the beach.
Tampa is known for its large selection of golf courses with options for beginners and lifelong players. Some courses include Vinoy Golf Club, Tampa Palms Golf and Country Club, and Palma Cela Golf and Country Club. There's no shortage of shopping, dining, and entertainment options for residents too. That includes being able to catch a Buccaneers, Rays, or Lightning game. Cultural icons include The Florida Aquarium, The Dali Museum, and Busch Gardens. Popular communities in the area include:
Long known as the home to Disney World, Orlando's reputation has grown from being the home of theme parks to a desirable place to live because of its expanding downtown area. There are eleven active adult communities in the Orlando metropolitan area, each offering something unique. Orlando's central location means ocean access is an hour's drive, but it is surrounded by several large lakes great for water sports and beach going.
Like the rest of Florida, it is home to several highly rated golf courses like Tranquillo Golf Club, Waldorf Astoria Golf Club, and Dubsdread Golf Course. Orlando's culinary scene has been a large part of the city's changing reputation. Some of the most well-regarded restaurants in the city include Victoria & Albert's, Yellow Dog Eats, Seito Sushi, and La Luce. Of course, Orlando is still home to most of the country's most popular theme parks, including Disney World, Universal Studios, and Discovery Cove. Popular communities in the area include:
Between West Palm Beach and its neighboring cities of Palm Beach Gardens, Boynton Beach, Boca Raton, and Delray Beach, there are 75 communities ideal for retirement. The area is known for its Atlantic Ocean coastline that features miles of beachfront where residents can swim, relax, and dine near the water. It makes for a relaxing and luxurious retirement — the one many people dream of having.
Attractions in the area include Lion Country Safari, Palm Beach Zoo, Whitehall, Norton Museum of Art, and Mounts Botanical Garden. While there's beachfront to the east, the western portion of Palm Beach County includes various options for outdoor lovers. These include Okeeheelee Park, Allapattah Flats, and Lake Okeechobee. Enjoying a bite on the beachfront is a favorite activity among locals and some of the highest-rated include Buccan, Seafood Bar, and Chez Lepicier. Popular communities in the area include:
It's no wonder Fort Myers and Cape Coral are two of the fastest-growing cities in the country. Their location on the Gulf of Mexico and many golf courses make it a retiree's dream. There are 26 communities in the area for those looking for an active lifestyle. Fort Myers has long been a destination for a winter getaway and its past lends itself to being a historical and culturally focused city.
Some great options include Edison and Ford Winter Estates, Murphy-Burroughs House, and Edison Park. The area is also home to several great recreational areas like Lake Regional Park, Lee County Manatee Parks, and Estero Bay Preserve Park. There are several courses nearby, the highest rated being Raptor Bay Golf Club, Old Corkscrew Golf Course, and Dunes Golf and Tennis Club. Popular communities in the area include:
While Miami's lifestyle doesn't usually match up with the vision of a retirement, nearby Fort Lauderdale has become a popular spot for active adults. Fort Lauderdale and its surrounding areas feature 17 active lifestyle communities. The city is known for beaches and inland canals that make a retirement on the water easily attainable.
Besides relaxing on the beach, residents enjoy the Bonnet House Museum and Gardens, Museum of Discovery and Science, and strolling the RiverWalk. Fort Lauderdale's most notable natural attraction is the Everglades which makes for an excellent outdoor adventure, whether you want to go boating or take a walk on the Anhinga trail. Fort Lauderdale's location near Miami means that world-class shopping, dining, and entertainment options are always nearby. Popular communities in the area include: