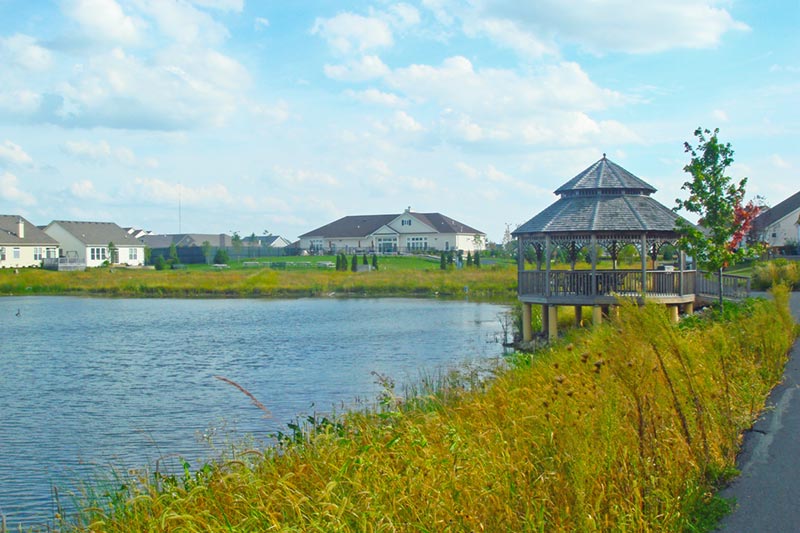 As the average price for a home in the Chicago area approaches $300,000, it may seem like the idea of finding a great home in a retirement community for under $200,000 is next to impossible. However, you may be surprised to learn that there are a number of great housing options for budget-conscious individuals who seek ownership in 55+ active adult housing developments.
Below you will find a list of age-restricted active retirement communities with homes currently under $200,000.
Sun City Huntley
Sun City Huntley by Del Webb offers over 5,600 homes and is the Chicago area's largest active retirement community. Sun City offers a number of ranch townhomes from 1,100-1,500 square feet for under $200,000. There are also single-family residences priced from the $190s.
Saddlebrook Farms - Grayslake
Ironically, one of the most reasonably-priced active retirement communities in the Chicago area is located right in the heart of Lake County. Saddlebrook Farms is a manufactured home community. The unique land-lease program allows residents to purchase a 1,073 square-foot single-family home for under $150,000.
Carillon - Plainfield
Carillon offers townhomes and condos from the $130s and is the lowest-priced active adult community in the southwest suburbs. In addition, single-family homes can be found from the $190s.
Grand Haven - Romeoville
Grand Haven in Romeoville offers 1,300 square-foot townhomes from the $190s. Their two-bedroom ranch townhomes are very open and spacious.
Carillon Lakes - Crest Hill
Carillon Lakes, which is conveniently located right across the street from Grand Haven, has ranch townhomes from the $170s.
Shorewood Glen - Shorewood
Shorewood Glen just unveiled their new Capitol series of duplex homes. These spacious homes offer two bedrooms and two-car garages starting from the $190s.
Prices in 55+ active adult retirement communities are not likely to stay this reasonable as baby boomers continue to drive up demand for this type of housing. So, if you want to find a great home in an active retirement community for under $200,000, you should start your search soon!