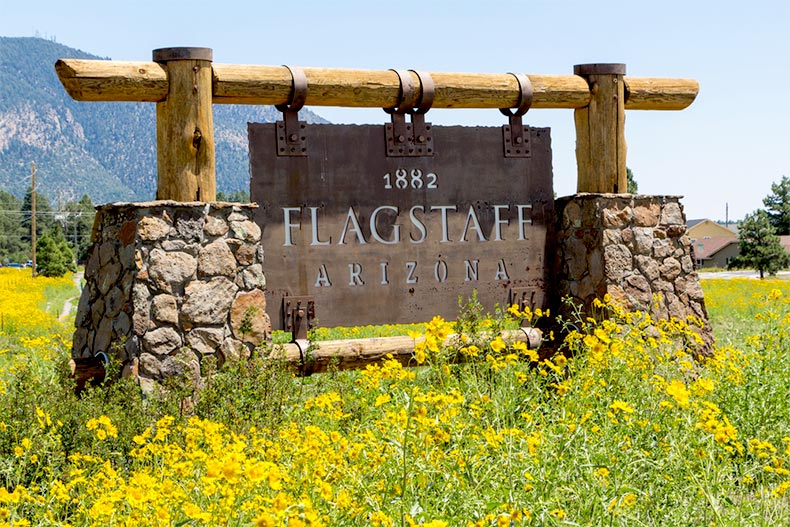 There are plenty of things to do in Flagstaff in Northern Arizona. The town is famous for standing on Route 66, and it's even name-checked in the song, "Route 66." With a big student population, Flagstaff is a city of about 75,000 people, and it's a lively tourist destination with lots to do to justify a visit.
Flagstaff is within easy reach of many 55+ active adult communities in Northern Arizona and Central Arizona. Even if you live in Southern Arizona, Flagstaff is a favorite place to visit for a few days. It's about a 4- to 5-hour drive from SaddleBrooke Ranch on the northern side of Tucson, so you may want to stay over, but there are plenty of historic hotels to choose from with both luxury and budget accommodations.
If you live around Phoenix in Central Arizona, you're looking at a 3- to 4-hour drive to Flagstaff, depending on traffic. If you're north of Phoenix and you don't have to cross through the city to get there, in Sun City for example, then you can be in Flagstaff in two hours.
Those who live in communities in Northern Arizona, like Prescott Lakes, are less than two hours from Flagstaff. This makes a day-trip possible, although there are so many things to do in Flagstaff that a stay of at least one night is recommended.
Here are just five of the best things you can do in Flagstaff.
1. The Museum of Northern Arizona
If you're new to Arizona, then a visit to the Museum of Northern Arizona is a must. It focuses on the history and culture of the northern part of the state, particularly the area known as the Colorado Plateau, but it will quickly show newcomers that there's much more to Arizona than its image of being all hot desert.
The museum has a fine collection of items highlighting the lives and history of the local Native Americans. The Heard Museum in Phoenix is said to have one of the best Native American collections in the USA, but this museum's fascinating displays push it close. Watch out for any special Native American events going on, as they happen several times a year.
2. The Lowell Observatory
Something else that newcomers to Arizona quickly discover is that the state is filled with observatories. Its desert climate produces clear night skies. Indeed, in some places, there are ordinances governing street lighting so that, for example, street lamps must face downward and have shields stopping the light from escaping into the night sky.
The Lowell Observatory is one of the oldest in the USA, having opened in 1894. A tour allows you to see many exciting and historical items in this working observatory. These include the telescope through which astronomers discovered Pluto in 1930, and the telescope through which NASA scientists mapped the surface of the moon in the 1960s. Astronauts trained for the moon landings around Flagstaff, because the landscape is similar to what they expected to find on the surface of the moon.
3. The Walnut Canyon National Monument
A 20-minute drive east of the city is where you'll find the Walnut Canyon National Monument. Apart from being a beautiful forested canyon with hiking and wheelchair-accessible trails, it also has many fascinating cliff-dwellings. There are about eighty of these, and they were built by the Sinagua people, who lived in Arizona and Mexico, and possibly even further into Central America. However, their homes in Walnut Canyon were abandoned in the 13th century, and no one has any idea why.
4. Historic Downtown
One of the best things to do in Flagstaff is absolutely free, and that's to wander around its historic downtown and railroad district. Flagstaff's modern history goes back to 1876 when the first home was built here. It really grew in the 1880s and 1890s, when the railroad came. Then, when the railway closed, the tracks formed the basis for what became Route 66, the Mother Road, taking people out to the west coast and to the promised land of California.
There are plenty of historic buildings remaining in downtown, and no shortage of Route 66 connections and souvenirs. Many of the late 19th and early 20th century buildings now house galleries, shops, restaurants, and bars, so you could spend at least half a day just wandering around this area.
5. The Arboretum at Flagstaff
The Arboretum is the highest botanical garden in the USA, standing at 7,150 feet above sea level. It's about a 15-minute drive southwest of downtown in the Coconino National Forest. It covers an area of 200 acres and has over 750 plant species, including some rare specimens. There are free tours every day, things like bird or wildflower walks at certain times of the year, and music concerts in the summer.