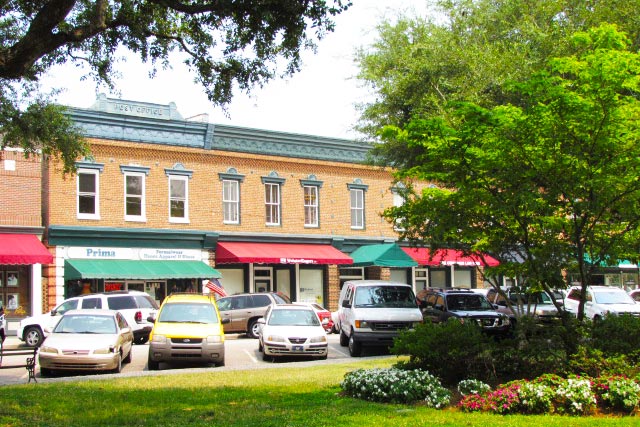 Summerville, South Carolina is a town that truly embraces its southern roots and charm. Filled with historically preserved sites, as well as scenic walking paths, beaches, and lakes nearby, Summerville has emerged as a top destination for active adult homebuyers in Coastal South Carolina. With so much to see and do, 55Places has your guide for getting the most out of your time in Summerville.
Find the Farmers Market
Starting from April until late fall the Summerville Farmers Market is open for business. Located near Summerville's Town Hall, the market is open every Saturday and lets visitors check out arts and crafts vendors and sample local produce, meats, seafood, desserts, and more. Other than spotlighting locally grown foods and businesses, local musicians also showcase their talent live at the Market Cafe each week from 11:00 A.M. to 1:00 P.M.
Explore the Remnants of Summerville's Past
Throughout Summerville, remnants of the town's centuries-long history remain, providing onlookers a first-hand look at colonial South Carolina. Visitors can stand below the remains of the brick bell tower that formerly belonged to St. George's Anglican Church. Built in the mid-1700s, the now-abandoned tower provides a perfect view of the Ashley, making it a particularly nice spot for afternoon outings.
Another spot to check out is Drayton Hall. Deemed the oldest unaltered plantation that is still open to the public, Drayton Hall is over 265 years old and contains one of the oldest African American cemeteries in the country. Tours and interactive programs are often provided, allowing visitors to learn in-depth about some of the most studied times in American history.
Embrace the Outdoors
Summerville sits near the Ashley River, one of the most frequented coastal rivers in South Carolina. Running for more than thirty miles, the area is a hot spot for paddling, wildlife watching, and picnics. The area also contains twenty-six sites that are listed in the National Register of Historic Places, including the already mentioned St. George's Anglican Church Bell Tower, Drayton Hall, and more.
Other than the Ashley River, Summerville is surrounded by nature trails, namely the Sawmill Branch Trail, Oakbrook Nature Trail, and Rosebrock Park. Each provides miles of trails that will appeal to walkers, runners, and bikers.
Indulge in Some Sweet Tea
If there's one necessity that comes with visiting Summerville, it's to enjoy a glass of sweet tea. Self-proclaimed as the "Birthplace of Sweet Tea," Summerville is filled to the brim with the so-called "Champagne of the South." The beverage can be found in most establishments, some putting their own unique spin on it.
At Oak Road Brewery, visitors can order sweet tea beer while the restaurant, Toast!, serves fried chicken that is glazed in sweet tea. The town has even earned a Guinness World Record thanks to Mason, the affectionately named 15-foot tall mason jar that sits downtown. Having the potential to hold up to 2,564 gallons of sweet tea, Mason is a source of pride for the community that shouldn't be missed.
Head Downtown
Historic Downtown Summerville hosts a number of unique shops and boutiques to explore. Visitors will find independently owned gift shops with local and handmade items, art galleries promoting local talents, women's boutiques, and a number of hobby shops and antique stores (one of which claims to have a real fossilized dinosaur egg, among other curiosities).
Besides shopping, the area also includes other forms of entertainment. Theatrical productions put on by the Flowerton Players, a local troupe who will be performing several shows throughout the year, with past shows including "The Little Shop of Horrors." Meanwhile, the Summerville Shag Club offers free dance lessons every Monday at 7:00 P.M. to anyone interested, regardless of their background and skill-set. With so much to find, Summerville is a community that has something for everyone.