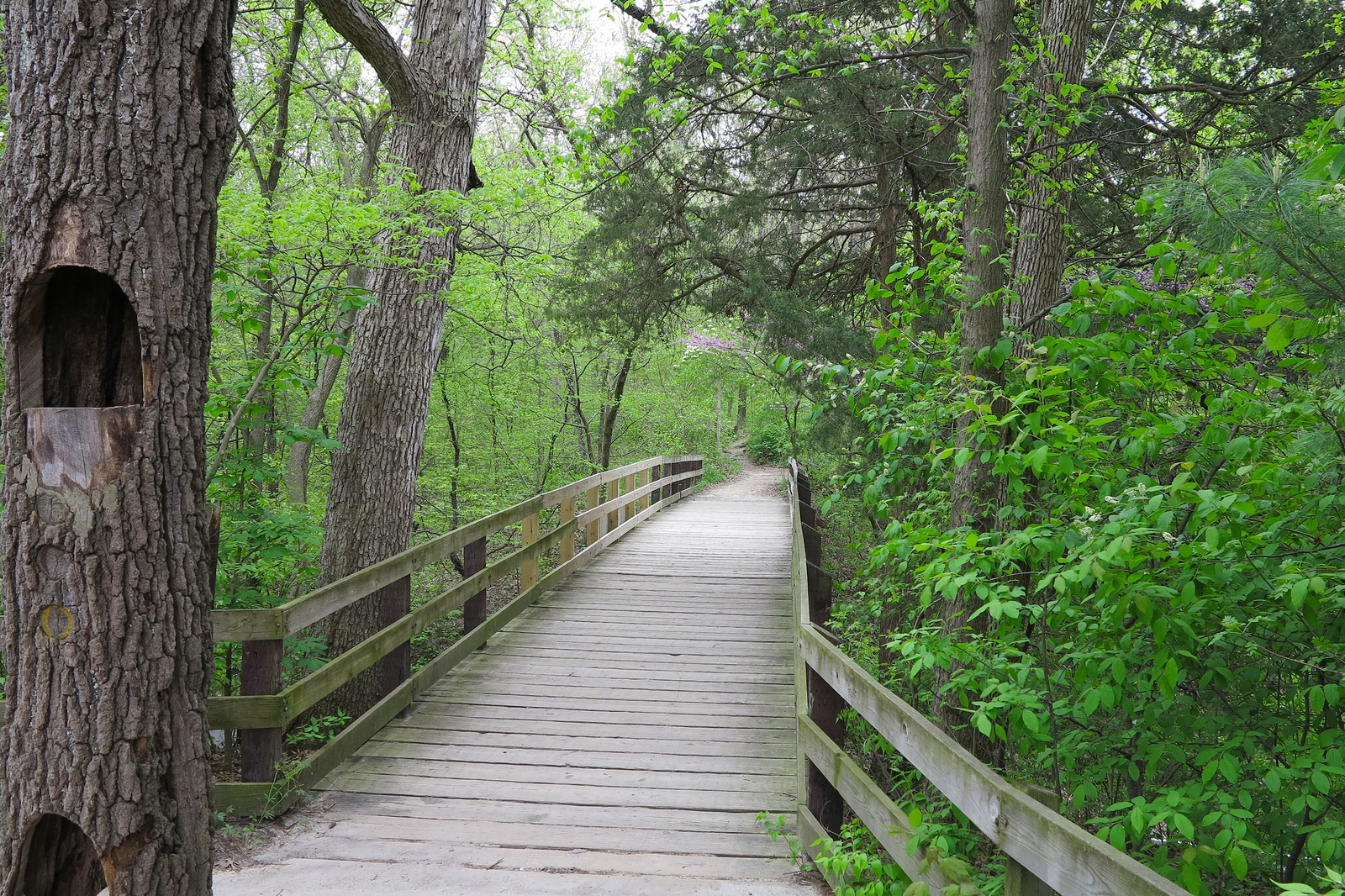 Retirees who love the great outdoors are always in search of the next great hiking trail. Hiking is a great hobby that not only keeps Boomers active and healthy, but also allows them to seek new adventures while appreciating the natural beauty that surrounds them. Luckily, retirees can find hiking trails pretty much anywhere across the country. The Chicagoland Area, despite its reputation for being flat, has some terrific hiking paths just a short drive from the city. Whether active adults are looking for an outdoor workout, a wildlife encounter, or just a moment of peace and tranquility with Mother Nature, you'll be able to find it near Chicago.
Chicago Riverwalk – Chicago, IL
If you're an urban trekker that can do without the wildlife scenery, then you may want to check out the Chicago Riverwalk. Retirees can enjoy a historic 1.9-mile stroll through downtown Chicago and along the banks of the Chicago River while appreciating the city's distinct architecture and skyline. This hike is also an easy stroll thanks to its flat, paved sidewalks.
Starved Rock State Park – Oglesby, IL
About two hours outside of Chicago and located on the south bank of the Illinois River in LaSalle County, Starved Rock State Park is a beautiful park that has 18 limestone canyons, some with dramatic waterfalls, and more than 13 miles of trails that are open all year long. Active adults can explore the state park's majestic waterfalls, moss-covered stonewalls, rock formations, wildlife, and scenic trails. Retirees can join a guided hike through the trails or opt to take to the trails solo for a self-guided tour of the park's natural wonders.
Waterfall Glen Forest Preserve – Darien, IL
If you're looking for a quick daytime hike that's just under a 45-minute drive from the city, then Waterfall Glen Forest Preserve in DuPage County is perfect for you. The forest preserve offers eleven miles of mapped trails as well as more than 2,400 acres of prairies, savannas, and woodlands that wrap around the Argonne National Laboratory, which was famously the home of the Manhattan Project. Catch breathtaking views of the park's waterfall that overlooks the Des Plaines River that's just off the main trail or go on a trek on one of the many unmarked and narrow pathways that intersect throughout the preserve.
Matthiessen State Park – Utica, IL
Matthiessen State Park offers visitors nearly 2,000 acres of steep wooded limestone canyons, streams, forests, prairie, a tall waterfall, and scenic views of the Vermillion River. The state park is ideal for not only hikers and outdoor enthusiasts, but also for those interested in geology and recreation as the park has beautiful rock formations, abundant vegetation, and wildlife. Avid hikers can go on a 5.8-mile hike that leads toward a narrow, mile-long sandstone canyon that's been carved by flowing water, which is a famous spot in Matthiessen State Park and great for Instagram-worthy pictures.
Joliet Iron Works Historic Site – Joliet, IL
What was once the second-largest steel mill in the U.S. is now a great preserve that conserves more than 2,400 acres and provides 0.59 miles of paved historic trails that weave throughout the site's ruins, a remnant of its former steel mill days. Visitors can reach the Joliet Iron Works Historic Site in about an hour from the city, spending a day exploring the 52-acre site to see the various buildings that once produced the region's supply of steel and iron. The site also provides hikers with access to the 7.55-mile crushed limestone-paved I&M Canal Trail.
Indiana Dunes State Park – Chesterton, IN
Adventure seekers will love climbing the sandy dunes at Indiana Dunes State Park. Mount Baldy, a popular spot that attracts all kinds of visitors, has a short trail that leads to its 120-foot sand dune that overlooks Lake Michigan. Besides the park's sand dunes, it also offers 14 distinct trail systems that range from easy to challenging, covering more than 50 miles of trails that weave through the various habitats of the Indiana Dunes National Lakeshore.
Des Plaines River Trail – Wadsworth, IL
The Des Plaines River Trail winds along its namesake river that stretches for 31 miles through the Forest Preserves of Cook County and Lake County Forest Preserves. Hikers can witness the natural beauty of both forest preserves as well as wetlands while following the continuous dirt and gravel path that utilizes bridges and underpasses to avoid busy roadways and traffic.
Midewin National Tallgrass Prairie – Wilmington, IL
Offering a 13-mile hiking loop as well as an additional 22 miles of mixed-used trails, Midewin National Tallgrass Prairie is an outdoor enthusiast's dream. This 19,000-acre prairie, just an hour outside of Chicago, is filled with native tallgrass that has been restored to its natural prairie ecosystem. Hikers may also catch a glimpse of bison roaming the landscape in their natural habitat and a few abandoned military bunkers from the former Joliet Arsenal.