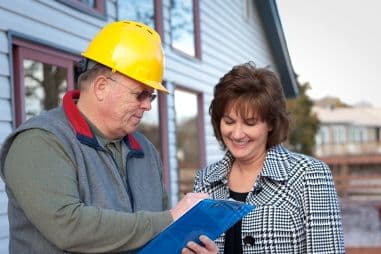 When purchasing a home, having a professional home inspection is one of the most important steps that buyers can take to protect their investment. Even when a house appears to be in good condition, it may have expensive problems lurking beneath the surface. A detailed home inspection lets homebuyers make an informed decision about their purchase.
Homebuyers who want to save some money do have the option of performing their own home inspection or asking the seller to pay for a professional inspection. However, homebuyers will often get better results if they hire a professional and pay for the service themselves.
Sometimes sellers will have a home inspection completed before they put their homes up for sale. This can make a home more attractive, especially if it came back with a clean report or if the seller can document that any problems have since been repaired. However, it's still a good idea for buyers to have their own home inspection, just to be safe.
There can be a big difference in the quality of a professional home inspection, and this is not an area where the homebuyer should cut corners. Hiring an experienced home inspector with a solid reputation is well worth the upfront cost, especially if he or she finds problems which the seller will then either have to correct before settlement or deduct from the selling price.
A professional home inspection should be extensive and cover the home's major systems and structural elements. Here are some of the important areas which should be included during a home inspection:
1. Exterior
This includes inspecting siding, foundation, porches, decks, patios, etc. But it should also include items such as checking drainage (the ground should slope away from the house) and looking for signs of pests.
2. Roof, Attic, and Basement
These areas should be checked for signs of leaks, mold, pests, or other problems.
3. Structural Elements
Floors, walls, ceilings, windows, and doors should all be checked for signs of water damage, problems with settling, or other issues.
4. Plumbing
Leaky pipes can cause hidden water damage throughout the house. Leaky faucets or toilets can lead to high water bills down the road. It's also important to check the home's water pressure.
5. Electrical System
This check should include grounding, outlets, GCFI outlets (in bathrooms), light fixtures, switches, ceiling fans, and an inspection of the home's main panel and circuit breakers.
6. Home Systems
This includes air conditioners, furnaces, heat pumps, water heaters, duct work, fireplaces, chimneys, whole-house humidifiers, sump pumps, sprinklers, and any other systems in the home.
7. Appliances
Most appliances are found in the kitchen, such as stoves, ovens, refrigerators, dishwashers, built-in microwaves, and garbage disposals. This should also include smoke detectors and any other appliances in the house.
8. Garages
This includes an inspection of the structure, wiring, vents, firewall, windows, doors, and roof as well as a check of the garage doors, electric openers, and door remotes or keypads.
Owning a home is one of the largest investments adults can make. Be sure to protect yourself by hiring a reputable home inspector and knowing exactly what you are buying.