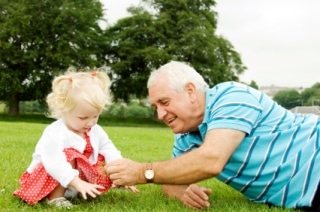 Active adults are often overwhelmed by all the considerations to ponder when choosing a 55+ community. Is it better to live in a larger scale resort-style community or a more intimate sized neighborhood? Is the secure feeling of a gated community a necessity? Will the location be ideal for visiting family? A growing trend among many active adult community shoppers is to stay close to current family and friends. Doing so may mean having to forgo the dreams of retiring to a sun-filled paradise such as Arizona or Florida. To many, it is much more important to live closer to old friends, children, and of course the grandchildren as well.
According to 2007 data, "about 40% of people in this demographic who moved into age-qualified active-adult communities did so to be close to friends and/or relatives, compared with 20% who said the same in 2001." As the years go by adults find their children starting lives of their own, oftentimes far away from home. Retired individuals soon discover that living closer to their families whether it be their own children or even extended family, provides much-needed help, support and companionship.
Benefits of Living Near Family
Strong family ties provide a number of unique benefits for retirees. One of the most rewarding occupations for retirees is Grandparent and living near family members provides an opportunity to build stronger relationships with grandchildren. Many active adults look forward to building special bonds with their grandchildren and enjoy spending quality time with them.
Depending upon the rules of the adult community, residents can host their grandchildren for an overnight sleepover, a swim in the pool or a stroll along the walking paths. Many active adult communities also feature play areas with slides and swings perfect for the grandchildren.
Aside from the joy of spending quality time with grandchildren and being close to family for a weekly dinner date, living near family provides both emotional and physical support for those in need. Whether family members experience sudden sickness, a death in the family or loss of a job, grandparents have a vast amount of experience, wisdom, and counsel to share. Their stability and strength are essential for the family.
Active adults can also be the beneficiaries of family member's help during difficult times. When an illness hits, it's wonderful to have family close-by for moral support and practical help. With so many benefits of living near family, it may seem to be the perfect living situation.
What Are the Concerns?
To some, this holds true while to others there may be difficult challenges to consider. Sometimes relationships with adult children and other family members are more complex. Living close-by could prove more stressful on everyone involved or could open up an opportunity to strengthen family ties.
Choosing an adult community near family depends upon the strength of family relationships and the family needs. It is important to consider these factors when deciding where to retire.
Gated active adult communities are ideal for retirees looking for a little more privacy and advance notice from unannounced visitors. When determining a retirement destination, carefully weigh the pros and cons of living near family members before choosing to move. Seeking the advice of friends who've already made their retirement living decisions can provide some much-needed objectivity in the already difficult decision-making process.
Another potentially difficult decision arises when there are several adult children living in different parts of the country. It can be a very difficult decision to make. Some active adults use more neutral criteria such as the ideal climate or unique amenities when making a retirement destination decision. Discussing this issue with your adult children can help you come to a resolution.
As more active adults show their desire to retire close to their children and grandchildren, the trend for 55+ community developers is shifting from the once popular Sunbelt states to locations across the country. Today retirees will find a wealth of options in active adult communities to meet their geographic needs based on whatever decisions they make for the good of themselves and their families as well.