For active adults who want to enjoy plenty of outdoor leisure time, Florida is a hot destination. Not only does the Sunshine State boast plenty of sunshine-packed days, but it's also one of the country's most tax-friendly states. There's no state income tax in Florida, which means that Social Security retirement benefits, income from IRAs or a 401(k), and pension income are all untaxed. Florida is also home to hundreds of active adult communities, each one offering its own distinctive appeal and amenities.
If you're looking for Florida homes for sale and you also want to enjoy neighboring Georgia, check out some active lifestyle communities near the state border. The Peach State offers many diverse attractions, from fishing and boating along the Georgia coast to boat tours and sightseeing at Stephen C. Foster State Park, a 120-acre park that features RV campsites and cottages.
Living near the Florida Georgia state line also makes it easy to visit family and friends who live nearby. You can cross the state line in just minutes, without needing to travel by plane or spend hours on a road trip. Whether you want to visit loved ones, participate in some socially distanced recreation, or sit down for a meal at one of your favorite restaurants, you can enjoy the best of both states living close to the state border.
Want to see the active lifestyle communities that are closest to the Florida Georgia border? Read on to check out six communities in Fernandina Beach that are just a stone's throw away from Georgia. These communities make it easy to enjoy the sights, sounds, and flavors of both states.
Below $100k – High $300s
Distance to Florida Georgia Line: 5.2 miles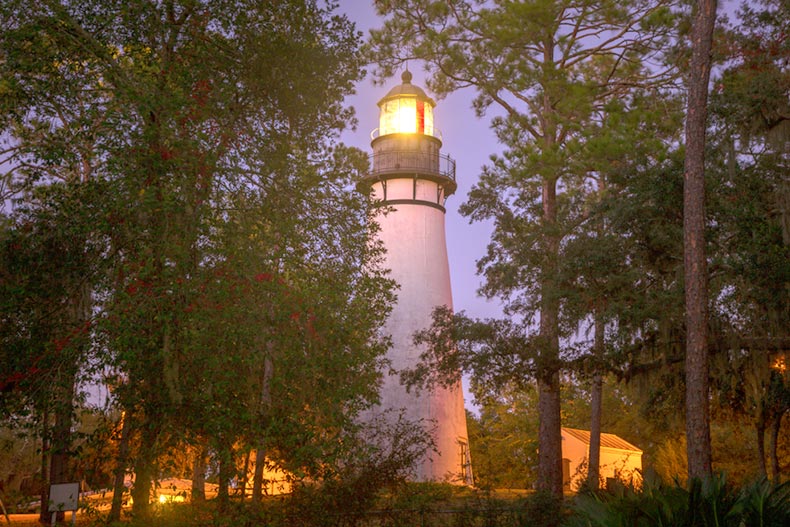 With Florida homes for sale starting below $100k, Oak Grove makes Florida living accessible to many active adults. Established in 1941, this community contains both attached and single-family homes. The attached homes offer 1,020 square feet while the single-family homes range from 720 to 2,368 square feet. A homeowners' association (HOA) covers roof repair, landscaping, and various home repairs, allowing residents to live a low-maintenance lifestyle.
Living in Oak Grove puts residents just five miles from Georgia and 25 miles from downtown Jacksonville. Homeowners can take care of errands close to home, with a Winn Dixie, Walmart, CVS, and Walgreens all nearby. When family members or grandchildren come to visit, neighboring Amelia Island offers many attractions, including The Maritime Museum of Amelia Island and the Amelia Island Lighthouse.
Request more information about Oak Grove.
Low $400s – Low $500s
Distance to Florida Georgia Line: 6.1 miles
Next up on our list of communities near the Florida Georgia line is Nature's Gate, which is just 6.1 miles from the state border. This active lifestyle community was built between 1989 and 1993 and contains 42 single-family homes. Residences range from 1,560 to 2,402 square feet, with some homes featuring skylights, a wood-burning fireplace, and an owners' suite.
Nature's Gate features a conservation area and plenty of natural space where residents can enjoy the pleasant Florida weather. Other popular destinations for residents include parks such as Peter's Point Beachfront Park, Main Beach Park, and George Crady Bridge Fishing Pier State Park. For golfers, the nearby Golf Club of Amelia Island and the Amelia River Golf Club provide golfing opportunities for all skill levels. Jacksonville is only an hour away, making it easy for residents to make day trips into the city.
Request more information about Nature's Gate.
Mid $500s – Mid $600s
Distance to Florida Georgia Line: 6.6 miles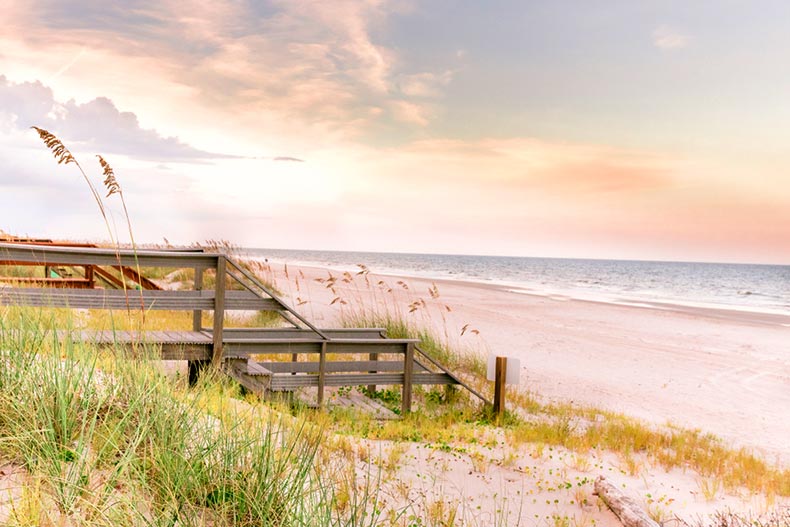 Just minutes from Georgia, Sea Grove is an active lifestyle community containing 46 single-family homes. Completed in 2000, this community features Florida homes for sale that range from 1,874 to 3,129 square feet. Some homes are designed with screened porches, jetted tubs, open floor plans, and 11-foot ceilings.
Homeowners can walk to the beach or drive into Jacksonville in about an hour. Sea Grove is located near a nature preserve and features common areas where residents can gather outside to socialize. With the Baptist Medical Center Nassau, UF Health Family Medicine, and Amelia Express Care nearby, homeowners can enjoy peace of mind knowing they can quickly receive medical care if needed. A CVS and Walgreens are also nearby.
Request more information about Sea Grove.
Low $500s – High $600s
Distance to Florida Georgia Line: 7.5 miles
Isle De Mai, only 7.5 miles from the Georgia state line, contains spacious single-family homes that were built between 2006 and 2015. Homes in this active lifestyle community range from 2,100 to 3,000 square feet, with some residences featuring private lanais, private bathrooms for each bedroom, and 10- to 12-foot ceilings. Residents pay an HOA fee, which covers common area maintenance.
While homeowners can easily enjoy activities and entertainment along the Florida and Georgia coasts, there are plenty of things to do right in their own community. Isle De Mai features a community clubhouse with a fitness center, an outdoor pool, a patio, and trails for walking and biking. The community is located near several grocery stores and pharmacies, making it easy for residents to take care of their errands close to home.
Request more information about Isle De Mai.
Low $400s
Distance to Florida Georgia Line: 8.3 miles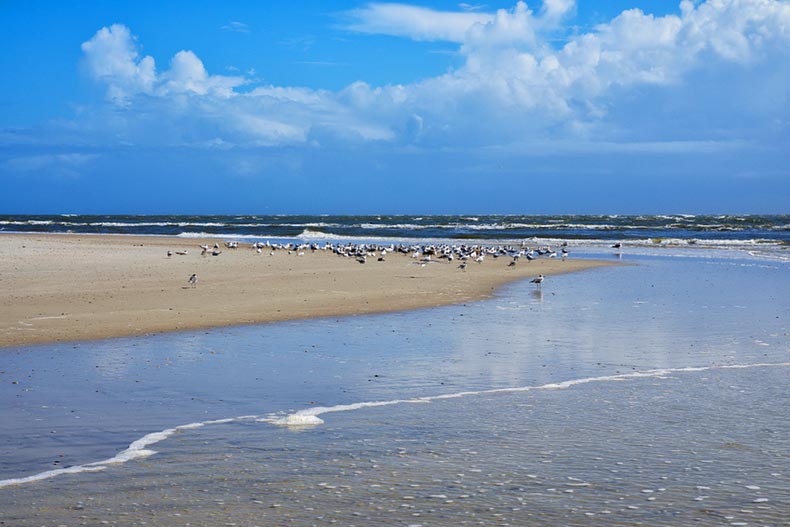 Active adults who want true low-maintenance living can explore Ketch Courtyard, which is only 8.3 miles from the Georgia border. This community contains just 24 condominium homes in a single three-story building. Built in 1984, condo homes range from 980 to 1,356 square feet, with some units offering views of the ocean, a balcony, and tile floors throughout. Each unit includes assigned parking.
Amenities include an outdoor pool, patio, and direct access to the beach. Residents can also enjoy concierge services. With an HOA to take care of common area maintenance, residents are free to explore all the coastal activities in Florida and Georgia. Ketch Courtyard is only an hour away from Jacksonville, so residents can also easily head to the city for entertainment, shopping, and dining.
Request more information about Ketch Courtyard.
Mid $400s – Mid $500s
Distance to Florida Georgia Line: 8.3 miles
Ocean Dunes is another community near the Georgia border that appeals to active adults interested in low-maintenance condos. This active lifestyle community was completed in 1983 and contains just 14 condos that range from 1,170 to 1,210 square feet. Some residences feature open floor plans and spacious balconies. An HOA covers common area maintenance, so residents don't have to worry about upkeep.
Ocean Dunes offers residents private beach access in addition to an outdoor pool and patio. In the local community, residents can enjoy many activities and entertainment options, from parks and museums to golf courses and shops. Jacksonville is just 45 minutes away, allowing residents to easily spend time in the city visiting friends and family.